Lindsey Graham's Opponent Raises $1 Million in One Day Amid Dead-Heat Polling
Over the span of 24 hours, they brought in $1 million, or an average of more than $41,600 every hour.
That's how much the Jaime Harrison campaign said it raised on Wednesday amid a new Quinnipiac poll showing the Democratic challenger tied against incumbent Sen. Lindsey Graham (R-S.C.). The survey, which showed both candidates with 48 percent among likely voters, represented yet another poll that suggested the confidant to President Donald Trump is in serious jeopardy of losing his seat.
"This poll reflects what Jaime hears from voters every day," Harrison campaign manager Zack Carroll said in a release. "After 25 years in Washington, Lindsey Graham no longer represents South Carolina values and priorities."
The fundraising haul is a continuation for Harrison, who has repeatedly eclipsed his GOP opponent in his ability to bring in large sums of cash. The Democrat outraised Graham, a third-term senator, in the first two quarters of this year. Harrison also raised more in the month of August alone—$10.6 million—than Graham did in the entire second quarter—$8.4 million.
Political forecasts, such as the Cook Political Report, Inside Elections and Sabato's Crystal Ball, have moved the race more favorable to a Harrison upset in recent months, as Graham faces his toughest re-election race. However, the forecasters still predict Graham will hold on to his seat.
Graham conceded that he's facing one of his hardest elections as he trails in recent fundraising. However, the staunch conservative said he's not concerned and declined to say he wants Trump to come to the state and offer assistance.
"It's a center-right state. And [Harrison's] on the wrong side of a bunch of issues that matter... I just need to identify him as being more liberal than the state," Graham told reporters in the U.S. Capitol. "We'll be fine, but we got to take it serious. We've got to match him money-wise. We've been outraised 2-to-1."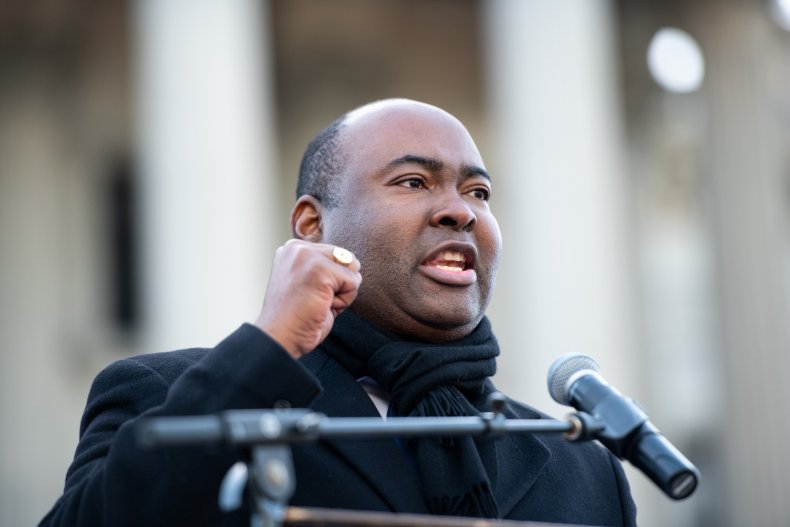 The Harrison campaign said the strong fundraising is representative of their momentum to turn the state blue.
"This campaign is fueled by grassroots donations from all 46 counties of the state—from average, hardworking South Carolinians who want a senator who will once again put them first," Carroll added. "The momentum is on this movement's side, and every donation helps bring us closer to the goal of restoring hope to every corner of the state."
Since the launch of his candidacy in May 2019, Harrison has raised nearly $29 million through June. He's spent nearly $19 million and has roughly $10.2 million cash on hand.
Graham has raised nearly $31 million during this cycle through June, has spent about $18.2 million, and has roughly $15 million in the bank.
Polls conducted over the past year show Harrison, a former state legislator, slowly chipping away at what was once a double-digit Graham lead. The Quinnipiac poll marked the second one since August that showed the two candidates tied.
In the wake of the positive polling trend, the Democratic Senatorial Campaign Committee (DSCC) announced Thursday that it will launch a "seven-figure investment" to help Harrison. The funds will go toward TV ads, polling, field organizing and data tools, among other things.
"The massive grassroots support behind Jaime's movement to unseat Senator Graham has put this race firmly in play," DSCC Executive Director Scott Fairchild, "and this investment reflects our continued commitment to expanding the map and growing our offensive opportunities this cycle."
Voters in the most recent Quinnipiac survey indicated a more positive view of Harrison than Graham. Voters were mixed with Graham—44 percent favorable vs. 49 percent unfavorable—while Harrison had a net positive likability rating—47 percent favorable vs. 39 percent unfavorable.
This story was updated to include comments from Sen. Graham and information from the DSCC.
Lindsey Graham's Opponent Raises $1 Million in One Day Amid Dead-Heat Polling | U.S.