'The Line' Zooms, Tells the Stories of Front-Liners in Coronavirus Pandemic
The shutdown caused by the coronavirus pandemic has led to the birth of a new type of theatrical event, the Zoom play. In a short space of time, that has taken many forms, mostly in the form of staged readings. But within Zoom, a subgenre is also emerging: plays for Zoom. Richard Nelson's What We Need to Talk About and And So We Come Forth: A Dinner on Zoom are among the best examples. To that list, we can add Jessica Blank and Erik Jensen's gripping, almost thriller-like documentary play, The Line.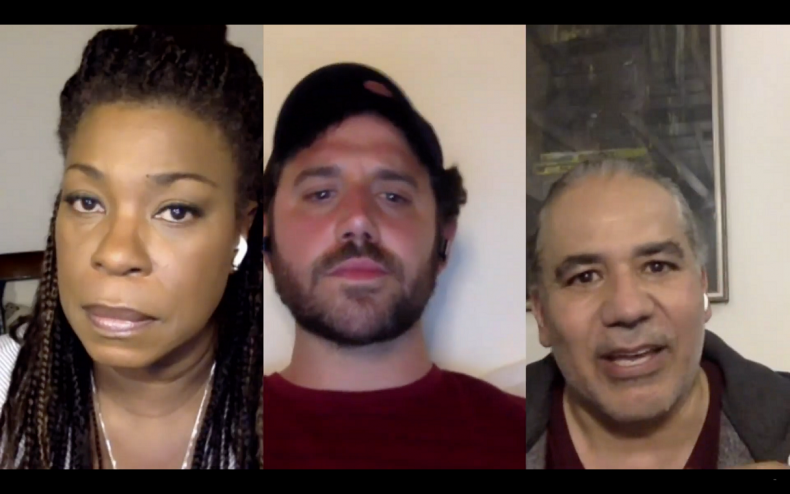 The Line is the story of front-line workers coping—or not—during the pandemic. It starts off, innocently enough, with a series of interviews, à la Studs Terkel in Working. These are articulate, thoughtful, intelligent people, similar to those who you might see on the local news after a catastrophe who have had a mic thrust in their face and been asked for a comment.
They introduce themselves; then, gradually, we start to hear the words that have become ominously imprinted on our collective unconscious: fever, cough, cases, intubation, ventilator, China, Wuhan, closures, words that have since taken on a weight they may not lose for a long time.
They are hints of an approaching invisible monster, one that until recently one might expect to reside only in the pages of a Stephen King novel.
Rabbit Hole of Stress
With introductions out of the way, the characters quickly go down a rabbit hole of stress, trauma and loss. Everything we now know to be real—the case counts, the death toll, the desperation—is made surreal again.
Like Blank and Jensen's Coal Country, about the 2010 Upper Big Branch mine explosion in West Virginia, this could easily have been just an excellent agitprop play—a call to help front-line workers or an attack on those who have mishandled the pandemic.
Also, like Coal Country, it is not. It is much better than that. It is 180 degrees away from anything small and preachy. The characters are so real and well-drawn, and their plight is riveting—at once overwhelming and personal—that The Line transcends any political message. The Line will stay with a viewer for a long time after the screen goes dark. One can only hope that when theater returns this will be performed before a live audience.
The cast features Santino Fontana as David, a former actor and emergency room nurse; Arjun Gupta, as Vikram, a doctor and COVID-19 survivor; John Ortiz, Oscar, an EMS technician; Alison Pill, as Jennifer, an ICU doctor; Nicholas Pinnock as Dwight, a nurse; Jamey Sheridan as Ed, a paramedic; and Lorraine Toussaint, as Sharon, who runs a nursing home. The actors are across-the-board superb, expressing so much, all in closeup.
The Line might have been called Heroes, but the characters have no use for that word. David, Ed and Vikram even express some disdain for it. Jennifer, who looks like she has post-traumatic stress disorder and has slept in an N95, probably has no time for it. Vikram says, "While I appreciate the clapping at 7 p.m. and I appreciate the pizza that gets sent to the ER and I appreciate the discounts on, like, Nike, or whatever, I would give all of that up. If you really want to help doctors, and show them appreciation, give their patients health care, you know? The ones who can't afford it."
Their jobs and the people they affect are everything to them; words, not so much.
Even characters we don't see are hard to forget: David's sick uncle, a patient Oscar has revived then loses in the hospital, Sharon's maraca lady are all vividly described. I often found myself saying, "I know that person."
And then there are the gut punches. A good play usually gives the audience one good gut punch that it never forgets. The Line has one every couple of minutes.
During the shutdown-shortened run of their engrossing Coal Country, Blank and Jensen talked to Newsweek about their process for putting a documentary play together. It was relentless system of interviewing, editing, reading, sifting and organizing—a process that was repeated several times
With The Line the process had to be modified.
As is the case with all of their documentary plays, "these are real people," Blank says. "They are not composites. We don't composite characters."
"We starting the interviews via Zoom," Blank tells Newsweek. "We did one reading, which is a wildly compressed version of our usual process. We skipped [our usual] first stage of raw transcripts to monologues. We got transcripts, cleaned them up and then broke them up into monologues on the page.
"The Public then got a roomful of dramaturgs together to read those monologues out loud to us so that we could edit them by ear." Then, she adds, after doing more work on the page, "we had a final reading, not with the final cast but with a bunch of young actors who were quite wonderful and did us a great favor."
"In finding people to interview, it was all hands on deck with the theater, their dramaturgy department, everybody at the Public.... We wanted to talk to people of all ages, races and ethnic backgrounds. We wanted the play to look like the city."
Blank and Jensen also don't impose a structure in their plays. "We always discover the structure of the plays from what we learn in the interview process," she says. "We interviewed almost 20 people for this, so we talked to more people than wound up in the play."
"We started hearing the story arc that's in the play from almost all of them," Blank says. Then one day, after having looked at the transcripts, they found the structure of the play "and started putting the monologues into that structure."
And in teh process, they learned a lot, too.
"I discovered so many things about the inequities in our health care system," Jensen says. "The institutional racism built into the system is astonishing to me. It's just jaw dropping. The interviews exposed all of that. And each of the people we spoke to—I considered them to be almost a mentor to me."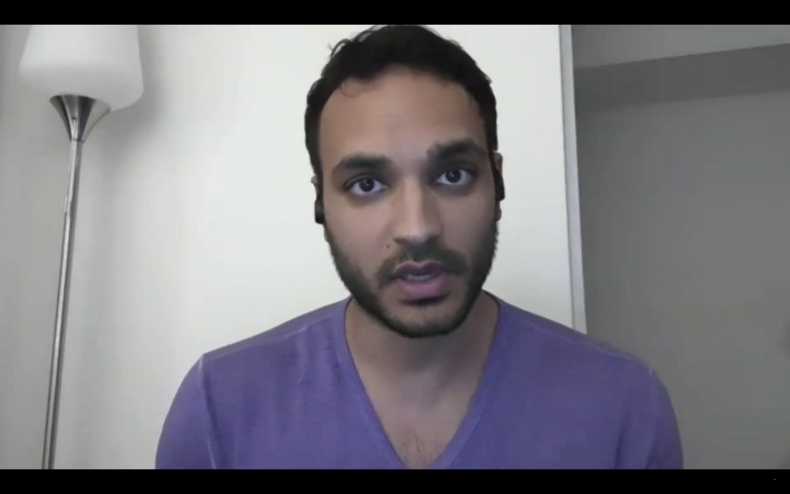 Putting It Together
Even putting the show together was a unique experience.
"Zoom is an art that is being invented as we speak," says Blank. "It was a tremendous privilege to get to be supported innovating in a form that nobody has ever really worked in before. The technical director, Ido Levran, built a platform that didn't exist. The actors were in Zoom meeting and had seven computers with each of their Zoom feeds set up separately. And then he was essentially doing live TV editing. Our actors were heroic in dealing with technology and figuring out how set up their own internet.
"We were all really figuring it out together," she adds. "Luckily the form of our work lends itself to this because it is monologue-based and it is directed to the audience. And luckily, we had a cast who were experienced on camera as well as on the stage, so they understood that they were in closeup the whole time. And they understood what that meant for their acting."
On the day The Line was put together, Jensen, says, "We had an actor in L.A., a bunch of actors in New York and an actor in London. We were across three or four different time zones working together. It was a strange evening."
One positive outcome for playwrights on Zoom is the large number of viewers a play can attract. Jensen did the math: It would have taken 33 days to get the number of people into a theater to see The Line just on the first day it was available online.
Care as an Alternative
But for Blank and Jensen, the important thing was the message. Jensen says, "We wanted to land a radical punch for care as an alternative to all of the violence and the disruptions."
"COVID is a virus, but the amount of destruction and death it has left and is leaving in its wake is avoidable," Blank adds. "It's not like it was never going to not kill anybody but it never had to be like this."
As they were putting the show together, George Floyd was killed, Blank says, "and we already were talking to providers about the discrepancies in terms of the impact of COVID on communities of color and vulnerable communities and the racism that is inherent in the health care system and the real-world impact of that.
"That was very much on our minds as we were listening to people and in process with this play, and what we heard was that all of these medical workers care so deeply not as a feeling but as an action every single day. And they put their lives on the line to care for people."
Jensen adds, "I learned something from each of the people that we interviewed including people who didn't make it into the play. I learned about the true meaning of sacrifice, the true meaning of bravery and honor. At a federal level, these things are seriously lacking right now."
Science and politics have been in conflict since the pandemic began. At first, the messages sent out to citizens in the U.S. were, at best, mixed. Quickly, though, those messages looked like they had been put through a Cuisinart. Jensen says, "Theater when it is done well can bring clarity to the Cuisinart, the Cuisinart that is politics."
For the most part, Zoom plays are theater stripped to its essentials: actors speaking dramatic language; simple lighting, not much in the way of costumes and usually only the most primitive special effects. So while they may not supplant the theater-going experience—no one wants that—they can, especially in plays like The Line, offer a reminder of how transfixing great drama can be.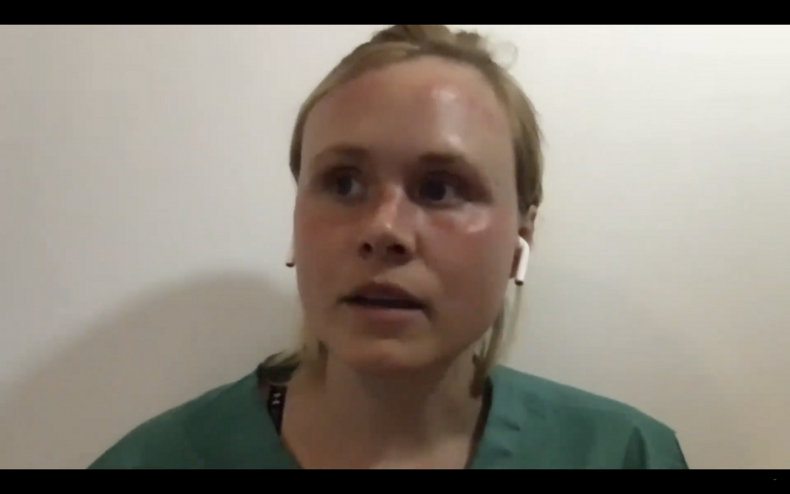 The Line can be streamed on the Public Theater's YouTube Channel until August 4. If you want to get a picture of the coronavirus pandemic that goes beyond the photo-ops, the press conferences and the politics, see it.