Lionel Messi Is In A Goalscoring Drought And It's Hurting Barcelona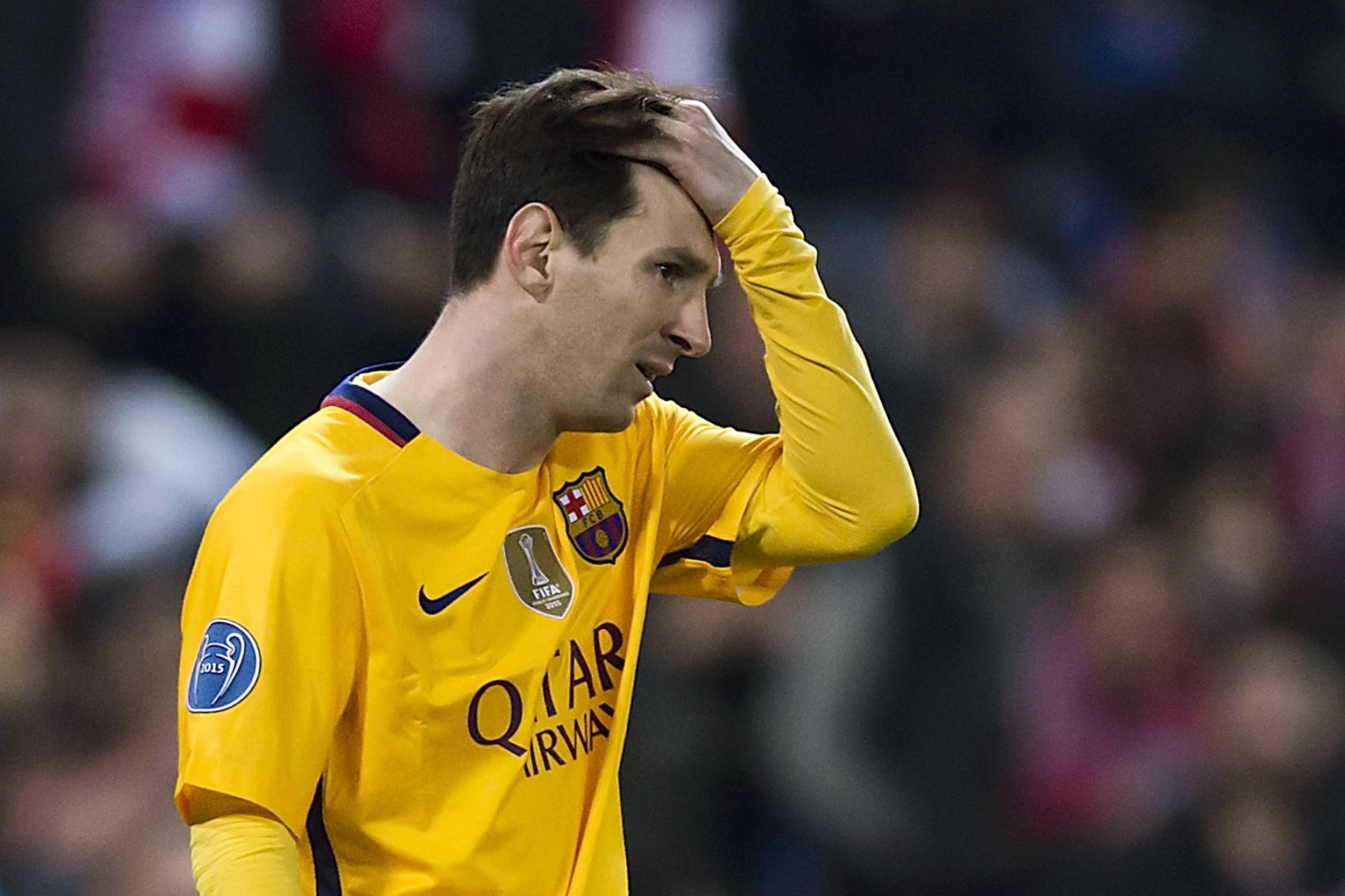 Is something rotten in the province of Catalunya?
Lionel Messi — the "world's greatest player," so says the 2015 Ballon d'Or, and countless more statistics you can pluck from the golden wastebin of a remarkable career - has not scored for five games.
Were this to happen to any normal player — even an excellent one - there would be no cause for alarm.
Every forward goes through a dry spell in front of goal — it is impossible to maintain a combination of luck and excellence at the same ratio through an entire career.
And the Argentine still has 22 goals in La Liga this season, good for third on the overall list, behind only his team mate, Luis Suarez, and Cristiano Ronaldo, which will rankle more.
No cause for alarm, except that Messi's poor form is hurting Barcelona.
It is recognition of his enduring importance to the team, even as part of a front three that has been called one of the finest trios ever to play the game. Neymar and Luis Suarez are good, superb, great even in their own rights. But they are not Messi.
Look at Barcelona's results since Messi's goals dried up, following his late strike to seal a Champions League Round of 16 victory over Arsenal.
A 2-2 draw with Villarreal, a 2-1 defeat to Real Madrid at Camp Nou in El Clasico that will have stung as nastily as a whipped-up bee, a notable 2-1 victory over Atletico Madrid, a 1-0 defeat to Real Sociedad, and then on Wednesday night, the nadir, a sluggish performance against Atletico that dumped Barcelona from the Champions League at the quarter-final stage.
It's a run of results that has crumpled a seemingly impregnable lead in La Liga to three points, with Atletico closing in and Real Madrid, ominously, only four points behind.
Against Atletico at a raucous Vicente Calderon, Messi looked, not disinterested, but right in line with the sluggish nature of the rest of the Barcelona team.
Should it be up to Messi to lift his team? It's a moot point. He's the world's greatest player, perhaps of all time, so it should come naturally. And it has, so many times before.
But as Barcelona labor, so Messi's struggles become starker —and vice-versa. It's 527 minutes since he last scored, his worst sequence since 2010.
On that occasion, he responded by thwacking seven in four games to announce to everybody that a blip was that, a hillock in the road towards iconic status.
That season, though, he hadn't had to deal with a discomfiting case of kidney stones - Messi's doctor said in March that he had carried on playing for three games with the condition, and he missed some of the FIFA Club World Cup in December with renal colic, a complication of the illness. That will, understandably, have slowed him down a touch.
Messi needs a similar return to form this time as six years ago, though, or else the whispers will start to grow louder, and, more importantly, Barcelona will continue to struggle. It is, surely, unthinkable that Barcelona could lose its symbol. But Ronaldinho, as much a superstar of his era as Messi if never as consistent, was sold in 2008, by Pep Guardiola, a move that seemed, at the time, unthinkable in its bravado. Never say never—no player, no matter how good, is irreplaceable.