Lionel Messi: His Five Greatest Moments in a Barcelona Shirt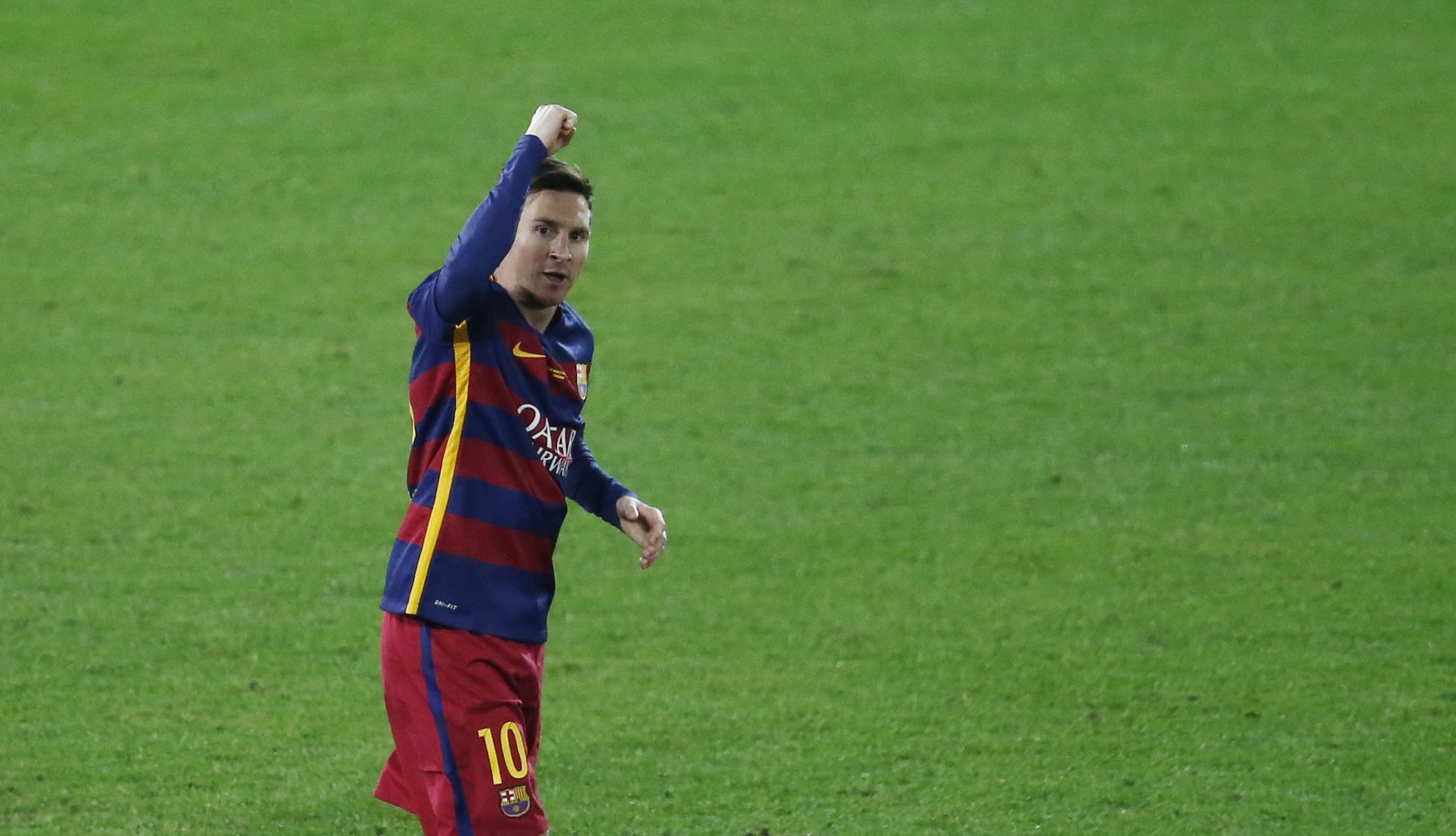 Lionel Messi will make his 500th appearance for Barcelona, on Wednesday, against Real Betis on a journey that began in 2004, when he stepped up to the senior Barcelona side and was spoken of in hushed terms, as so many young Argentine football talents are, as a "new Maradona."
Eleven years later, Messi has 424 goals in all competitions for Barcelona in 499 games, as well as 26 trophies with the club. Not only is he firmly his own man but he is established as one of the greatest footballers of all time. As Messi approaches his landmark game, Newsweek looks at his five greatest moments in a Barcelona shirt.
Hat-trick against Real Madrid, March 2007
Barcelona was struggling in the last days of Frank Rijkaard, the manager who would be succeeded, and bettered, by Pep Guardiola. In a malfunctioning team, Messi stood out luminously, though he was only 19 at the time. His first two goals were crisp, but utilitarian, especially by the standards that would come to define him—one a clipped finish past Iker Casillas, the Real Madrid goalkeeper, the other a hammer at close range. The third blared 'genius' to a rammed Nou Camp, the home ground of Barcelona. With Real Madrid ahead 3-2 and time running out, Messi skipped past two defenders before unleashing a powerful, accurate shot across the body of Casillas. The manner of the goal was stunning, its timing even more so.
Champions League final against Manchester United, May 2009
Still managed by the great Sir Alex Ferguson, Manchester United strode into the Stadio Olimpico in Rome seeking to become the first team in the UEFA Champions League era to win the trophy in a successive year. Man Utd trudged out of the stadium, chastened, on a night when Messi reminded the world that his head can be as potent as his feet. Barcelona was leading 1-0 in the 70th minute when Xavi, the Barcelona midfielder, strode onto a loose clearance and clipped a cross to the far post. Messi jumped, bending backwards as he did so, heading the ball past Edwin Van Der Sar, the United goalkeeper, who could do nothing more than flap cursorily as it nestled in the far corner. It was a strike that confirmed Champions League victory, but also one laden with symbolism. Messi—and Barcelona—could beat you any which way they desired.
Four goals against Arsenal, Champions League quarter-final, April 2010
If ever there was a footballer at the zenith of his powers… Arsenal retained a chance of progressing to the UEFA Champions League semi-finals, having lost the first leg against Barcelona in the Nou Camp narrowly, 3-2. Its hopes were shattered by Messi, the one-man wrecking crew, who cancelled out Arsenal striker Nicklas Bendtner's opener with a lashed shot into the top corner that silenced Emirates Stadium, Arsenal's home ground. A simple close-range finish and a lob over goalkeeper Manuel Almunia completed a first-half hat-trick before another impudent lob, almost a scoop off his left foot, sealed the thrashing in the second half. It is a measure of Messi that Arsenal departed that season's Champions League with pride. It had been beaten by one, extraordinary man, and there is no shame in that.
Champions League final against Manchester United, May 2011
Manchester United was humbled for the second time in three years by Barcelona in a Champions League final but this was a far more comprehensive, chastening defeat. Wayne Rooney, the Manchester United striker, had equalised Pedro's opening goal, but it had the effect of waving a chunk of steak under a shark's nose. Sir Alex Ferguson had said prior to the game that he and his team had learned their lessons from the 2009 final, but there was little they could do as Messi strode forward in the second half and thumped a low shot past Edwin Van Der Sar. The world's greatest player had, again, spoken eloquently and emphatically on club football's most important night.
Five goals against Bayer Leverkusen, Champions League Round of 16, March 2012
Humiliation on the grandest scale. Messi became the first player in Champions League history to score five goals in a single game, as Bayer Leverkusen, the German Bundesliga side, was beaten 7-1 in the Nou Camp for a 10-2 defeat over two legs. " His class is just extraordinary, there's no discussion. Without Messi, Barca are the best team and with him, they are in another galaxy," Robin Dutt, the Bayer Leverkusen manager, said in reaction to the performance. That was a pithy and elegant way of summing up the situation.