Lions, Elephants and Rhinos on the Run after Escaping Zoo
Multiple dangerous animals, including lions, rhinos and elephants, have escaped from a zoo in South Africa.
It is estimated that six lions, four elephants, two white rhinos, one buffalo, one black rhino and a pack of African wild dogs have escaped over the course of several weeks from Hluhluwe iMfolozi Park, which is about 170 miles north of Durban.
Several cow carcasses have been found since the escapes. A 45-year-old woman, Zandile Mbhele, was injured by one of the escaped rhinos in mid-August as it rampaged through her town, damaging the fences of six nearby homes in the process.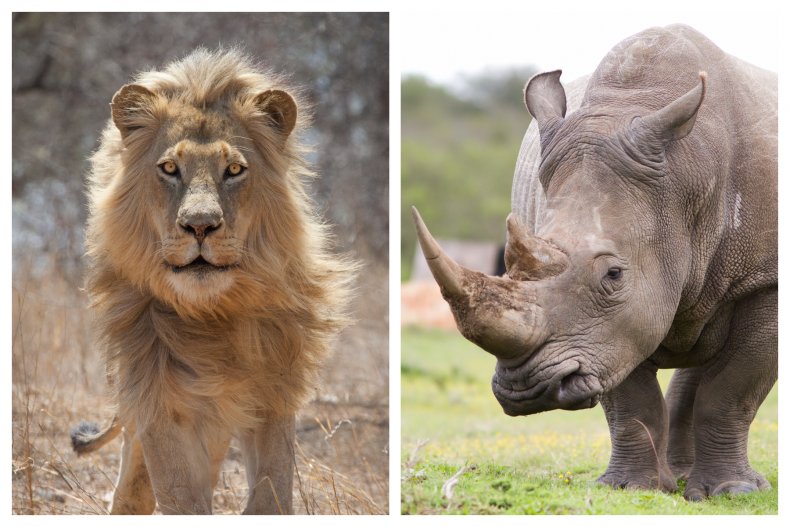 The park, which is about 237,000 acres, is thought to be the ancient royal hunting grounds of Shaka Zulu during his reign in the early 19th century. It is home to about 120 lions and has one of the largest populations of endangered white rhinos in the world.
One of the lions was spotted at the side of the nearby P700 highway, caught on video by a driver passing by. Others were seen feeding on the carcasses of cows that had been hit by a train.
This isn't the first time that animals have escaped from wildlife reserves in South Africa. In 2019, 14 lions escaped from Kruger National Park.
"Ezemvelo managed to re-capture one rhino on Thursday, 11 August 2022. The second rhino...had been shot at by one community member," said Ezemvelo KZN Wildlife spokesperson Musa Mntambo in a statement. Ezemvelo KZN Wildlife is a governmental organization that maintains wildlife conservation areas.
Wild animals, especially lions, entering human areas can be very dangerous to people nearby.
"Almost any organism around lions might be a potential prey item, and for people to think that they are an exception is folly," Luke Dollar, program director for National Geographic's Big Cats Initiative, told National Geographic.
The park suspects that the animals must have found a way to escape through the park's fence around its perimeter.
"There is an opening at the fence caused by illegal soil mining," Mntambo said. "We suspect that the lions managed to escape through a hole in that fence."
Residents from the Okhukho and Nqulwane communities, terrified of the dangerous animals escaping into the wild near to their homes, have taken it upon themselves to fix the fence after weeks of waiting for the park to patch the hole, the Zululand Observer reported.
According to South Africa's News24, locals frustrated with the park protested the escapes earlier in August by breaking into the park's staff quarters, stealing several items and burning down a security house.
"We request people that have issues with Ezemvelo to engage us instead of protesting," said Ezemvelo's acting CEO, Ntsikelelo Dlulane, in a statement.
He continued: "I have ensured that most of the resolutions adopted during the community meeting...are implemented. The areas where we have not started repairing the fence are remote areas that are not easily accessible by vehicles delivering the material. We have put a plan to attend to these areas and we appeal to the community to afford us some time. I also hope that those who took items belonging to our Field Rangers will return them to us."
The park has said in a statement that it will cover the costs of Mbhele's hospital bills, as well as pay for the replacement of the fences damaged by the rhino.
Newsweek has contacted Hluhluwe iMfolozi Park for comment.