Helping Harvey Weinstein Was a 'Colossal Mistake,' Lisa Bloom Says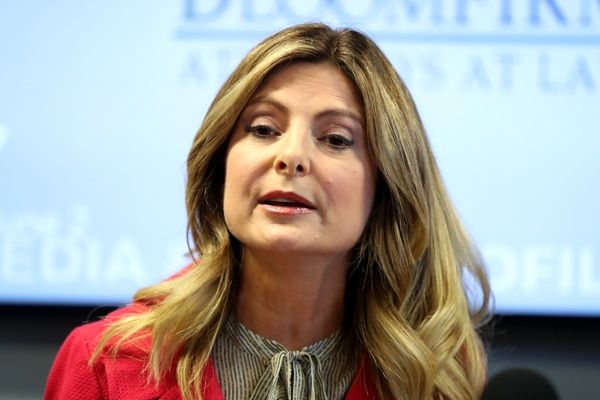 Nearly two weeks after being cited as an advisor to Harvey Weinstein, attorney Lisa Bloom has realized that her efforts to help the fallen Hollywood producer was a "colossal mistake."
In an interview with Buzzfeed released on Saturday, Bloom, a lawyer who has been considered a champion of women's right, admitted she was regretful for even involving herself in Weinstein's scandal.
"I can see that my just being associated with this was a mistake," Bloom said. "All I can say is, from my perspective, I thought, 'Here is my chance to get to the root of the problem from the inside. I am usually on the outside throwing stones. Here is my chance to be in the inside and to get a guy to handle this thing in a different way.' I thought that would be a positive thing, but clearly it did not go over at all."
On October 5 The New York Times released a harrowing report detailing decades-long sexual harassment and assault actresses including Rose McGowan and Ashley Judd had suffered at the hands of Weinstein. Sexual misconduct of women had long been an open secret in the film industry for years, and following The New York Times' report, more than 30 women have come forward with accounts of harassment, assault and rape.
The New York Times Times' report listed Bloom as one of Weinstein's legal advisors who denied "many of the accusations as patently false" on the Miramax co-founder's behalf. Dismissing Weinstein's actions as those of an "old dinosaur learning new ways," Bloom was reportedly attempting to help Weinstein understand the gender and power dynamics of business: That many of the women blamed their silence over fears Weinstein would destroy their careers.
Bloom had built her career aiding women win cases of assault and harassment including Janice Dickinson, Mischa Barton, Kathy Griffin and Black Chyna. And her surprising support of Weinstein resulted in instant backlash and criticism.
In the days following The New York Times' report and a separate report by The New Yorker regarding Weinstein's inappropriate behavior released four days later, Bloom resigned from her advisory role, telling Buzzfeed she was "absolutely shocked" by the amount of women coming forward with claims of sexual misconduct. Her statement went on, revealing that she is still an apologist, for Weinstein and now herself. "I am not an actress…this may be something that they knew about, but I did not," Bloom said. "Before all this became public, there were plenty of people who thought he was a great guy. So we have to be careful about looking at things in hindsight. I think many people who worked with him did not know."