Lisa Murkowski Doesn't Think Donald Trump Will Be Reelected After Capitol Riot Footage
Sen. Lisa Murkowski (R-Alaska) said Wednesday that she does not believe former President Donald Trump will ever be elected to serve a second term in the White House.
Murkowski made the remarks as Trump's unprecedented second impeachment trial continued in the Senate. The senator is one of a handful of Republicans in the upper chamber who may vote to convict Trump, although she voted against his conviction at the conclusion of his first impeachment trial in February 2020.
"Frankly, I don't see how, after the American public sees the whole story laid out here... I just don't see how Donald Trump will be reelected to the presidency again," Murkowski told reporters. "I just don't see that."
Graphic new videos of the violent insurrection at the U.S. Capitol on January 6 were played in the Senate as House impeachment managers made their opening arguments during the trial's second day on Wednesday.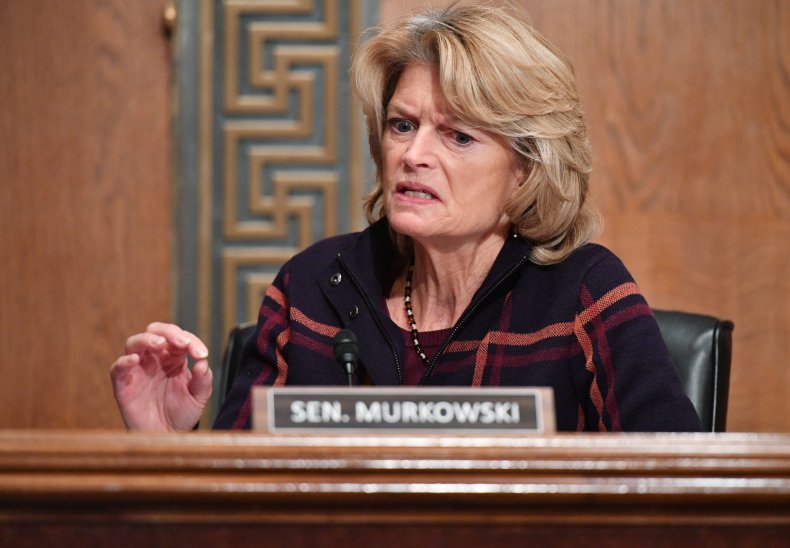 It is unclear whether Trump will seek to regain the presidency, but some of the former president's allies have suggested that a 2024 run could be on the cards. However, if Trump is convicted in the impeachment trial, a simple majority vote on a subsequent resolution could bar him from ever again holding public office.
On Tuesday, Murkowski told CNN that she believes Trump is "gone," while suggesting that she is looking forward to a Republican party with a diminished role for the former president.
"I think we're in a place where Donald Trump is gone and, in terms of his role in party, that has yet to be determined," Murkowski said. "But I have not embraced the party of Donald Trump. I'm looking for the Republican Party."
Opinion polls suggest that Trump still holds significant sway over the party, with a January 27 Politico/Morning Consult survey finding that 50 percent of Republicans believe that the former president should continue to play a "major" role in the party while only 23 percent said he should "no longer play a role."
Murkowski voted in favor of a motion that asserted the constitutionality of the trial on Tuesday. She was joined by five other GOP senators including a surprise vote from Sen. Bill Cassidy (La.).
Trump's attorney Bruce Castor argued that the impeachment was driven by Democratic fear of "political" rivals in the future during an opening statement that was met with widespread criticism from both sides of the political aisle.
Sen. Mitt Romney (R-Utah) also voted to validate the trial. Romney is believed to be open to convicting Trump as well, having been the only GOP senator who voted to convict the former president following his first impeachment.
In addition to Romney and Murkowski, other Republicans seen as possibilities to cast votes in favor of Trump's conviction at the trial include Sen. Ben Sasse (Neb.), Sen. Pat Toomey (Pa.) and Sen. Susan Collins (Maine). However, 17 Republican votes would be required to meet a 67 vote conviction threshold and with most GOP senators voting against even holding the trial, it currently appears unlikely that the former president will be convicted.
Newsweek reached out to Murkowski's office for comment.