Lisa Murkowski Rips Mask Mandate Nazi Comparisons Amid Alaska's Startling COVID Rates
Alaska Republican Senator Lisa Murkoski on Friday decried the "shocking" comparison of mask mandates to Nazism amid a growing surge of virus cases in her state.
In an impassioned speech on the Senate floor, Murkowski addressed the COVID-19 pandemic and noted that Alaska has become one of the nation's hotbeds for new infections.
"We are leading the nation right now in our COVID rates. We're separated enough geographically, but through the advantages of air travel and road travel, we mix, we mingle, we get around, and the virus knows no bounds," Murkowski said during her speech.
The senator's comments come as the number of weekly cases jumped 10 percent from just last week, according to state health data. The state now has over 1,000 new virus cases with more than 200 people hospitalized for the virus. Health officials have warned of an increasingly grim situation, while Alaska's largest hospital recently entered a crisis mode to allow doctors to prioritize an influx of new virus patients, according to theAnchorage Press.
Nonetheless, protesters in Alaska and elsewhere across the U.S. continue to fight mask and vaccine mandates.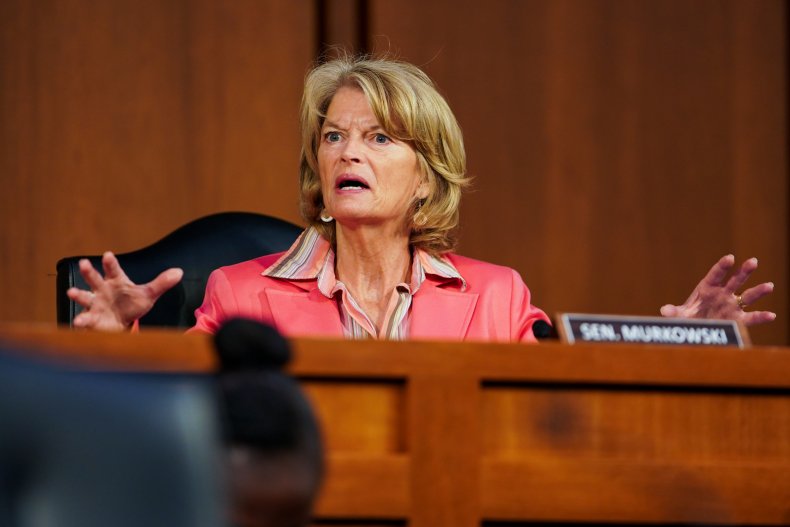 Earlier this week, protesters gathered at an Anchorage assembly meeting to reject a proposed mandate that would require people to wear masks indoors and in large outdoor gatherings. Four people were arrested during the protest, while several others wore yellow Stars of David and compared the COVID-19 measure to Nazism.
"We have had some just horrible, horrible confrontations in our public meetings in Anchorage," Murkowski said during her speech Friday. "The top of the fold in the Anchorage paper is about an assembly meeting where individuals wore yellow Stars of David to protest the mask ordinance that the Anchorage Assembly was taking up, comparing a mask mandate to the Holocaust. It's shocking."
"We can have disagreements. We can have differing points of view. We can express them without degrading one another, without denigrating one another, without humiliating and mocking one another," she added.
Murkowski's comments came on the same day that the U.S. surpassed a grim milestone, with 700,000 COVID-19 deaths recorded since the start of the pandemic. While the overall rate of new cases has declined 12 percent nationwide, the seven-day average of cases per 100,000 people has sharply risen to more than 15,000 cases per 100,000 people in Alaska, according to data from The Washington Post.
"If Alaska were a country, it would be the nation with the world's highest per-capita case rate," Murkowski added in her speech.
As of Saturday, 51 percent of Alaska's population has been fully vaccinated against the virus, while 57 percent have received at least one dose.