Lisa Murkowski of Alaska is the only Republican senator who voted to convict former President Donald Trump and will face reelection next year. Her decision to cross party lines could lure a primary challenge from Sarah Palin.
Murkowski and six other Senate Republicans—Richard Burr of North Carolina, Bill Cassidy of Louisiana, Susan Collins of Maine, Mitt Romney of Utah, Ben Sasse of Nebraska, and Patrick Toomey of Pennsylvania—joined Democrats in voting to convict Trump on Saturday. However, the 57-43 majority was far from the two-thirds needed for a conviction. With an acquittal, the Senate cannot hold another vote to disqualify Trump from running for office in the future.
Their decision to stand with Democrats in pushing for a conviction is expected to draw backlash from conservatives, Trump loyalists, and constituents who believe voting along party lines should be prioritized above a vote of conscience. Apart from Romney, the other senators who voted to convict had recently been reelected or in Burr's case, planning to retire.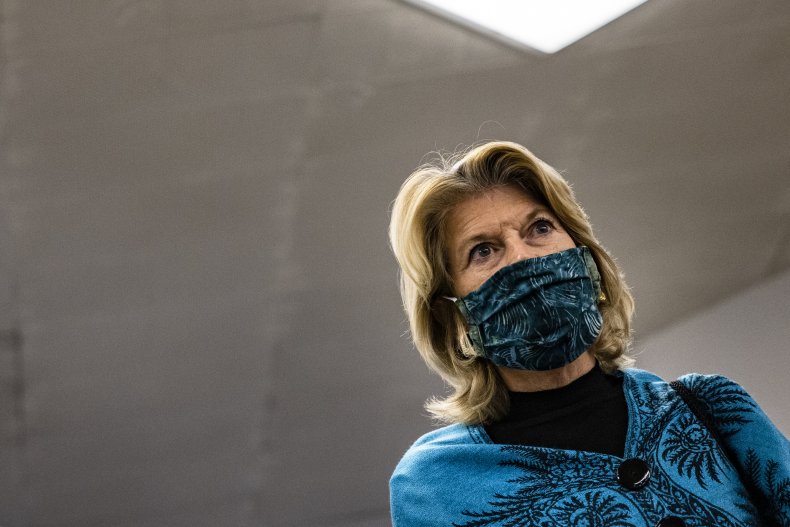 In September, Palin threatened to unseat Murkowski in the 2022 elections if she doesn't support Trump's Supreme Court nominee Amy Coney Barrett.
"We sure hope that you have it within you to do the right thing this time," the former Alaska governor and 2008 vice-presidential nominee told Murkowski in a video shared to social media. "So, you should walk back. We'll forgive you."
"If you can't do that, remember my house? I can see a lot of things from my house... Lisa, I can see 2022 from my house," she added. "You're thinking you're going to go rogue ... This isn't the time, this isn't the place."
While Palin has previously threatened to challenge the senator for crossing party lines, she has remained silent as Murkowski condemned Trump for the Capitol riot and indicated her vote to convict. Revered by grass-roots conservatives, Palin endorsed Trump in 2016, providing his campaign with a boost 13 days before the Iowa caucuses, and has since remained an avid supporter of the former Republican president.
In November, she echoed Trump's claim that widespread voter fraud caused his election defeat to President Joe Biden. Palin continued to deny Trump's loss as she joined the GOP Georgia campaign trail one month later.
Newsweek reached out to Palin's representatives for comment about a potential 2022 run. This story will be updated with any response.
Whether Murkowski, a longtime moderate Alaskan senator, will lose support among voters and legislators in her home state remains to be seen. Trump won Alaska by 10 points last year, but Murkowski's political power has proven to be sturdy. After Trump's impeachment trial concluded on Saturday, the GOP lawmaker told Politico she was "sure that there are many Alaskans that are very dissatisfied with my vote, and I'm sure that there are many Alaskans that are proud of my vote."