Trump's 'Demeaning Fake Orgasm' Prompts Ex-FBI Agent Lisa Page to Speak Out, Call President's Tweets About Her 'Sickening'
Former FBI lawyer Lisa Page who was mocked by Donald Trump for tweets she exchanged with her lover has spoken of her anguish at the president's "reprehensible" stunt at a rally in October.
At the event in Minneapolis, Minnesota, Trump read out personal messages sent between Page and FBI agent Peter Strzok in August 2016 which included one that said "we'll stop" Trump from becoming president.
Both are married to other people and at the time Strzok was overseeing the Hillary Clinton email investigation as well as the probe into Trump's campaign.
Trump claimed the FBI spied on him during his 2016 election campaign and that the tweet exchange showed there was bias against him. Next week a report by Justice Department inspector Michael Horowitz into Trump's claims will be released.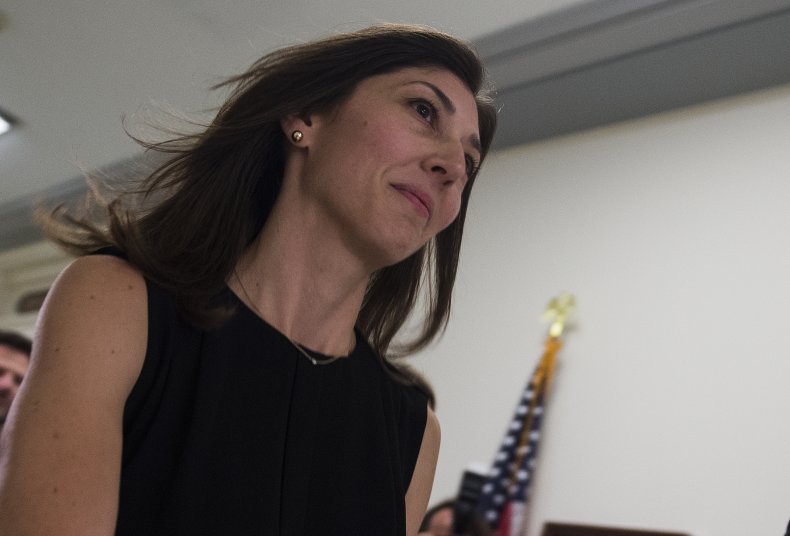 Page kept a low profile while she was the target of Trump's tweets but was spurred to speak out after the rally, during which Trump screamed out, "I love you, Lisa! I love you so much!" apparently mimicking an orgasm, although Fox News disputed this was Trump's intention.
She told The Daily Beast that what Trump did was a "truly reprehensible, degrading stunt," adding, "Honestly, his demeaning fake orgasm was really the straw that broke the camel's back."
"I had stayed quiet for years hoping it would fade away, but instead it got worse. It had been so hard not to defend myself, to let people who hate me control the narrative. I decided to take my power back."
She said Trump's public ridicule of her, including on Twitter, made her wary about being spotted in public.
"It's like being punched in the gut. My heart drops to my stomach when I realize he has tweeted about me again. The president of the United States is calling me names to the entire world. He's demeaning me and my career. It's sickening."
She said that she is worried if someone makes eye contact with her on public transport, and that she tries to steer clear of anybody wearing a MAGA hat, to reduce her chances of coming into conflict with a Trump supporter, pointing out that it is "very intimidating because he's still the president of the United States.
"When the president accuses you of treason by name, despite the fact that I know there's no fathomable way that I have committed any crime at all, let alone treason, he's still somebody in a position to actually do something about that. To try to further destroy my life.
"It never goes away or stops, even when he's not publicly attacking me," she added.
Meanwhile, Horowitz's report has been leaked to several outlets, including The Washington Post. It appears that the report will conclude that FBI lawyer Kevin Clinesmith altered a Foreign Intelligence Surveillance Act document linked to the agency's wiretapping of Carter Page, a Trump campaign associate.
However it is expected to also conclude that the Russia investigation was not tainted with anti-Trump bias, which would clear top FBI officials such as its former director James Comey as well as Strzok.
Although Page insists she did nothing wrong, she told The Daily Beast that even if she is publicly exonerated by the report, "I don't kid myself that the fact will matter very much for a lot of people. The president has a very loud megaphone."