Listeria Outbreak Causing Four Deaths Linked to Enoki Mushrooms, Say Officials
The Centers for Disease Control and Prevention (CDC) is investigating a multistate outbreak of Listeria monocytogenes infections, which is thought to be linked to enoki mushrooms.
Along with public health and regulatory officials in several states and the U.S. Food and Drug Administration (FDA), CDC is looking into the link between the strain and enoki mushrooms sold by Sun Hong Foods, Inc., as it is thought they might be contaminated with Listeria bacteria.
According to the CDC, 36 cases had been reported in 17 different states—four deaths have been confirmed. Ill people range in age from less than 1 to 97 years, with a median age of 67, says CDC. It is also confirmed that 58 percent of those affected are female.
Enoki is a mushroom that is well-known for its role in Japanese cuisine and are white, with long stems and small caps. These particular mushrooms were from Sun Hong Foods and sold in 7.05 oz / 200 g clear plastic packaging with a green label, according to the CDC. These products can also be identified by the UPC code: 7 426852 625810.
It is unclear where the source of contamination came from and whether any further products are linked to the illness.
Listeria Outbreak: At A Glance (Source: CDC)
Reported Cases: 36
States: 17
Hospitalizations: 30
Deaths: 4
The timeline of the confirmed cases ranges from November 23, 2016, to December 13, 2019, according to CDC. The fatalities have been reported from California, Hawaii and New Jersey. Six pregnancy-associated cases have been reported, of which two resulted in fetal loss.
The Michigan Department of Agriculture and Rural Development tested enoki mushrooms from a grocery store and found two of the samples had the strain of Listeria monocytogenes.
On March 9, 2020, Sun Hong Foods, Inc. recalled enoki mushrooms (UPC 7 426852 625810) labeled as "Product of Korea". The FDA is working to identify the source of the enoki mushrooms distributed by Sun Hong Foods, Inc. and determine if other distributors received the same enoki mushrooms, according to CDC.
Official Advice to Consumers, Food Service Operators, and Retailers
Do not eat, serve, or sell any recalled enoki mushrooms distributed by Sun Hong Foods, Inc.

Check your refrigerator for recalled enoki mushrooms. Return them to the purchase location or throw them away.
Do not eat any food made with recalled enoki mushrooms, even if some were consumed and no one became sick.

Wash and sanitize any surfaces and containers that may have come in contact with the recalled enoki mushrooms. Listeriacan survive in refrigerated temperatures and can easily spread to other foods and surfaces:
Call your healthcare provider if you have consumed recalled enoki mushrooms and are experiencing symptoms of Listeria infection.
According to CDC, pregnant women, adults aged 65 or older and people with weakened immune systems—such as people with cancer or on dialysis—are at a higher risk if they get a Listeria infection.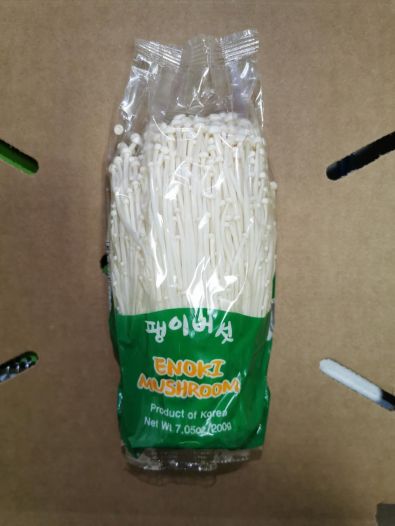 What are the symptoms of Listeria infection?
Listeriosis can cause different types of symptoms, according to CDC, as it depends on the person and the part of the body affected.
Those who are pregnant typically experience fever and other flu-like symptoms, such as fatigue and muscle aches. According to the CDC, infections during pregnancy can lead to miscarriage, stillbirth, premature delivery, or life-threatening infection of the newborn.
For others, symptoms could include headaches, a stiff neck, confusion, loss of balance and convulsions. This is in addition to fever and muscle aches.
Symptoms for invasive listeriosis usually start one to four weeks after eating food contaminated with Listeria, says CDC. Some people have reported symptoms starting as late as 70 days after exposure or as early as the same day of exposure. Infections can be treated with antibiotics.
Where did the Listeria outbreak come from?
According to the CDC's official food safety alert, public health investigators found that the outbreak likely shared a common source of infection, using whole-genome sequencing (WGS) to analyze Listeria bacteria. The alert also confirms that the enoki mushrooms are the likely source due to Epidemiologic and laboratory evidence.
Furthermore, state and local public health officials interviewed ill people regarding their food habits in the month before they become ill— 12 out of 22 (55 percent) reported eating mushrooms, including enoki, portobello, white, button, cremini, wood ear, maitake, and oyster.
The Michigan Department of Agriculture and Rural Development tested mushrooms—collected from a local grocery store where an ill person had purchase enoki mushrooms—and found two of the samples had the strain of Listeria monocytogenes. According to CDC, additional product testing is ongoing in California.
Listeria has also been linked to hard-boiled eggs and pork-based products in the past year. Walmart and Trade Joe's recalled hard-boiled egg based products thought to have been contaminated with the bacteria in December 2019.