Little Boy Returning to School Gets Heartwarming Greeting in Adorable Video
One week can seem like an eternity to a young child. A viral video is proof of that.
The video, titled "The kid was absent from school for a week. This is how he was welcomed on his first day back," was posted by Reddit user u/AnxiousIndicator in the "Make Me Smile" forum. It has been upvoted over 45,000 times.
It is unspecified when and where the video was recorded, or by whom.
The 16-second clip showed a young boy walking toward his classmates following his absence. He is greeted by multiple smiling students of different races, who are visibly enthusiastic to see their friend.
After some hugs, students notice the classmate has a fresh haircut and touch his head to show appreciation. The moment drew plenty of praise online, including from one former teacher who taught 4-year-olds and said they are "so loving."
"I want to live in this world!" one Redditor commented.
"I remember when I was in first grade, there was this kid who was gone for over a month and when they came back I gave them a big hug and yelled their name, even though I wasn't friends with them," one Redditor recalled.
"Awww. This happened to me in the first grade," another Redditor said. "I had pneumonia (which exacerbated my underlying asthma) and was out of school for like 6 weeks. When I came back my best friend ran up to me and gave me a big hug."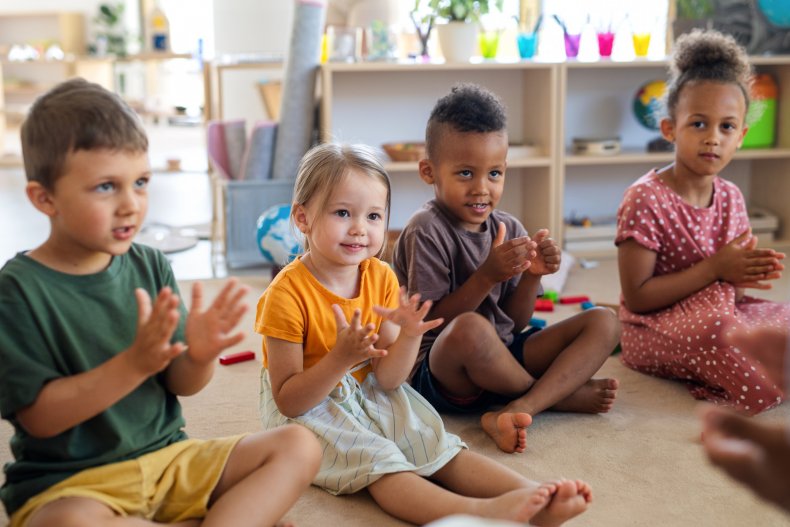 Absences among young children aren't uncommon, although the COVID-19 pandemic may have exacerbated illnesses. Currently, children ages 5 to 11 are now eligible to receive a booster shot five months after their initial Pfizer-BioNTech vaccinations.
The Centers for Disease Control and Prevention reported that over 4.8 million children in that age bracket have been diagnosed with COVID, leading to about 15,000 hospitalizations and 180 deaths.
"Vaccination with a primary series among this age group has lagged behind other age groups leaving them vulnerable to serious illness," said CDC Director Dr. Rochelle Walensky in a statement. "With over 18 million doses administered in this age group, we know that these vaccines are safe and we must continue to increase the number of children who are protected."
Advanced Pediatric Associates, headquartered in Colorado, said seasonal allergies are common at this time of year and include symptoms such as watery and itchy red eyes, runny noses, sneezing, and itchy throats.
Cough and croup are also being noticed in greater amounts, the latter of which is described as a viral respiratory illness that negatively affects a child's breathing—so much so that inhaling air can become a tough task due to stridor. Medical attention is often involved when croup occurs.
Pediatricians are also reportedly seeing heightened cases of the viral illness bronchiolitis—which can be caused by respiratory syncytial virus, or RSV. This is most prevalent in children under age 2 during the winter and early spring seasons.
Some parents have also expressed concern regarding an uptick in hepatitis cases. The CDC announced in early May that at least five children had died while officials have hurried to unravel the mystery of 109 cases across 25 states and Puerto Rico the past seven months.
The CDC has investigated whether a link exists between the increase of cases and pet dogs. The World Health Organization reported 228 probable hepatitis cases as of May 1, encompassing 20 countries—most cases of which are either in the U.S. or Europe.