Little Boy's Adorable Reaction to Disney Princesses Watched Over 30M Times
The innocence of childhood has been perfectly captured in a video chronicling a small boy's reaction to a parade of Disney princesses.
In the clip posted to TikTok by vanessaguedert, the young child can be seen waving and tipping his cap to each of the passing characters.
Impressed at his impeccable manners, every one of the passing princesses returns the favor, remaining in character to curtsy for the awestruck fan.
"Disney's true prince!" a caption accompanying the clip reads. The boy is seen tipping his cap to three princesses dressed as Snow White, Princess Aurora from Sleeping Beauty and Brave's Princess Merida, respectively.
No dialogue is audible on the clip, which is soundtracked perfectly by Christina Perri's "A Thousand Years" and serves as a perfect showcase of Disney's enduring appeal to children. The clip can be viewed here.
The video has been viewed an astonishing 31 million times on TikTok, racking up more than 6.1 million likes in the process.
Filmed at Walt Disney World Resort in Florida, just outside the Country Bear Jamboree, the boy's sweet reaction to seeing some of his favorite Disney characters in real life struck a chord with many.
"What a gentleman," Kareem and Fifi wrote. "I'm crying," Wendy Cevallos936 commented. "Awwwww," elizabeth_mrs said. "Bet none of the princesses were expecting that from such a small gentleman."
"I thought I was being a little cry baby for crying but everyone else is too," wrote Berlioz. "The reactions of the princesses are amazing!" Megan Knutson said. "It just shows how unexpectedly sweet your little guy is."
Morganne Justice joked: "I watch this and cry, thinking about my little boy, but if I took him to Disney he would terrorize everyone and set the park on fire."
Arguably the best reaction came from Disney themselves who commented on the clip, via the Disney Parks account, to say: "Oh my goodness. A true prince! This is adorable."
Responding to the comment, the original poster vanessaguedert said: "OMG!!! Thank you so much."
The clip was posted to TikTok by Vanessa Guedert, who lives with her family in Orlando, Florida. Her son, Bernardo, is the boy who features in the video.
Guedert told Newsweek: "We were hanging out in the Magic Kingdom park when he started to tip his hat for the princesses. I decided to record his reaction because I thought it was so cute.
"I'm very surprised about how quickly the video became viral," she says. "People have been really touched by his reaction. Some cried and some were happy to see the way I'm raising my son. A true gentleman."
For Guedert the video is, as much as anything, a wonderful showcase of the childhood innocence and sense of wonder so many kids have when it comes to all things Disney.
"Bernardo has a pure and sweet soul," she says. "The video only shows what he really is: a true prince."
This is the latest Disney World clip to go viral online, following on from a recently resurfaced video of Disney's Rock 'n' Roller Coaster with lights on that left viewers terrified.
Prior to that, an Abraham Lincoln animatronic was the talk of TikTok after a clip surfaced showing it malfunctioning in a highly amusing way.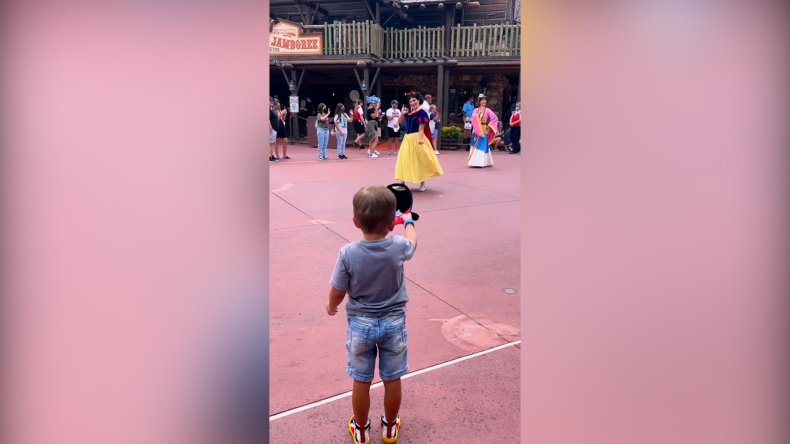 Update 9/20/21, 6:22 a.m. ET: This article was updated to include comment from Vanessa Guedert as well as an image and video of her son's reaction.