Living Meme Joe Biden Kisses Grad in New Video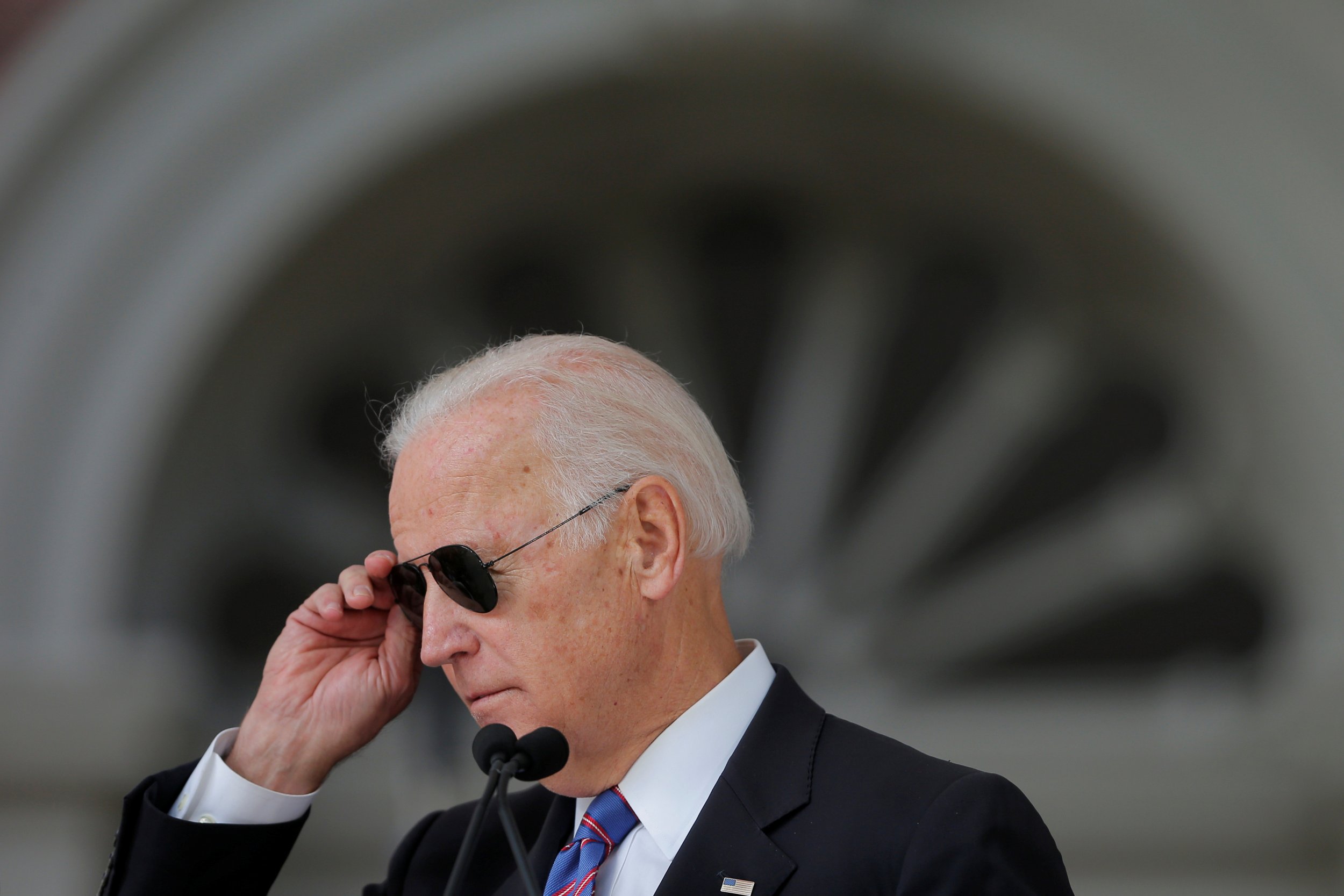 Former Vice President Joe Biden has landed another awkward viral moment, this time after he kissed a new graduate on the cheek at a recent commencement ceremony in Baltimore.
Related: Biden clarifies remarks about Clinton and income inequality
The moment actually happened a month ago—at Morgan State University's commencement, where Biden addressed the graduates—but it wasn't until Wednesday that new grad Brieana Carter posted a video of a selfie with Biden to her Instagram account, and it quickly went viral. The video shows Carter screaming with excitement after the former vice president pecks her on the cheek.
Of course, the 74-year-old Biden isn't a stranger to viral-ready gimmicks and off-the-cuff remarks. Throughout his vice presidency—and now after it, apparently—he has had his share of awkward moments. He once snatched a pacifier from a baby and put it into his own mouth; he called his job a "bitch"; and at one point in 2014, he made headlines for a so-called hat trick of gaffes. It all started with an apology to Jewish groups for using the term "Shylock," and then continued with a mea culpa surrounding the use of "the Orient" and ended with a comment to a group of women that he missed a senator who was almost expelled after allegations of assault.
Biden also has been known to be overly friendly with women in public. He shared an uncomfortably long hug with Democratic presidential candidate Hillary Clinton on a tarmac during the campaign season last year. In 2015, while swearing in Ash Carter, Biden got personal with the defense secretary's wife, putting both hands on Stephanie Carter's shoulders, leaning in and whispering into her ear. And in 2012, an image went viral of a woman biker apparently sitting on Biden's lap. The vice president's first post to Instagram, in April 2014, was to share an image of his now-famous Ray-Ban Aviator sunglasses.
There was speculation Biden might run for president in the 2016 election, but he decided against it after his son, Beau, died in May 2015. Before his term ended in January, President Barack Obama honored Biden with the Presidential Medal of Freedom.
Even though he is out of office, Biden is still a fixture in the political realm. Earlier this month, the Democrat raised eyebrows when he encouraged Mitt Romney, the former governor of Massachusetts and 2012 Republican presidential candidate, to run for U.S. Senate. During the 2012 presidential election, the two men squared off against each other, with Biden as Obama's running made and Romney attempting to win the presidency.
It remains to be seen if the current vice president, Mike Pence, will come close to matching Biden's viral moments. In February, he mistook the Nicaraguan flag for the Israeli one in a tweet meant to be supportive of the Jewish people. But considering who his boss is, this vice president's mistakes will have to be pretty big to make it onto the viral radar,