Wyoming Republican Representative Liz Cheney brought in $1.5 million from January to March, marking her most successful fundraising quarter ever as pro-Trump Republicans seek to unseat her.
Cheney has come under fire from the GOP in recent months over her repeated criticism of former President Donald Trump regarding his role in the January 6 Capitol riot and his false claims about the 2020 election.
On Wednesday, House Republicans voted to oust Cheney from her leadership role as chair of the House Republican Conference, while challengers are gearing up to run against her in the 2022 primary.
But unseating Cheney could prove difficult as she continues to rake in large amounts of campaign money amid reports that the list of candidates seeking to run against her grows.
For more reporting from the Associated Press, see below.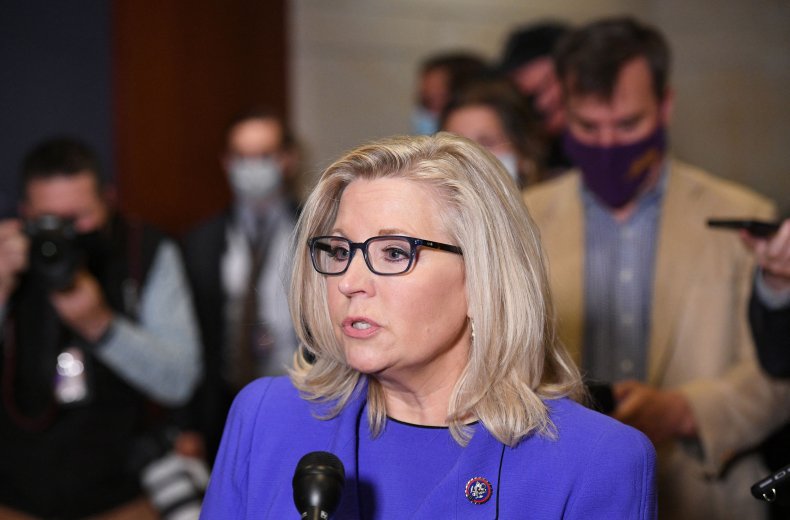 Over a year remains before Wyoming's deadline to file for the August 2022 Republican primary, but already at least six Republicans plan to run against her.
The growing scrum, ranging from a retired Army colonel to a rural kombucha brewer, is on the minds of Cheney allies and opponents alike.
"There's going to be an awful lot of them. It's probably going to split the vote," said Mark Falk, a Cheyenne resident planning to vote against Cheney.
Cheney told reporters Thursday she welcomed—"obviously"—anybody who wanted to join the race against her.
"There are millions and millions of Republicans out there who want us to be a party that stands for principles and who are very worried about the direction that the party is going and don't want the party to be dragged backward by the former president," Cheney said.
Trump has promised to endorse a Cheney challenger, but the window of opportunity for Cheney's opponents to do much else to narrow the field may have closed. A bill, backed by Trump's son Donald Trump Jr. to institute primary runoffs, failed in the Wyoming Legislature in March amid concerns about costs and making big changes to the election system on short notice.
Cheney, meanwhile, has proved she can rebound from ignominy to prevail in a crowded field of Republicans—it's how she first got elected. After ditching an ill-received run for Senate in 2014, she came back to run for the House in 2016, winning almost twice as many votes as the runner-up in a nine-way primary.
Her national profile as a daughter of former Vice President Dick Cheney doesn't hurt. And she could even get a boost from her status as Democrats' new favorite Republican. Wyoming allows voters to register at the polls, and its Democrats often switch affiliation to vote in a hotly contested Republican primary.
However, to be sure, discontent with Cheney in Wyoming has grown wider and deeper since she voted to impeach Trump for his role in the January 6 riot at the U.S. Capitol. Even after she survived her House Republican colleagues' first attempt to oust her from leadership on February 3, she was censured in an overwhelming vote by the state GOP central committee.
"I've never been a Cheney fan," said one primary opponent, Marissa Joy Selvig, a former mayor of Pavillion, population 200. "She has been working more for herself and for the Republican Party than she has the citizens of Wyoming. That's what I see."