Liz Cheney Still Mulling 2024 Presidential Run
Republican Representative Liz Cheney has said she hasn't yet made a decision about whether she'll run for president in 2024 as she enters the final months of term in the House of Representatives.
Cheney, who is vice chair of the House of Representatives' Select Committee investigating January 6, 2021, spoke at the University of Notre Dame in Indiana on Friday.
The Wyoming Republican addressed her potential presidential ambitions in response to a question from the audience.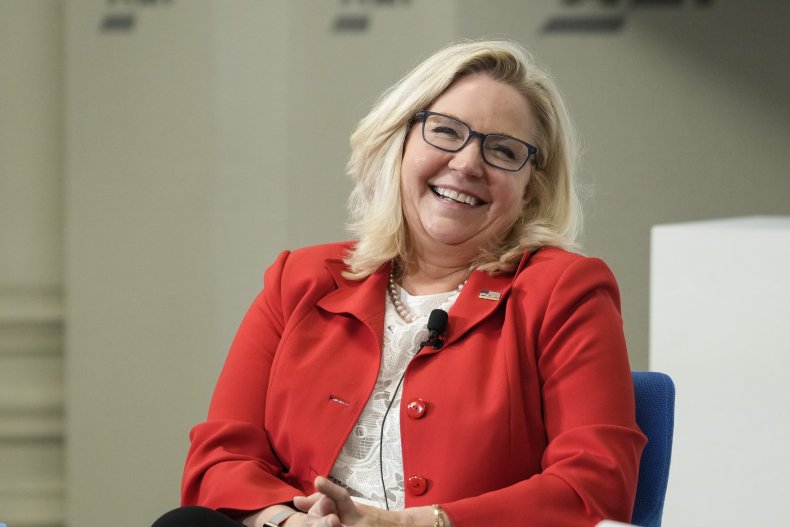 "I think 2024 is going to be really important," Cheney said. "It's going to be crucial that we elect people that will defend the Constitution. I haven't made a decision yet about what I'm going to do. We have a lot of excellent candidates. We have a lot of bad candidates too. So, I'll make a decision about that in the coming months."
Speculation has been rife about Cheney's future since she was defeated in the Republican primary for Wyoming's only House seat by conservative lawyer Harriet Hageman in August. Hageman was endorsed by former President Donald Trump.
Trump celebrated Cheney's defeat in a statement on his Truth Social platform at the time, suggesting her political career was over.
"Liz Cheney should be ashamed of herself, the way she acted, and her spiteful, sanctimonious words and actions towards others," the former president said. "Now she can finally disappear into the depths of political oblivion where, I am sure, she will be much happier than she is right now."
Cheney has played a key role in the House Select Committee, particularly in its public hearings, and has emerged as one of the strongest critics of the former president.
In September, Cheney pledged to keep Trump from returning to the White House even if that meant leaving the GOP.
"I certainly will do whatever it takes to make sure Donald Trump isn't anywhere close to the Oval Office," Cheney told The Texas Tribune Festival.
"I'm going to make sure Donald Trump, make sure he's not the nominee," Cheney said. "And if he is the nominee, I won't be a Republican."
Those comments suggest Cheney could seek the 2024 Republican nomination, but the most recent polls suggest she would be facing an uphill struggle whether Trump chooses to run or not.
A Big Village poll conducted among 287 likely voters from October 5 to 7 found Cheney had 3 percent support in a hypothetical Republican primary, far behind Trump at 55 percent, Florida Governor Ron DeSantis at 28 percent and former Vice President Mike Pence at 11 percent.
A McLaughlin & Associates poll conducted among 465 likely voters from September 17 to 22 asked respondents who they would choose in a GOP presidential primary if former President Trump were excluded.
Cheney won 2 percent support in that survey, while DeSantis was the clear leader at 31 percent.
Though Cheney could potentially mount a third-party bid in 2024, such a campaign appears to be a long shot, with Irish bookmaker Paddy Power offering odds of 80/1 on Cheney to win the next presidential election.
Newsweek has asked Cheney's office for comment.