Retired Military Colonel Slams Liz Cheney's Treason Accusations, Says Her Father Committed a 'War Crime'
Retired Air Force Colonel Morris Davis slammed Representative Liz Cheney's accusation that top U.S. law enforcement officials may have committed treason by investigating President Donald Trump.
Sharing a clip of Cheney lashing out at FBI agents involved into the investigation of Trump's connections to Russia during an interview with NBC News' Meet the Press on Sunday, Davis argued that the Republican Congresswoman's assertion was inaccurate. Cheney had said: "We had people that are at the highest levels of our law enforcement ... saying that they were going to stop a duly elected president of the United States." She then asserted that it "sounds an awful lot like a coup and it could well be treason."
"That's not treason," Davis wrote in his Monday morning tweet. "But if Liz Cheney is really interested in accountability for serious malfeasance what her daddy did is a war crime and a violation of the Convention Against Torture which the U.S. has an obligation to investigate and punish," he added.
Trump also tweeted Cheney's comments, linking to an article about her accusations. "Liz Cheney: Statements by agents investigating Trump 'could well be treason,'" the president posted on Twitter on Monday.
Cheney, who represents Wyoming, is the daughter of former Vice President Dick Cheney who served under former President George W. Bush. Under the Bush administration, the U.S. torture program drew intense national and international controversy when its existence came to light. Although the program, which was referred to as "enhanced interrogation," has since been officially ended, former Vice President Cheney said last year that it should be restarted.
"If it were my call, I would not discontinue those programs," he said in an interview with Fox Business. "I'd have them active and ready to go, and I'd go back and study them and learn."
Current CIA Director Gina Haspel previously oversaw a "black site" in Thailand that carried out "enhanced interrogation" techniques on detainees. Cheney's Fox Business interview came as Haspel faced controversial confirmation hearings during which her record of overseeing the torture program was thrown into the spotlight.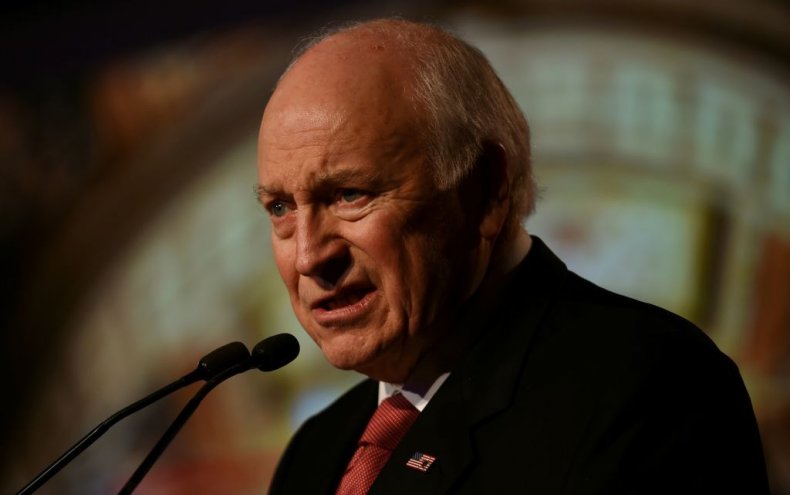 "I think she'd be a great CIA director," the former vice president said at the time. "I think she's done a great job in terms of the career she's built, and the people I know at the agency are very enthusiastic about having one of their own, so to speak, in the driver's seat at the CIA."
Davis's criticism of Representative Cheney's father came from his personal experience as a military prosecutor. From 2005 to 2007 he served as the chief prosecutor of the Guantanamo military commissions. During his tenure in that post, he made the decision that evidence obtained through torture could not be used as admissible evidence against detainees. That decision was overruled by superiors, and he resigned from his post as a result. He then retired from active military duty in 2008.