Liz Cheney Gets Wyoming Dems Switching to GOP for Primary, Data Suggests
A growing number of Democrats in Wyoming may be registering as Republicans in order to back Representative Liz Cheney in the state's upcoming primary, data suggests.
Cheney, the state's sole representative in the House, has been urging Democrats to switch parties to vote for her in the August 16 primary as she faces a tough re-election battle, with polling showing her trailing behind challenger Harriet Hageman, who has been endorsed by Donald Trump.
Wyoming Democrats—who are massively outnumbered in the state by Republicans— have received mail from Cheney's campaign with instructions on how to change their party affiliation. Her campaign website also links to a form that allows people to switch parties.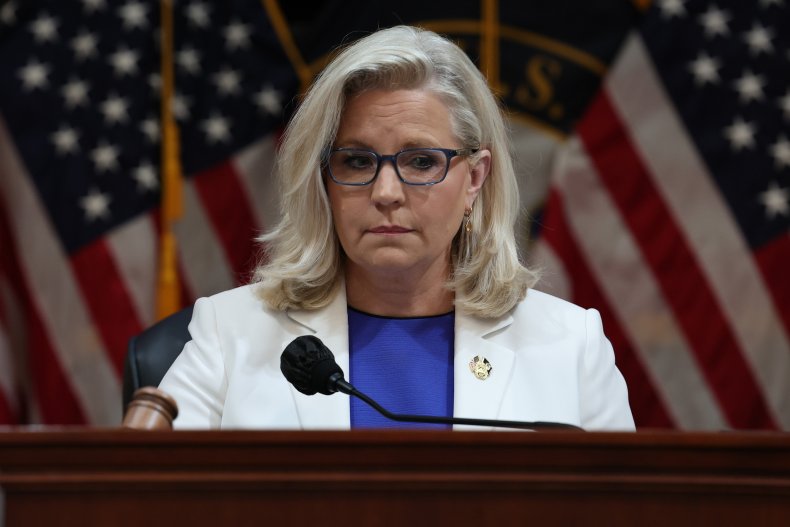 The tactic may be working, according to data from the Wyoming secretary of state's office.
Between January and August, the number of registered Democrats in Wyoming dropped by 6,069 while the number of registered Republicans in Wyoming increased by 11,495, according to the data. The number of unaffiliated voters dropped by 1,575 over that period.
Wyoming law allows for same-day voter registration and party changes, meaning some could even switch party affiliations to Republican on August 16, cast a ballot for Cheney and switch back before November.
"There aren't enough Democrats in Wyoming to save her, but this confirms that Liz Cheney has effectively switched parties," Tim Murtaugh, an advisor to Hageman, told Newsweek.
"She's courting Democrat voters, helping Nancy Pelosi do her political dirty work on the illegitimate January 6th Committee, and using Wyoming's only House seat to further her own political vendetta."
But while it's not clear that all those who have switched party allegiances have done so in order to back Cheney in the primary, that is indeed the case for some longtime Democrats.
Mike Sullivan, a former Democratic governor of Wyoming, told the Casper Star-Tribune that he has registered as a Republican for the first time to vote for Cheney in the primary.
"We have a choice between the politics of courage, character and integrity or revenge, vindication and chaos," Sullivan told the newspaper. "It's not a very difficult choice."
And while this type of shift often happens before Wyoming's primaries, many more are making the change this year, according to Jim King, a political science professor at the University of Wyoming
"It's reasonable that someone, whether they're a Democrat, an independent or a Republican, looks at it that, 'If I want to have a say in who's going to govern me for the next two years or four years, I need to participate in the Republican primary,'" King told Wyoming Public Radio.
However, because there are more than five times as many registered Republicans as there are Democrats in Wyoming, King predicts it won't make a difference unless the race is very close—within about 5,000 votes or so.
But a poll conducted in July showed Cheney trailing Hageman by a double-digit margin.
Trump has made Cheney a prime target in the November midterms since she led nine other House Republicans in voting to impeach him in the wake of the January 6, 2021 attack on the U.S. Capitol.
Since then, she has continued to criticize the former president and is currently the vice chair of the House committee investigating the attack.
"Unlike RINO Liz Cheney, Harriet is all in for America First," Trump said in his endorsement. "Harriet has my Complete and Total Endorsement in replacing the Democrats' number one provider of sound bites, Liz Cheney."
Newsweek has reached out to Cheney's campaign for comment.
Update 8/8/22, 10:30 a.m. ET: This article has been updated with a comment from Tim Murtaugh.