Liz Cheney's Primary Challenger Seeks GOP Donations to 'Impeach' Her for Trump Vote
Wyoming state Senator Anthony Bouchard has circulated a petition among "MAGA Americans" to "impeach" Representative Liz Cheney from the Republican Party for voting with House Democrats to impeach President Donald Trump for a second time.
Bouchard announced a 2022 primary challenge to Cheney in late January, just days after her vote to impeach Trump. On Sunday, he circulated a petition to "impeach" Cheney from the Republican Party after the Senate voted to acquit Trump. Seven GOP senators joined Democrats in pushing to convict on Saturday, but the 57-43 majority fell short of two-thirds—or 67 votes needed—for a conviction.
"I'm asking MAGA Americans to help me 'Impeach' Liz Cheney next election when we the people, FIRE her!" Bouchard wrote in a campaign email. "Liz Cheney backstabbed President Trump and voted for his impeachment!"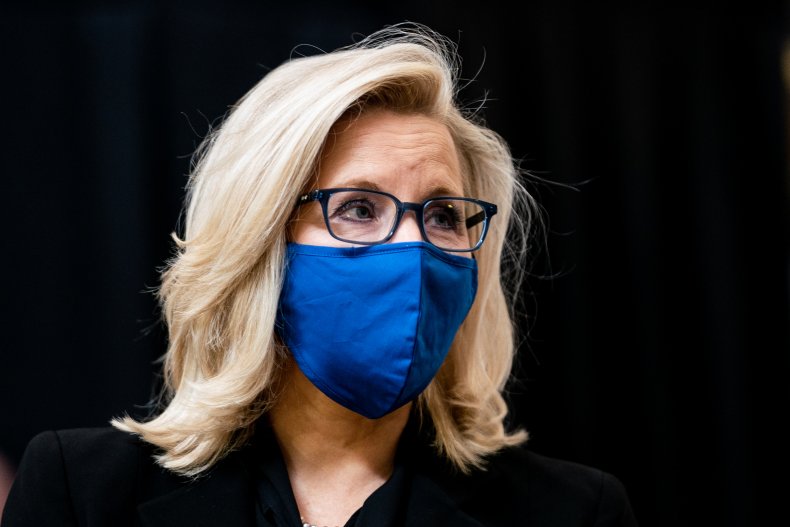 He added: "Our country is on the line. Weak-kneed Deep-state 'Republicans' like Liz Cheney and her fellow pro-impeachment pal Mitt Romney won't save this country."
Under the Constitution, Congress has the authority to impeach and remove "the President, Vice President, and all civil officers of the United States." No provisions allow for the impeachment of senators and representatives.
Regardless, Bouchard's email included links to a petition and donation page for his "Stand With President Trump, Impeach Liz Cheney" movement. Both websites are hosted by his campaign and the fine print for the donation site appears to disclose that the funds would go toward his run for Congress.
"My name is Anthony Bouchard and I'm the America First Republican that's going to FIRE Liz Cheney," the petition read. "I'm asking MAGA Americans to help me 'Impeach' Liz Cheney from the Republican Party."
Newsweek reached out to Bouchard for further information and Cheney's office for comment. This story will be updated with any response.
The 10 House Republican and the 7 Senate Republicans that voted against Trump in the recently concluded impeachment proceedings and trial have faced intense backlash from conservatives and Trump loyalists for crossing party lines.
On February 6, the Wyoming Republican Party passed a resolution to censure Cheney for the vote, with just eight members opposing the move. The approved document informs Cheney that the state party will stop efforts to raise money for her and requested that she return donations that they provided to her last campaign.
Their decision came a week after GOP Representative Matt Gaetz of Florida campaigned against Cheney in her home state, calling on voters to oust her in the next election cycle for voting to impeach Trump.
Additionally, tens of thousands of Americans have backed a Change.org petition to "recall" Cheney. But the lawmaker has dismissed calls for her resignation. "I'm not going anywhere," she told reporters on Capitol Hill last month. "This is a vote of conscience. It's one where there are different views in our conference."