Liz Cheney's Removal From House Leadership Would Exacerbate 'Long-Term' GOP Gender Issue
Many Republican House members have called for Rep. Liz Cheney's removal from her position as the party's conference chairwoman, following her vote to impeach former President Donald Trump, but some experts believe that these calls could create a gender and diversity issue for the GOP.
Barry Burden, director of the Elections Research Center at the University of Wisconsin, told Newsweek that calls for Cheney's removal as the third-highest-ranking Republican points to a "long-term problem for the Republicans, especially in the House, where the leadership team, their committee chairs, often have no women."
Calls for Cheney's removal from the role came from Reps. Jim Jordan, Matt Rosendale, Matt Gaetz and others after she voted in favor of impeaching former President Donald Trump for a second time for "incitement of insurrection," as many believed his rhetoric sparked the violent riots at the U.S. Capitol on January 6.
"When Representative Cheney came out for the impeachment today, she failed to consult with the Conference, failed to abide by the spirit of the rules of the Republican Conference, and ignored the preferences of Republican voters," Rosendale said in a statement. "She is weakening our conference at a key moment for personal political gain and is unfit to lead. She must step down as Conference Chair."
While speaking to Newsweek, Matt Grossman, a professor of political science at Michigan State University, suggested that if a vote goes through to remove Cheney from the role, the party could face a gender and diversity issue as both Republican Leader Kevin McCarthy and Republican Whip Steve Scalise are "both white guys."
Besides Cheney, only two other women have held the position: Rep. Cathy McMorris Rodgers (2013 to 2019) and Rep. Deborah Pryce (2003 to 2007).
Grossman went on to state that since Republicans had "the most successful round ever of women candidates run for the House," it is possible that the party would look to elevate another woman into her position, if a vote went through for Cheney's removal.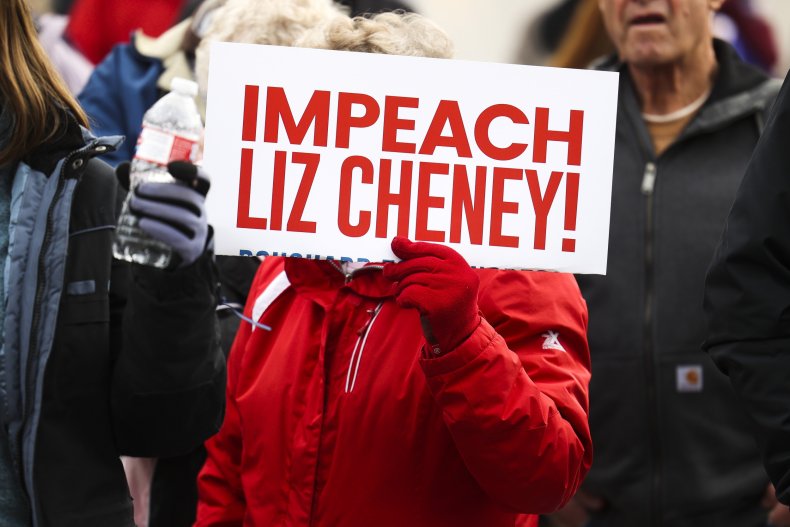 While Grossman noted that Republicans could look toward another woman to replace Cheney in the role, Burden told Newsweek that he believes it may be difficult for the party to find another woman "who has the stature, the experience and the trust of her colleagues," like Cheney.
Burden went on to say that despite Republicans electing numerous women during the 2020 cycle, "those women are of a different style."
"They are Marjorie Taylor Greene and Lauren Boebert and they're not cut from the same cloth as Liz Cheney and they're definitely not ready to be in the leadership, the ones who have just been elected," Burden said. "I think Republicans have gained some ground in seeing more women in their ranks but it's going to be awhile until they have enough of them in the upper echelons of the party that it is actually reflected in their leadership team."
Ken Kollman, a professor of political science at the University of Michigan, told Newsweek that "Republican leadership would obviously like to promote more women up through the ranks, but also they don't prioritize that to the same degree that Democrats do."
Kollman added that a decision to remove Cheney from her position could depend on the Republican Party's "fealty to Donald Trump."
Cheney has continued to push back on calls for her resignation from Republican House leadership.
While speaking to reporters after her impeachment vote, Cheney said, "I'm not going anywhere. This is a vote of conscience. It's one where there are different views in our conference."
During a January 21 interview with Fox News, Cheney was asked about her previous comments and said, "We're going to have these discussions inside the Conference. We have differences of opinion about a whole range of issues, including about this one. I anticipate and am confident we will be united as a Conference going forward."
Cheney's office previously pointed Newsweek to her interview.
More recently, Cheney has gained support from Senators Lindsey Graham and Mitch McConnell.
Newsweek reached out to Cheney, Rosendale and McCarthy for comment on Tuesday but didn't receive a response in time for publication.