How Liz Truss, Russia's Nemesis, Could Change Ukraine War if She Becomes PM
British Foreign Secretary Liz Truss is the bookmakers' favorite to become the next prime minister of the United Kingdom, but the Kremlin is unlikely to be betting on a different British approach to relations with Moscow, or the war in Ukraine, should she take over from incumbent Boris Johnson.
Although enjoying less support among fellow Conservative Party MPs, Truss's greater popularity among grassroots Tories than Chancellor Rishi Sunak in the final run-off has seen Betfair put her odds-on 4/6 to win. If successful, she will be the face of the British response to the war in Ukraine during which she has backed Britons fighting alongside Ukrainian forces and said it was "realistic" Russia could be pushed out of Crimea.
The latter view got a frosty reception in Moscow whose antipathy towards Truss precedes Russian President Vladimir Putin's full-scale invasion on February 24.
"Liz Truss is a figure of contempt for the Kremlin's media since her meeting with (Russian foreign minister) Sergei Lavrov on the eve of the war," said Mark Almond, director of the Crisis Research Institute, in Oxford, England.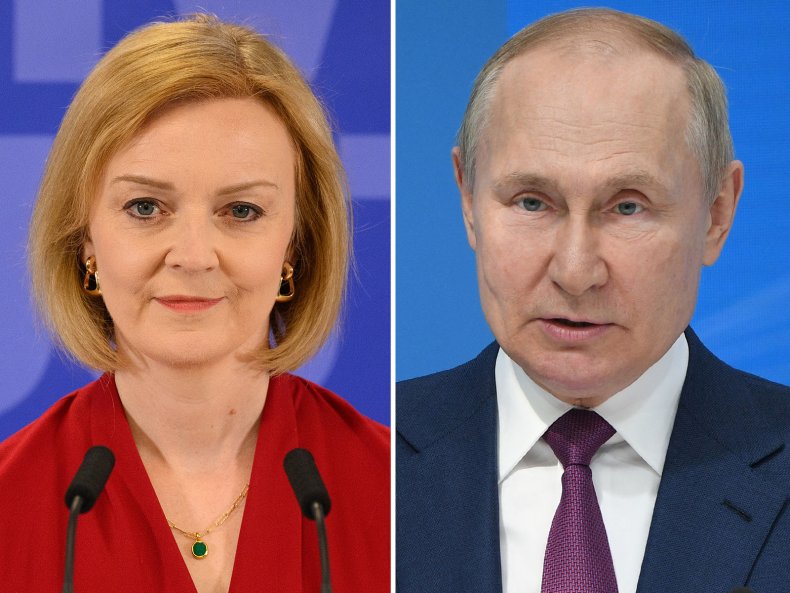 "Truss got her geography wrong and Lavrov could sneer at her ignorance of which cities were in Russia or Ukraine," he told Newsweek.
Russian newspaper Kommersant reported that Lavrov had asked Truss when they met in February if she would recognize Russian sovereignty over Rostov and Voronezh. She said that the U.K. would not, seemingly unaware they are, in fact, in Russia.
Lavrov told reporters his interaction with Truss was like a "mute" talking to a "deaf person."
Stewart McDonald, who is the defense spokesperson for the opposition Scottish National Party (SNP), tweeted last week that "when Truss 'stood up' to Lavrov she got the geography of Russia and Ukraine mixed up and had to be corrected by the British ambassador."
"She's a disaster as Foreign Secretary and would be worse as PM," McDonald added.
British diplomats denied that Truss made a mistake, saying she had misheard, but the exchange prompted the Kremlin to claim that western leaders were poorly informed about the tensions between Russia and Ukraine.
However, Almond said that the incident and her comments since then will give Truss "an incentive to re-double her strong line towards Russia so that she doesn't seem weak or out of her depth."
Such a position would "chime with most members of Parliament on both sides and public opinion" and that "taking a harsh stance on Putin won't harm her domestically."
Almond said that "more problematic will be that as the prime minister in the autumn, the new prime minister "will face possible problems if Washington and Moscow deal over the heads of the Europeans," regarding Ukraine.
Truss's comment to the BBC last month that "all of Ukraine that has been invaded by Russia is illegally occupied," came only days after Russia's former president Dmitry Medvedev said any encroachment on the territory it seized in 2014 could lead to World War Three.
It signaled that if she wins the prime minister race, which will be announced in September after a ballot of her party's 160,000 members, she would be likely to reiterate the U.K's military support for Ukraine, as demonstrated by Johnson's high-profile visits to President Volodymr Zelensky in Kyiv.
"I imagine there will be a lot of continuity in the current stance of supporting Ukraine with military equipment and adopting a hawkish tone on the prospect of any negotiations," said Mark Leonard, co-founder and director of the European Council on Foreign Relations (ECFR)
"I don't think Truss's victory would make any difference to U.K. relations with Russia which have been dysfunctional since the murder of [Alexander] Litvinenko on British soil," he told Newsweek, referring to the 2006 death of the former Russian spy blamed on the Kremlin.
The U.K maintains a tougher stance on Russia than other European countries like France whose president, Emmanuel Macron, sparked Kyiv's anger for saying Putin should not be humiliated, to make it easier to broker a ceasefire and negotiations.
But Truss could keep up the pressure against Russia when an impending winter energy crisis exacerbated by sanctions on Moscow might tempt other European nations to take a softer line.
"Britain has taken perhaps the most hawkish position on Russia over Ukraine, in part because the British national security establishment has long concluded that Russia under Putin cannot be convinced to operate within the rules-based system," said Nick Kitchen, director of the Centre for the study of Global Power Competition (CGPC) at the University of Surrey.
"The Tories' electoral base cling to the U.K.'s history as a great power, whilst the U.K. remains relatively insulated from the real-world security impacts of Russian behavior," he told Newsweek.
"Conservative politicians can and will continue to talk, and for the most part, act, tough on Russia," he said, even though Britain's stance would be considered "a relatively minor irritation for Moscow—it's the positions taken by Washington and Berlin that really count."