Lizelle Herera Abortion-Murder Charge 'Tip of the Iceberg,' Warns Nonprofit
The Texas woman charged with murder for a "self-induced" abortion has been released from prison, but one nonprofit warns that her story is only the beginning.
Lizelle Herrera, 26, was arrested in Starr County, Texas, on Thursday for what authorities described as a "self-induced abortion," for which she was charged with murder. In September, the Texas state government passed a bill, officially known as Senate Bill 8, banning any abortion starting at six weeks into a pregnancy, when many women don't realize they're pregnant. The measure has been widely criticized as "draconian."
On Saturday, Herrera was released from the Starr County Jail after significant international backlash to her arrest and protests outside the jailhouse. The following day, District Attorney Gocha Allen Ramirez announced that his office would be filing a motion to dismiss the indictment against Herrera on Monday.
In his statement, Ramirez said that Herrera's case ultimately did not meet the standard for criminal charges, but he also stood by the actions of local law enforcement.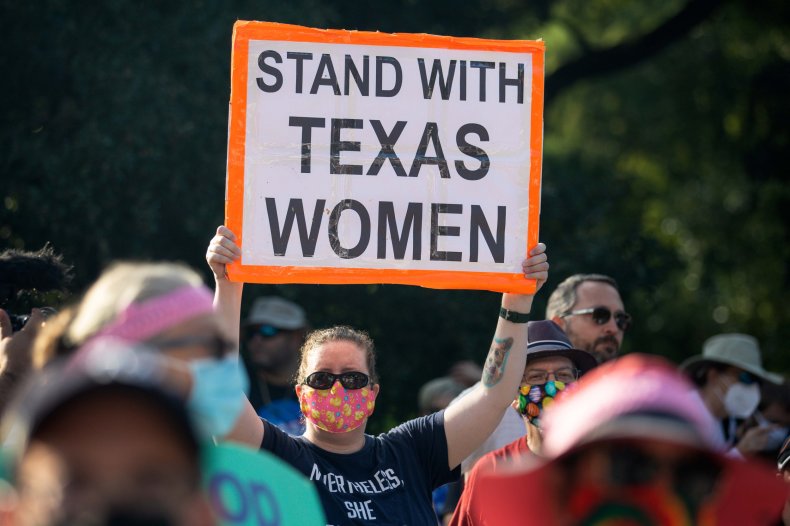 "In reviewing applicable Texas law, it is clear that Ms. Herrera cannot and should not be prosecuted for the allegation against her," the statement read. "In reviewing this case, it is clear that the Starr County Sheriff's Department did their duty in investigating the incident brought to their attention by the reporting hospital. To ignore the incident would have been a dereliction of their duty."
Few details about what happened to Herrera are known at this time. Rockie Gonzalez, founder of the La Frontera Fund, an abortion assistance fund, told Texas Public Radio that she had allegedly been in the hospital and suffered a miscarriage.
After she divulged certain information to staff, the hospital reported her to the local police for potentially violating the state's abortion laws. Legal analyst Glenn Kirschner opined on Twitter about whether the fact that she was reported to police had anything to do with another facet of Senate Bill 8, which deputizes residents to report suspected instances of unlawful abortions.
National Advocates for Pregnant Women told The Independent that Herrera's story showed the "true intent" of lawmakers fighting for strict abortion laws and will only be the start of such cases.
"It is a tragedy, and just the tip of the iceberg," the group said. "No case in Texas has ever permitted the use of the state's murder law to address abortion or pregnancy loss. This is unconstitutional."
Newsweek reached out to DA Ramirez's office for comment.