Ll Cool J Pays Emotional Tribute to Biz Markie: 'Love You Bro'
LL Cool J has shared emotional memories of his friend and fellow rapper Biz Markie, following news of his death on Friday evening.
Markie, who was born Marcel Theo Hall, passed away at the age of 57 as a result of health issues related to Type 2 diabetes.
His representative Jenni Izumi told Newsweek: "Biz created a legacy of artistry that will forever be celebrated by his industry peers and his beloved fans whose lives he was able to touch through music, spanning over 35 years."
"He leaves behind a wife, many family members and close friends who will miss his vibrant personality, constant jokes and frequent banter."
Best known for his 1989 crossover hit "Just A Friend", the rapper cultivated a strong following thanks to his impressive beatboxing skills and memorable live performances.
In more recent years he made guest appearances on hit shows like Black-ish and Empire and garnered a whole new generation of fans thanks to guest appearances on kids' shows like Spongebob Squarepants and Yo Gabba Gabba!
Dubbed "The Clown Prince of Hip-Hop" by fans and contemporaries, figures from the world of music and beyond have come out in force on social media to pay tribute.
LL Cool J led the way with a heartfelt video post on Instagram in which he fought back tears as he recalled the times they spent together in the burgeoning New York rap scene.
"I just wanna say rest in power to Biz Mark, my friend," he said.
"So many memories man...you was in the basement of my grandmother's house when I wrote 'Rock The Bells.' Used to always hang out back in the days we was running around Queens and Long Island."
The NCIS: Los Angeles actor also spoke of his satisfaction at being able to spend time with Biz Markie before he passed away.
"I'm glad we got to do what we got to do towards the end," he said.
"Love you, bro and I want to send love to all your fans, your millions of fans around the world, your family, send my love to your family, to your wife, management and rest in power bro."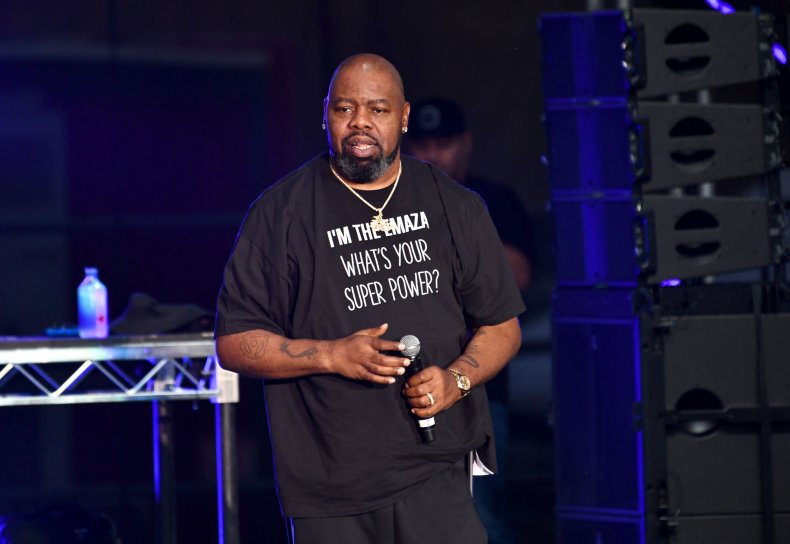 The Roots frontman Questlove also paid his respects in an Instagram post detailing the many ways Biz Markie supported him early on in his career.
"Biz built me man," he wrote. "In my early early stages it was Biz who taught me the REAL places to cop records....Biz taught me what cities had good digging.....Biz taught me where to collect 45s......Biz taught me where to collect 8TRACK TAPES!!"
Actor Tom Arnold also shared a sweet story of the time his son met the rapper.
He wrote: "When my son was 3 I took him to Yo Gabba Gabba Live because he wanted to meet Biz Markie & learn how to beat box which is exactly what happened in Biz's dressing room after the show. We love Biz Markie so much. RIP Legend."
Ice T paid his respects writing: "My close friend Bizmarkie.. Is gone at 57. We shared a tour bus our very 1st tour 'The Dope Jam Tour' @LegendaryCOOLV , TJSwan.. We were all so young and hype. Enjoy every single moment of life with your friends and family. 'Life is Short' via RunDMC."
Public Enemy, meanwhile, tweeted: "Rest in Beats, Brother Biz."
Grammy Award-winning producer Timbaland shared a clip from "one of his favourite" Biz Markie songs "The Vapors" adding "rest easy king."
Bad Boys For Life star Martin Lawrence tweeted: "My prayers and condolences go out to the family of the iconic Biz Markie. Much love brotha."
Actor John Leguizamo wrote: "Rest in perfection! #bizmarkie was my muse! Met him at big hip hop party in mannyhatty back in the day! What tight bro!"
New York congressman Jamaal Bowman tweeted: "Rest In Peace to a legend and icon. Sending love and healing to Biz Markie's family."
Suicide Squad star Viola Davis wrote "Loved you Biz Markie!! Loved your music!!! RIP" while Rosario Dawson tweeted "Tragic loss of such an incredible artist and creator. Blessings to you and your family always."
NBA icon Earvin 'Magic' Johnson also posted an emotional tribute to the musician.
He wrote: "RIP to my friend and music legend Biz Markie. A DJ, rapper, and producer Biz Markie really knew how to rock a party! Cookie and I will never forget when he came to our 25th anniversary event in Europe and kept everyone on the dance floor!"
"Biz Markie moved crowds with ease and I'm so happy he was able to DJ so many parties for me over the years. We love you Biz! Cookie and I are praying for all of his family and loved ones."