The Tinder Swindler is the latest true-crime documentary to land on Netflix and you do not want to miss it. The story is told from the perspective of three women —Cecilie Fjellhoy, Pernilla Sjoholm, and Ayleen Charlotte—who were victims of 'tinder swindler', Simon Leviev.
Between 2017 and 2019, Simon Leviev (real name Shimon Hayut) posed as the wealthy heir to LLD Diamonds, the CEO of the company, and the son of a billionaire, Lev Leviev. But Simon Leviev didn't stop there.
Leviev went on to trick his "girlfriends" and female "friends" into believing his enemies in the diamond trade were out to kill him and as a result, was able to defraud them out of thousands under the guise of needing protection. In total, he is believed to have conned Fjellhoy, Sjoholm and Charlotte, and many more victims, out of $10 million.
In reality, Leviev had no involvement with LLD Diamonds and has no connection to the Russian-Israeli diamond mogul, Lev Leviev.
In a statement to Newsweek, a spokesperson from LLD Diamonds said: "LLD Diamonds has been a well-regarded leader in the diamond industry for three decades. Our company has no connection whatsoever with Shimon Hayut.
"He is a fraud who has tried to exploit our good name to con victims out of millions of dollars. Our sympathies go out to his victims. His fraud has also caused ongoing confusion about our company. Nothing he has said, about LLD or anything else, should be believed.
"As soon as we learned of the fraud, we filed a complaint with the Israeli police, and we hope that Mr. Hayut faces the justice he deserves."
Newsweek has everything you need to know about the company Simon Leviev pretended to be affiliated with.
Is LLD Diamonds Real?
Yes, LLD Diamonds is a real company and has been a big name in the diamond business since 1998.
Founded by Israeli businessman and philanthropist Lev Leviev, LLD Diamonds works with both rough and polished diamonds across the world.
Who Is Lev Leviev?
Known as the "King of Diamonds", Lev Leviev is a renowned diamantaire who was able to undercut the De Beers diamond cartel and secure his own deals with diamond-producing countries like Russia and Angola, according to his official LLD Diamonds bio.
He was born in Uzbekistan and his family moved to Israel in the 1970s, where he landed a job as an apprentice at a diamond polishing plant.
Today, he owns numerous diamond jewelry boutiques across the world and works in real estate. He is currently the controlling shareholder of Africa Israel Investments, a real estate and construction company with headquarters in Israel.
Shimon Hayut legally changed his name to Simon Leviev and fled Israel in 2011 to avoid going on trial for fraud-related offenses he had committed in his early 20s.
Simon Leviev then traveled to Finland, where he served two years in prison for defrauding three women.
Following his release in 2017 and a short return to Israel, Simon Leviev continued to travel around Europe committing crimes of fraud. He told numerous women he was the son of diamond mogul Lev Leviev, calling himself the "Prince of Diamonds" and the heir of LLD Diamonds.
He even told Cecilie Fjellhoy when they met in 2017 he was the current CEO of the company. Leviev's claims were hard not to believe as, as seen in The Tinder Swindler, at a quick google of Lev Leviev's name, there appeared to be a photo of Simon Leviev seemingly standing next to the real Lev Leviev and his family.
In reality, Shimon Hayut had no connection to Lev Leviev or LLD Diamonds, whatsoever.
He was arrested by Interpol in Athens, Greece, and extradited to Israel on fraud charges, where his true identity as Shimon Hayut was exposed. He was sentenced to 15 months in prison, serving just two months.
The Tinder Swindler director Felicity Morris told Newsweek his arrest meant he could no longer hide between the mask of "Simon Leviev."
She said: "What we've hoped with this film—and Cecilie really started the relay race or held the baton first—is that it will act as justice for them in some way. Because obviously, Netflix is such a huge global platform. Lots of people watch it, and lots of people will see Simon for who he really is. He can't sort of hide behind the guise that has been Simon Leviev, the heir of the Israeli diamond fortune anymore."
The real Lev Leviev does have nine children, according to a profile by Forbes.
His daughter, Chagit Leviev Sofiev is currently the President of the Leviev Group USA and also serves as CEO for Africa Israel USA, where she manages the company's real estate operations in the U.S.
Her husband, Greg Sofiev, is the CEO of LLD Diamond USA.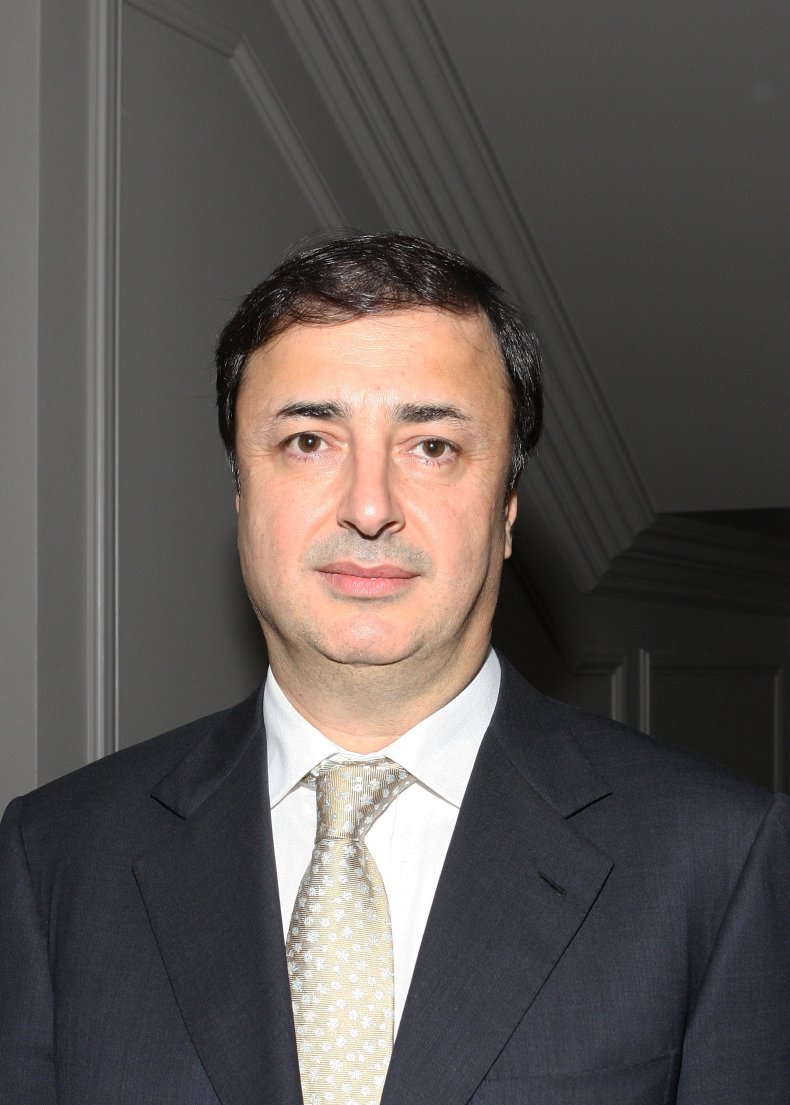 Lev Leviev's son, Zevulun Leviev, and his brother, Moshe Leviev hit headlines in 2018 as part of a group of six suspects accused of being a part of a smuggling ring. According to Reuters, the smuggling bring was estimated to have brought about $80 million worth of diamonds into Israel since 2010.
Lawyers representing Zevulun Leviev in a statement said the allegations against him were "baseless" and his arrest appeared to be a tactic to "illegitimately pressure his father".
At the time, Lev Leviev was wanted for questioning by Israeli police over his son's alleged involvement in the scandal, as well as five other LLD Diamond employees. He opted to remain in Russia.
LLD said in a statement it had no knowledge of the alleged smuggling. It read: "Mr. Leviev and the companies in his control operate in accordance with the proper norms while adhering to the law. We hope that the matter will be clarified soon and the suspicions will be proven baseless."
In November 2018, a woman who had been questioned by Israeli police about the smuggling ring jumped to death at the Ramat Gan Diamon Exchange, reported The Times of Israel.
In a statement, LLD Diamonds said: "With great shock and regret we received the notification on the terrible loss of a worker in the company.
"We will take all measures in our power in order to assist in investigating her death in order to put an end to the serious phenomenon of the rights of those investigated being trampled on and the irreversible damage caused by the drive to create headlines."
There has been very little update on the smuggling case since 2018 and is believed to be under investigation by Israeli police.
The Tinder Swindler is streaming on Netflix now.
Update 2/4/22, 3:10 a.m. ET: This article was updated with comment from an LLD Diamonds spokesperson.