Lloyd Austin, Biden's Pick for Defense Secretary, Expected to Face Bipartisan Opposition Over Retired General Waiver
Lloyd Austin, a retired four-star Army general who President-elect Joe Biden is set to pick as his Secretary of Defense, is expected to face bipartisan opposition during his congressional approval process.
While Austin would make history as the first-ever Black Secretary of Defense, candidates are expected to have spent seven years out of the military before serving in what is supposed to be a civilian position, otherwise, they require a congressional waiver to be appointed. Austin retired from the military in 2016, barely four years ago.
Only two other people have been given such a waiver: President Donald Trump's Jim Mattis and former President Harry S. Truman's George C. Marshall. The rule about the waiver was established in the National Security Act of 1947, the federal law that created the Secretary of Defense position.
The rule is meant to ensure that the secretary won't always favor the military when it comes to advising on foreign conflicts, defense funding and the service requirements for current and future soldiers.
During Mattis' confirmation hearings, Democratic Rhode Island Senator Jack Reed, the top-ranking Democrat on the Senate Armed Services Committee, said that he would oppose future waivers after Mattis because Congress should only issue such waivers "no more than once in a generation."
Only one senator voted against Mattis' confirmation, Democratic Senator Kristen Gillibrand of New York.
"Civilian control of our military is a fundamental principle of American democracy," she said at the time.
Republican Senator Josh Hawley of Missouri, also a member of the Armed Services Committee, told Newsweek, "I really do think it's important that there be civilian leadership" so that non-military Americans feel they have representation in defense matters at the highest level of government.
Hawley told Newsweek that the past four years of Trump's critics calling for military leaders to speak out against or even defy the president's policies was "alarming" and "incredibly dangerous," and said they demonstrated the need for elected civilian leadership to the position.
Fred Wellman, a retired Army officer and senior adviser to the Lincoln Project—a Republican-led, anti-Trump political action committee—also told Newsweek, "I feel very strongly it's time to have a truly civilian secretary of defense."
"This isn't a criticism of any of the candidates that have been mentioned, but civilian control balances the military culture of those who serve a lifetime in uniform," he continued. "A retired general with 40 years of service, even with a short gap as a civilian, comes with a military approach which leans towards being can-do at all costs, making do with what you're given and not necessarily a firm grasp of the political machinations needed to advocate for the [Department of Defense]."
Elana Duffy, retired Army sergeant first class and Purple Heart recipient, said of former Defense Secretaries Charles Erwin Wilson and Neil H. McElroy, "[Former President Dwight D.] Eisenhower appointed two non-military personnel to the post, both who did a fair job of considering new technologies and post-war recovery efforts while maintaining budgets."
"We are entering a similar period now," Duffy told Newsweek, speaking of the rise of new weapons systems and the need to recover U.S. society from the damage of the coronavirus pandemic. "So it makes sense to consider civilians for the position."
"The Joint Chiefs can and do handle most military functions anyway," Duffy continued, "and as long as the person has expertise in defense policy, I have more comfort in the Secretary of Defense being a civilian than, say, the Secretary of Veterans Affairs."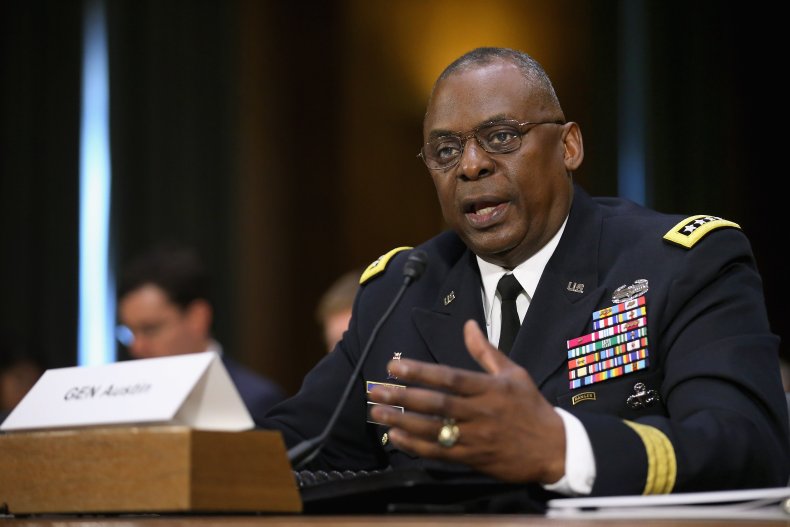 However, while Christopher Preble, co-director of the New American Engagement Initiative of the Atlantic Council think tank's Scowcroft Center for Strategy and Security, said that the U.S. has previously had many excellent civilian Secretaries of Defense, he told Newsweek, "I do worry that the ever-increasing size and complexity of the Department of Defense can be intimidating, discouraging even highly capable civilians from taking on the daunting but necessary task of bringing the military-industrial complex to heel."
Maggie Seymour—a Foreign Policy Research Institute fellow and Marine veteran explained to Newsweek, "This is absolutely critical for a democracy, to have civilian control over the armed forces, for a number of reasons and especially so now."
"Our foreign policy has become hypermilitarized, with the Department of Defense often serving as the lead in international relations, when it should be the civilians at Department of State," she said. "The military is a tool of a nation, it's one tool, and having civilian oversight and a leader who understands that they are just one piece of a puzzle is critical to getting our foreign policy on track for the future."
Georgetown University Law Center professor Rosa Brooks—who served as counselor to Michèle Flournoy, one of Biden's other reported top choice for the Pentagon, during her time as under secretary of defense for policy—told Newsweek that Trump's appointing Mattis, a former general, as Defense Secretary, and the Trump Administration's leaving so many top tier positions at the Pentagon unappointed, has upset the balance between civilian and military fields in the Department of Defense.
"Mattis reportedly relied very heavily on his own network of former military subordinates and colleagues–understandable, from his perspective–but the effect was to increasingly sideline civilian experts at all levels within the Defense Department during his tenure," Brooks said. "And the Joint Staff and Mattis' personal staff were increasingly the locus of policy decision-making. That balance urgently needs to be reset."
Rather than continuing the shift toward militarizing U.S. policy, Brooks said Biden should allow civilians to take charge of the department once more as the original law intended.
"The Pentagon is a vast but delicate machine. It can't run effectively without both military expertise and civilian expertise, and if either is weakened, the whole thing starts getting shakier," Brooks said. "This is a moment when DoD really needs someone who can come in, hit the ground running, play that vital role as translator and restore that crucial civil-military balance."