Lockheed Martin Sees Spike in Demand for HIMARS Used in Ukraine
Lockheed Martin, the global security and aerospace company behind the High Mobility Artillery Rocket Systems (HIMARS) being used in the war in Ukraine, has seen a surge in demand for the system that U.S. officials have hailed as a "game changer" for Ukrainian forces.
The U.S. and other NATO countries have been supplying Ukraine with a range of weapons since Russia invaded on February 24. The White House announced last week that it would send an additional $270 million in security assistance to Ukraine, including four additional HIMARS.
The HIMARS have been seen as crucial to helping Ukraine fight back against Russia in the eastern Donbas region. The long-range missile system has reportedly helped destroy more than 100 "high-value" Russian targets, according to a senior U.S. defense official.
However, Ukrainian officials are looking for more weaponry, saying that Kyiv forces would need at least 100 HIMARS to effectively counter Russian troops.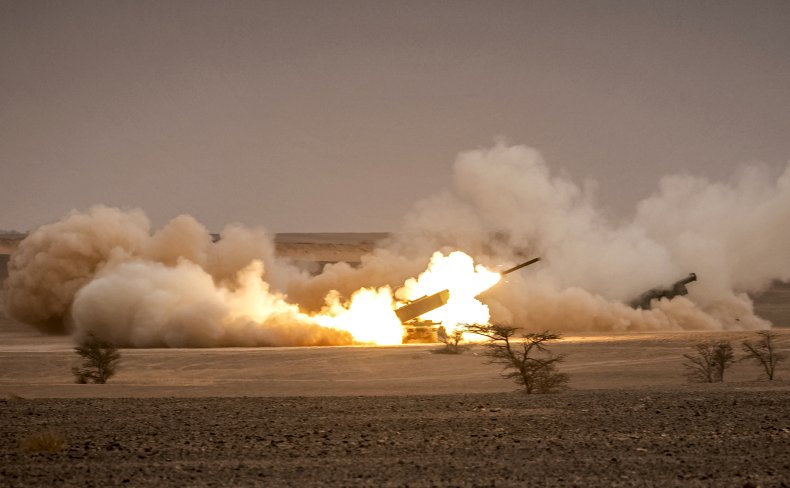 While Moscow has claimed to have destroyed four of the systems provided by the U.S., General Mark Milley, chairman of the Joint Chiefs of Staff, told reporters on Thursday: "To date, those systems have not been eliminated by the Russians, and I knock on wood every time I say something like that."
Since the war begin, President Joe Biden has drawn donations from U.S. military stockpiles 14 times and his administration has provided $4.6 billion in assistance to Ukraine, with another $40 billion approved. The U.S. has already provided Ukraine with a dozen HIMARS.
Asked what types of equipment the company is seeing the most demand from during its quarterly earnings call on Tuesday, Chief Financial Officer Jay Malave listed the long-range system, alongside the Javelin weapon system and F-35 fighter jets among the items where "our pipeline has certainly grown."
Lockheed Martin's second-quarter report saw an increased operating profit of $40 million, compared to the same period in 2021. The company cited HIMARS as one of the tactical and strike missile programs that are "primarily attributable" for the boost in sales.
During last week's earnings call, Lockheed Chairman, President and CEO Jim Taiclet said that the war in Ukraine and China's growing aggression have upended the global security environment in a way that requires the Department of Defense to "shift gears."
But Taiclet said that clutch to do so isn't yet engaged.
"The clutch engaged means there are contracts in place," he said. "There's a demand signal out there that's clear. There's funding appropriated by the U.S. Congress in the case of the United States. And we're producing, as Jay [Malave] said, with a supply chain that's robust enough to support it. To get the clutch to engage is going to take two to three years."
Last week, Lockheed and the Pentagon reached an agreement for 375 F-35 fighter jets over three years. The details of the contract have not yet been finalized and were not included in the second-quarter report, but Reuters reported that the deal would be worth about $30 billion.