Locking Up Jan. 6 Committee Members 'Not an Idle Threat,' Warns Kirschner
Former U.S. Army prosecutor Glenn Kirschner warned that former GOP House Speaker Newt Gingrich's suggestion that members of the House select committee investigating the January 6, 2021 attack against the U.S. Capitol could be jailed is "not an idle threat."
In late January, Gingrich—who served as House Speaker from 1995 to 1999—warned that those investigating the pro-Trump riot targeting the federal legislative branch of government could face negative repercussions if Republicans retake Congress. "And the wolves are going to find out that they're now sheep and they're the ones who are in fact, I think, face a real risk of jail for the kinds of laws they're breaking," the former GOP lawmaker told Fox News.
Kirschner cautioned that Gingrich should be taken seriously during a Friday episode of The Dean Obeidallah Show on SiriusXM. He made the comment as he urged the Justice Department to charge former President Donald Trump with a crime.
"Democracy is hanging by a thread," he warned, saying that Attorney General Merrick Garland should take action against Trump. "I don't know when we reach the point of no return," the attorney added.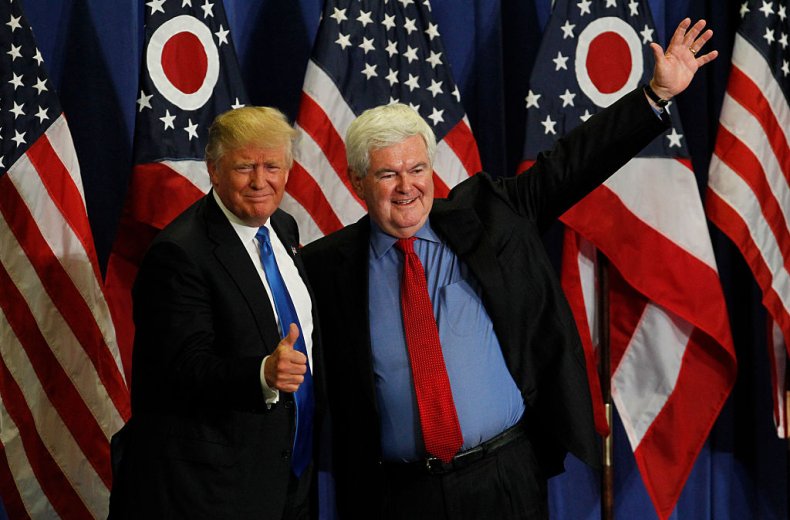 "The Republicans will do everything they can to bring DOJ to a screeching halt by carpet bombing the Department of Justice with frivolous subpoenas, and then, trust me, they will find reasons to claim that those subpoenas are being violated," Kirschner said. "And as Newt Gingrich promised everybody...they will lock up the members of the J6 committee."
"That's not an idle threat," he cautioned. "That's the Republicans' playbook."
Earlier in the segment, Kirschner suggested that there was "fear" and "timidity" within the Justice Department to charge a former president. "I think this is a top-down thing where we have Merrick Garland—who is more judge than prosecutor—being the king of circumspection and we have to consider every angle," he said.
After Gingrich warned that the January 6 committee members could be jailed, Representative Liz Cheney, a Wyoming Republican who is the vice chair of the investigatory body, raised alarms.
"A former Speaker of the House is threatening jail time for members of Congress who are investigating the violent January 6 attack on our Capitol and our Constitution," the GOP lawmaker warned in a January 23 tweet. "This is what it looks like when the rule of law unravels."
Many political analysts believe Republicans are favored to retake control of the House and possibly the Senate in the upcoming 2022 midterm elections. Historical precedent shows that the party of the president in power loses a substantial number of congressional seats during their first term in the White House. As Democrats only maintain a narrow majority, even minimal losses can shift control of Congress back to the GOP. Polls also suggest Republicans are well-positioned going into the midterms.
Whether Trump will ultimately face prosecution for his actions related to January 6, 2021 or other potential legal issues remains to be seen. Just over 13 months ago, hundreds of the former president's supporters violently stormed the U.S. Capitol in an apparent effort to disrupt the formal certification of President Joe Biden's Electoral College victory. That attack came after Trump at a nearby rally urged his supporters to walk to the legislative building and "fight like hell."
A week later Trump was impeached, with 10 House Republicans—including Cheney—joining Democrats in the effort. The former president was eventually acquitted in the Senate, although the majority of senators—including seven Republicans—voted in favor of conviction. However, the constitution requires a two-thirds majority for a successful guilty verdict.
Newsweek reached out to Trump's press office for comment.