Loeffler, Perdue Oppose Atlanta Braves Name Change After Poll Shows 72% of Georgians Agree
Georgia Republican Senators David Perdue and Kelly Loeffler issued a joint statement in opposition of renaming the Atlanta Braves after new polling data showed that 72 percent of likely voters agree that the MLB team should retain their name.
The GOP senators, who are both facing state runoff races on January 5, said that the baseball team should not "cave to the demands of the cancel culture and the radical left."
The Braces have faced criticism for being named after a term once used by Native American warriors, and have previously been called on to change their name by the National Congress of American Indians.
"We adamantly oppose any effort to rename the Atlanta Braves, one of our state's most storied and successful sports franchises," the senators said on Monday. "Not only are the Braves a Georgia institution – with a history spanning 54 years in Atlanta – they're an American institution."
"The Braves' name honors our nation's Native American heritage, which should not be erased — and under no circumstances should one of the most celebrated teams in sports cave to the demands of the cancel culture and the radical left," they added.
The senators' statement came amid a recent poll conducted by Trafalger Group showing that roughly 72 percent of likely voters agree that the name should not be changed.
Voters who plan to support both Loeffler and Perdue said they oppose the idea by nearly 90 percent, while over half of voters who said they would back Democratic challengers Jon Ossoff and Raphael Warnock also expressed interest in keeping the name.
"It is easy to support cancel culture or dismiss cancel culture when what is being canceled isn't something you care about," chief Trafalgar pollster Robert Cahaly told RealClearPolitics.
In July, the Braves said that they have no intention of changing their name after facing increased pressure from critics, but previously told the Atlanta Journal-Constitution (AJC) that they would discuss removing a controversial Tomahawk chop gesture and the accompanying music that prompts it from fans from games.
"We are so proud of our team's name, and our expectation is that we will always be the Atlanta Braves," Terry McGuirk, the Braves' chairman, told the newspaper in July.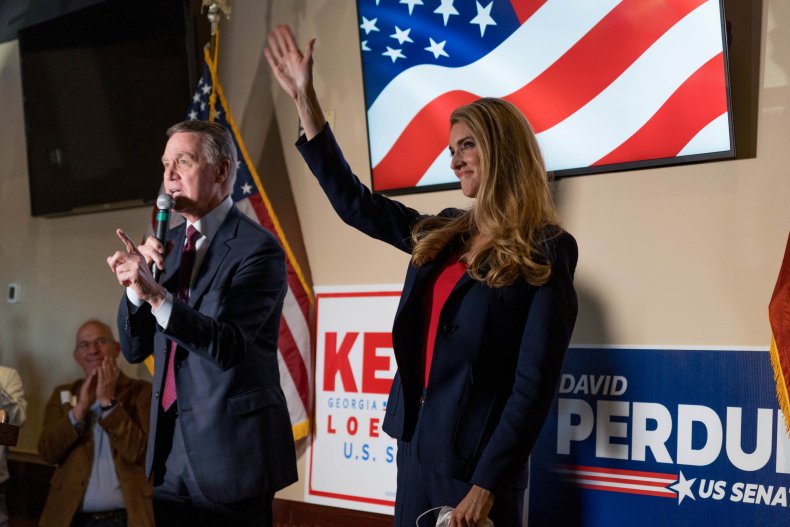 However, the Cleveland Indians, another team mired in controversy about its name, announced they would change the team's name on Sunday. The change represents the latest in a series of efforts by professional sports teams to remove or lessen the visibility names or logos deemed offensive to Native Americans.
Earlier this year, the Kansas City Chiefs announced that fans would be banned from wearing headdresses or face paint to games, and the Washington Redskins dropped both their name and logo. They temporarily being called the Washington Football Team.
Newsweek reached out to both the Perdue and Loeffler for additional comment, but did not receive a response in time for publication.