More Georgians Participated in First Day of Early Voting for Senate Runoffs than for General Election
Georgia's unprecedented double Senate runoffs are drawing record-breaking levels of early voting turnout.
Data from the secretary of state's office showed 168,093 people cast in-person absentee ballots—a significant increase from the roughly 128,000 Georgians who participated in the first day of in-person early voting for the November general election.
That brings the total number of votes cast so far in the Georgia Senate runoffs to 482,250 as the state has already received 314,157 absentee ballots through the mail.
More than 1 million absentee ballots have been requested for the runoffs next month when incumbents Kelly Loeffler and David Perdue will face off against Democrats Raphael Warnock and Jon Ossoff.
Georgia state law says that absentee ballots can be requested through the Friday before the election, which means registered voters can request their mail-in ballot up until January 1, 2021. Early voting ends in many Georgia counties on December 31. The runoff election will take place on January 5.
The Peach State has been the center of the political universe as both parties fight for majority control of the Senate.
Republicans are poised to control at least 50 seats in the next Senate, while Democrats will have 46 seats. Two independent senators caucus with the Democrats, bringing their total vote power to 48.
If Ossoff and Warnock both win their races, party control of the Senate would be split 50–50 and Democratic Vice President-elect Kamala Harris would be responsible for casting any tie-breaking votes.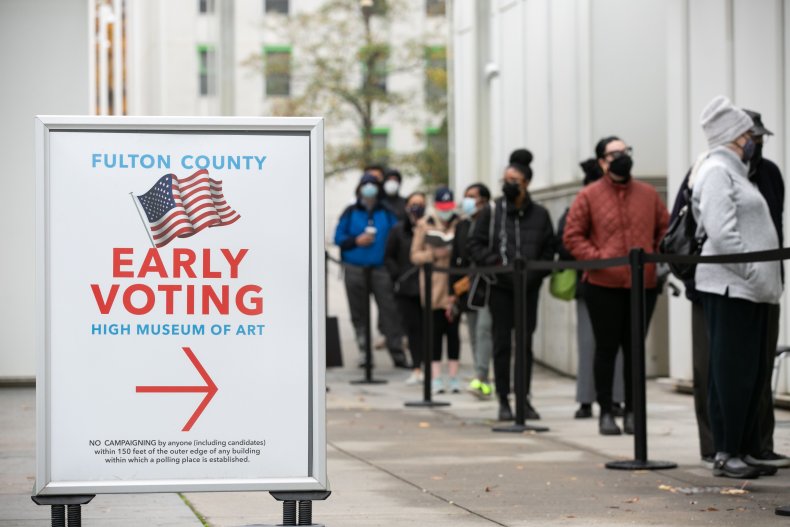 Democrats are riding a blue wave in Georgia after flipping the state for the first time in 28 years. President-elect Joe Biden is the first Democratic nominee to win the state's 16 electoral votes since Bill Clinton.
Biden will be visiting Georgia on Tuesday to campaign for Ossoff and Warnock, adding to the list of prominent Democrats to encourage residents to get out and vote for Ossoff and Warnock.
Earlier this month, former President Barack Obama joined the two candidates for a virtual rally. During the event, Obama told viewers: "You are now once again the center of our civic universe because the special election in Georgia is going to determine, ultimately, the course of the Biden presidency and whether Joe Biden and Kamala Harris can deliver legislatively all of the commitments they've made."
Both President Donald Trump and Vice President Mike Pence have made appearances on behalf of Perdue and Loeffler. During a rally in Augusta last week, Pence encouraged residents to vote absentee as soon as possible.
"Stay in the fight to keep America great," Pence said. "That's what's on the line, to preserve the progress that we've made, to protect our values and our liberties. We need you to do a couple of things, folks. First off, we need you to vote."