Floyd Mayweather and Logan Paul are going head to head in an exhibition boxing match this summer in news that sparked a wave of jokes and memes online, with fans attempting to predict the outcome of what will be a bizarre spectacle.
The thoughts of Mayweather, a five-weight world champion with a 50-0 record, taking on a YouTuber-turned-boxer has raised eyebrows since the idea was first floated last year.
The two were initially scheduled to meet in the ring back in February, but the event was put on hold due to COVID-19 restrictions.
Announcing what he called "an epic event" on Instagram Tuesday night, Mayweather wrote: "Me and Logan Paul will be fighting at the Hardrock Stadium."
Over on Paul's Instagram, the 26-year-old said he is going to "make boxing history."
"June 6 I break the simulation," he wrote.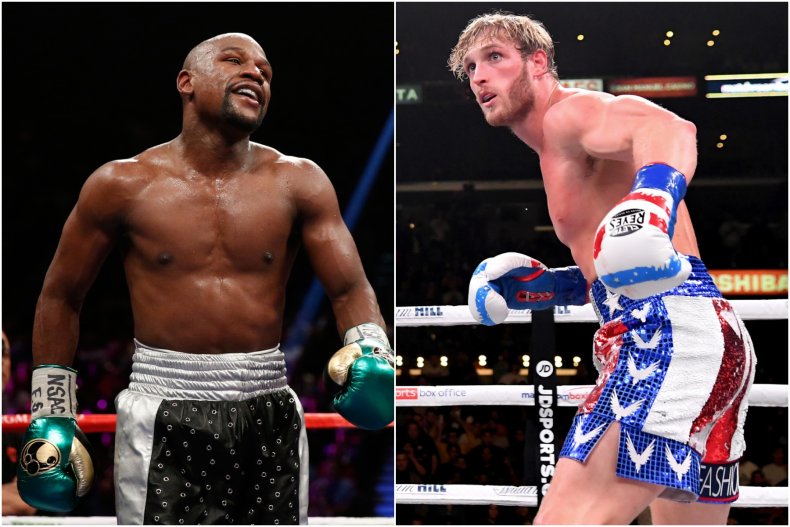 Mayweather took part in a highly publicized exhibition boxing match with UFC fighter Conor McGregor in 2017, where he won in the 10th round.
He also knocked out Japanese kickboxing star Tenshin Nasukawa in 2018 in another exhibition event, winning by TKO in the first round.
Paul's only fight was with fellow YouTuber KSI in 2019, which he lost.
Now boxing and YouTube fans are predicting the outcome of the Mayweather/Paul fight, prompting a wave of jokes and memes from Twitter users.
"imagine the scenes if Logan Paul beats Floyd Mayweather...." reads one viral tweet.
While another person speculated Paul's reaction to either winning or losing, guessing that if Paul loses he'll say: "So what I lost to a professional and undefeated boxer." And if he wins, he'll say: "I am the GOAT (greatest of all time)."
"If Floyd Mayweather KO's Logan Paul in the first round I'll give everyone who likes and retweets this $50," joked another.
While another person tweeted: "If Floyd loses to Logan Paul out of all the amazing boxers he went against then I'll know for sure this shit either rigged or the simulation is glitching."
One considered speculation of the fight's outcome reads: "Mayweather will dodge Logan Paul for several rounds to give people their money's worth. Paul will tire out and Mayweather will win after ref stops the fight. Same premise as fight vs. McGregor. 2 Hustlers, hustling the public for millions."
Meanwhile, actor Devon Sawa tweeted: "Logan Paul is fighting Floyd Mayweather. RIP Combat Sports."
Another joke reads: "If Floyd Mayweather doesn't knock Logan Paul out like this in the first 20 seconds of the fight he's cancelled."
"Logan Paul going from boxing KSI to Floyd F****** Mayweather."