Boxing has long walked a fine line between sport and pantomime, but the divide has become increasingly blurry in 2020. The last few weeks have featured former NBA point guard Nate Robinson being knocked out cold by YouTube star Jake Paul and Mike Tyson returning to the ring against Roy Jones Jr., in an exhibition bout pitting together two fighters with a combined age of 105.
News that YouTube star Logan Paul has agreed to fight Floyd Mayweather Jr., however, came as a bombshell even in boxing's increasingly bizarre universe.
Mayweather (50-0, 27 KOs) announced the fight via an Instagram post on Sunday.
"Super exhibition, Feb. 20, 2021," the caption under a split image of Mayweather and Paul read.
Mayweather hasn't fought professionally since retiring for a third time after defeating UFC Conor McGregor in 2017, claiming his 50th win in as many fights of a stellar career that has seen him retire undefeated after winning 15 world titles across five weight classes.
Paul's only professional bout ended in defeat against fellow YouTuber KSI last year—the two collided in an exhibition fight in 2018—and he is 18 years younger than Mayweather, who will turn 44 four days after the fight.
However, despite the age advantage, getting in the ring against one of the greatest boxers in history seems ill-advised at best, as Twitter was quick to point out.
UFC president Dana White, meanwhile, ridiculed the fight and questioned what qualified Paul to go up against Mayweather.
"When people ask me what's the state of boxing right now, that's where it's at," White said as he appeared on Nelk Boys.
"Didn't that kid get beat up by the f*****g video game kid from England [KSI] and now he's going to fight Floyd Mayweather?"
From a sporting standpoint the bout might look ridiculous, but it will in all likelihood make a lot of sense for both boxers from a financial perspective. Neither Paul, who has more than 22.5 million of subscribers on his YouTube channel, nor Mayweather are new to highly lucrative bouts of dubious sporting merit.
The latter made approximately $100 million from fighting McGregor and $9 million from his exhibition against Japanese kickboxer Tenshin Nasukawa in 2018. Paul's first fight with KSI generated up to $11 million—while the purse was split 50-50, neither fighter received $5.5 million—and he was guaranteed at least $900,000 for the rematch.
Others, meanwhile, suggested Mayweather had a more noble reason to agree to the fight, hinting the American may want to avenge Robinson's defeat.
The latter was floored twice by Paul's brother, Jake, last month, before requiring medical assistance following a brutal knockdown in the second round of their fight in Los Angeles.
In the aftermath of the bout, Mayweather acknowledged people were entitled to their opinions but insisted he was proud of the former New York Knicks star for daring to step into the ring.
"Nate, I'm proud of you and I will always stand behind all my brothers. I will never kick my brother when he's down," he wrote on Twitter.
"It's OK for people to voice their opinions on social media, but no black athletes or black entertainers, especially black NBA players should make a mockery out of you.
"We are supposed to all stand with each other through the good, bad and ugly. I'm here to uplift you and let you know we all love you and congratulate you for just making an effort."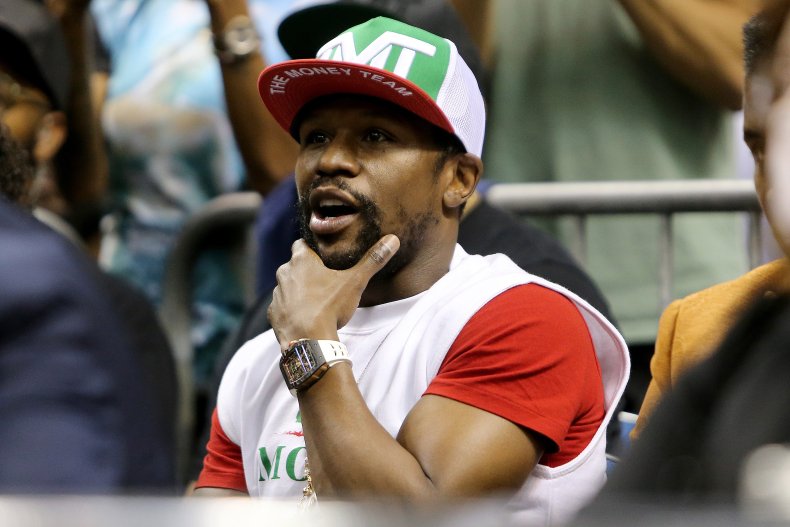 About the writer
Dan Cancian is currently a reporter for Newsweek based in London, England. Prior to joining Newsweek in January 2018, he was a news and business reporter at International Business Times UK. Dan has also written for The Guardian and The Observer.