This article contains spoilers for Loki Season 1 Episode 6 "For All Time. Always."
As Season 1 of Loki comes to an end on Disney+, viewers have been left with more questions than answers.
Sure, the origins of the Time Variance Authority are explained, the villain is revealed and Sylvie and Loki's unspoken romance is addressed—but the ending will leave fans wanting more from Loki and more from the Marvel Cinematic Universe.
The third Marvel series to air on Disney+ as the company sets up Phase 4 of the MCU, Loki set itself apart from Wandavision and The Falcon and the Winter Soldier with its ending.
There's a tonne of exposition throughout, clearing up everything that's come before. Read on for a full rundown of events in the series finale of Loki, "For All Time, Always."
What Happens in 'Loki' Episode 6?
Loki (Tom Hiddleston) and Sylvie (Sophia Di Martino) have no time to celebrate their victory against the trans-temporal entity Alioth as they head towards the ominous castle seen at the end of Episode 5 "Journey Into Mystery."
The landscape around them has changed as they appear to be on a large rock floating in space. Surrounding them is a perfectly symmetrical loop that forms a band around the structure.
As Loki and Sylvie approach the castle, they take a beat before deciding whether to kick the door down. Before they can agree on the next move, the door opens. Their host, the man behind the curtain, is expecting them.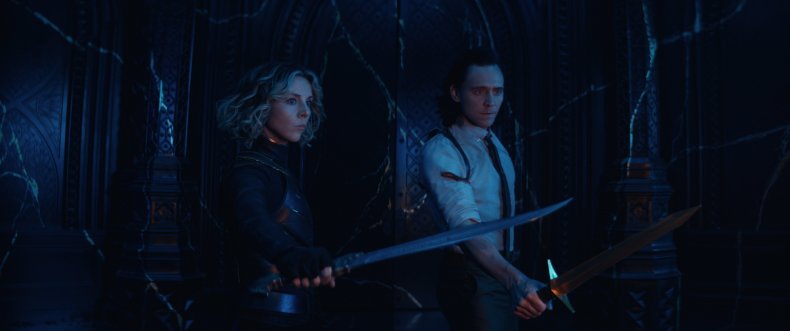 The first person they're greeted by is the informatively southern Miss Minutes, the Time Variance Authority mascot. Following them around the castle lobby, she informs the Lokis that "He Who Remains" wants to offer them a deal. Loki is offered a victory in the Battle of New York and the opportunity to kill Thanos, while Sylvie is offered the life she missed out on and a head full of happy memories. Both reject the offer and continue searching for He Who Remains.
Back at the TVA, Judge Renslayer (Gugu Mbatha-Raw) is still in a crisis and trying to figure out who is behind the organization and who created the phony Time-Keepers. Mobius M. Mobius (Owen Wilson), back from his escape from the Void, confronts her but Renslayer stands firm in her belief in the TVA.
In an effort to turn the TVA against her, Mobius sends agents to Franklin D. Roosevelt High School. He knows to go there because of a pen Renslayer keeps in her office that we saw in Episode 2, "The Variant."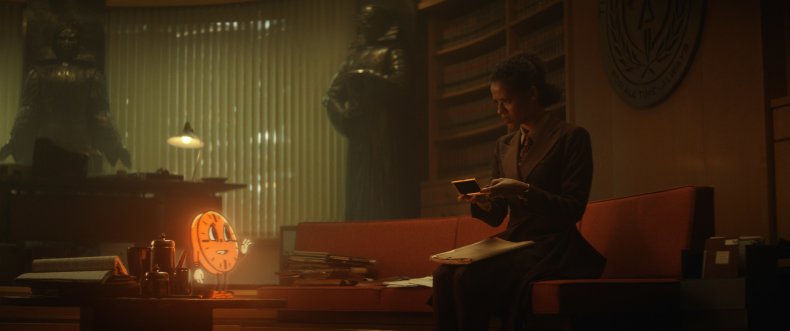 Hunter B-15 (Wunmi Mosaku) lures some Minute Men to the high school where they find a version of Judge Renslayer who appears to be a teacher at the school. The identity of this duplicate is not revealed, but there's a degree certificate from Ohio State University framed in the office that suggests she's named Rebecca Courminet.
After a brief confrontation between Renslayer and Mobius—poor guy couldn't put up a fight—she opens up a portal, walks through, and that's the last we see of her.
Back at the castle, Loki and Sylvie are finally confronted by the man who created the Time Variance Authority. He Who Remains (Jonathan Majors) appears to be an unassumingly eccentric human man, draped in a purple cloak, eating an apple. He invites them up to his office to talk further.
Sylvie tries to attack him again and again, but he uses a TVA pad to teleport away just in time every time she does. As he explains, "I know it all, and I've seen it all," so he is always ready for her attack.
He Who Remains Makes an Offer to Sylvie and Loki
In his office, He Who Remains explains his origins to the pair. He reveals he has been known by many names throughout time, including Ruler and Conqueror.
Eons ago, a variant of him was a scientist on earth in the 31st century. He discovered there were other universes stacked on top of each other. Versions of himself began to communicate but eventually this led to a universal war.
The first variant came across a creature capable of consuming time and space itself, Alioth. He controlled it and weaponized it, ending the multiversal war. To prevent a repeat of the conflict, he managed the one steady flow of time so it would not branch off again, "hence the TVA. Hence, the Time-Keepers and a highly efficient bureaucracy. Hence ages and ages of cosmic harmony. Hence, you're welcome."
He Who Remains states that he may be hated but something far worse, his infinite evil variants, will replace him if he's deposed.
Having lived a million lifetimes, He Who Remains says he's tired, so offers his role of overseer of time and the TVA to Sylvie and Loki.
Sylvie and Loki's First and Last Kiss
Sylvie isn't buying He Who Remains' story for one second, while Loki wants to take a minute to consider it.
Sylvie continues to try to kill her foe, which is possible because they've crossed a threshold where He Who Remains doesn't know what's going to happen. Loki stops her and asks her to see reason. They fight in the office while He Who Remains watches on.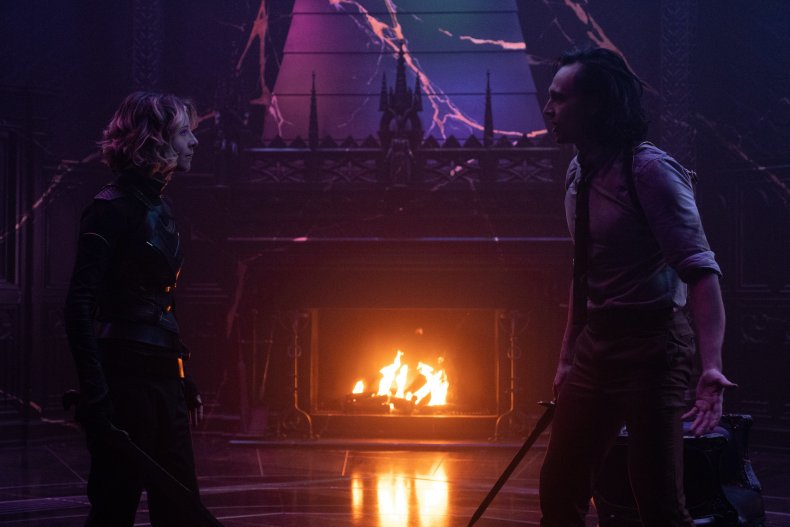 Eventually, Loki holds up his hands and begs Sylvie to stop. They share their first kiss before Sylvie sends Loki through a portal back to the TVA.
She proceeds to stab He Who Remains through the heart, hopefully bringing an end to his tyranny and the TVA. His final words are: "See you soon."
Outside the window we see what was formerly a single solid band of time branching off again and again—creating thousands, perhaps millions, of new timelines and universes in its wake.
The Epic Finale That Changes the MCU
Loki dashes through the corridors of the TVA until he finds Mobius and B-15. He attempts to explain what has happened to him and Sylvie, but the pair don't recognize Loki and ask him what division he's in.
He looks up and sees that where the TVA formerly deified the Time-Keepers, there's now a statue of He Who Remains. Roll credits.
He Who Remains isn't the only one we'll be seeing soon. There's no post-credits scene, but the show does end with a confirmation that Loki will be back for Season 2.
Questions to be Answered in 'Loki' Season 2
While this episode gave viewers a detailed explanation of the events that led to the creation of the TVA, there are many more questions to clear up going forwards.
Judge Renslayer vanished into the ether in her quest to find He Who Remains, while the existence of her teacher duplicate also needs addressing.
What reality has Loki found himself in? And why don't his allies B-15 and Mobius recognize him?
There are plenty of fan theories about the true identity of He Who Remains, and his sudden re-emergence at the TVA needs explaining.
And what about Sylvie? After betraying Loki, murdering He Who Remains and watching the timeline branch off into infinity, what is her next move?
Some of these questions may be answered across different Marvel projects. It's clearer now how the events of Loki will lead into the movies Doctor Strange in the Multiverse of Madness (2022) and even Ant-Man and the Wasp: Quantumania (2023)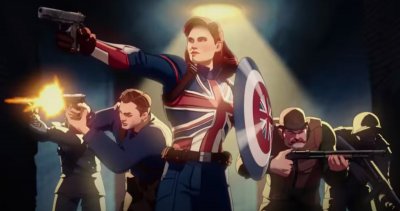 All episodes of Loki Season 1 are available to stream now on Disney+.