London Blast Live Updates: Chaos On Subway After Parsons Green Explosion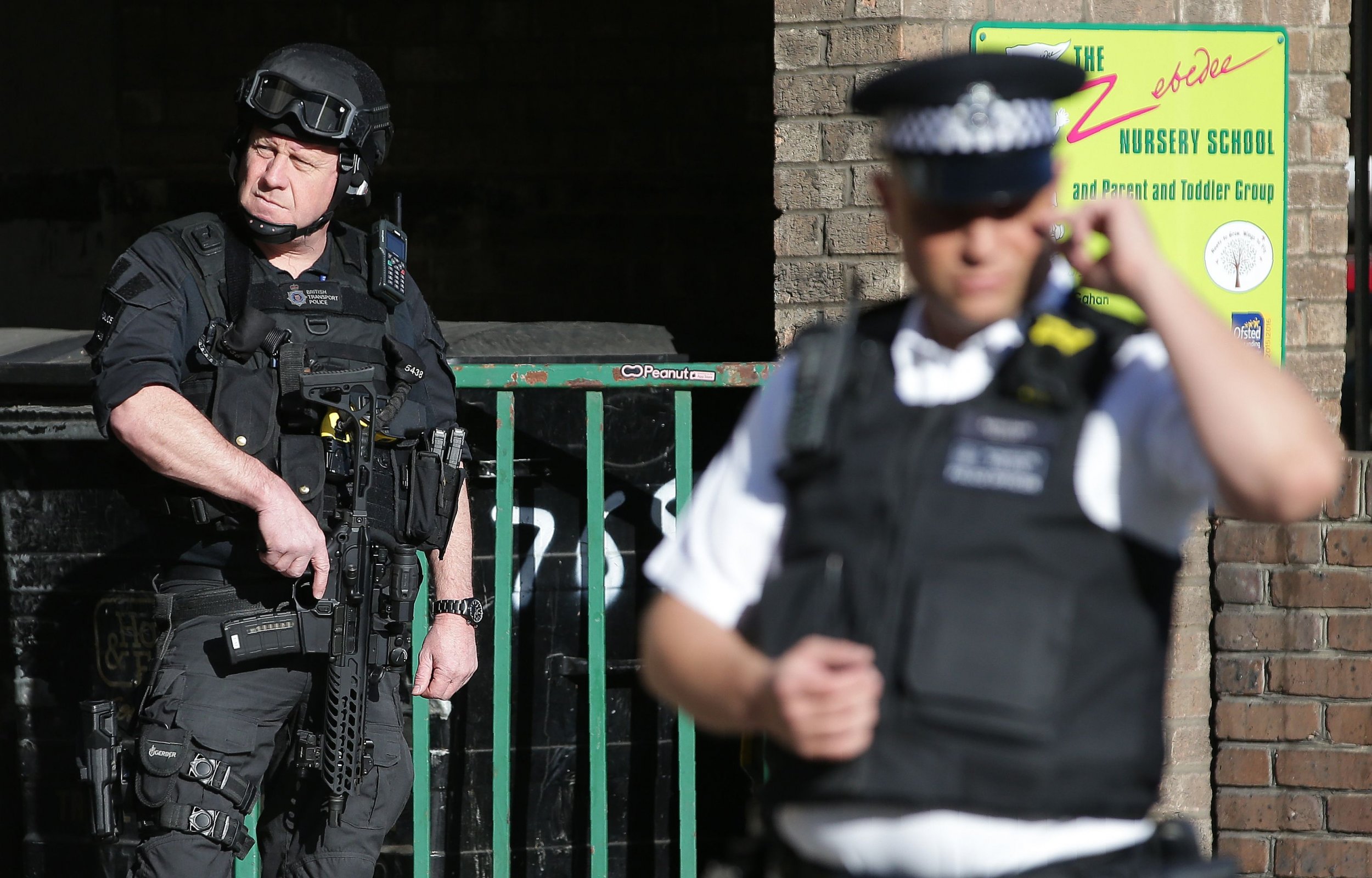 At least 22 people injured at Parsons Green station in west London.
The blast is being investigated as an act of terrorism, police confirm.
London police say an improvised explosive device was used.
10:15 a.m. ET: As we round up our live blog, at least 22 people are injured, a suspect remains at large and security services will work out how the device was built and made its way onto a packed commuter train. For the latest news on the blast, head to our homepage at newsweek.com.
10:10 a.m. ET: According to Britain's Sky News, police have identified a suspect in connection with the Parsons Green blast.
10:02 a.m. ET: Britain's threat level is to remain at severe, British Prime Minister Theresa May said after holding a meeting of her COBRA security team on Friday. She called the attack "cowardly" and said the "device intended to cause significant harm."
9:50 a.m. ET: London's Met Police has said that Londoners will see an increased police presence, particularly in crowded places, over the weekend in reaction to the attack.
No suspect has been named in connection with the attack and officials are yet to announce any suspected motive. British officials have criticized President Donald Trump for blaming the attack on a "loser terrorist." Nick Timothy, former chief of staff to Prime Minister Theresa May, called his comments "unhelpful from a leader of our ally."
Suspicion will however fall on radical Islamists. Both the Islamic State militant group (ISIS) and Al-Qaeda have called for attacks on trains in the West, as well as posting guides and propaganda to direct supporters to strike against them.
9:40 a.m. ET: The sporting world has reacted to the attack. Chelsea, champions of Britain's Premier League located close to the site of the blast, have said they hope their match with Arsenal on Sunday still goes ahead.
Manager Antonio Conte said that extremists should not ruin the everyday lives of Londoners.
"I'd like to say all our thoughts are for the people affected in the incident on the tube," he said at a press conference.
"For sure this type of situation is very dangerous, your mind goes to the people in this situation. I think we have to try to think only to play the game. This is the best way. We have to continue, to show we are stronger than them."
The Premier League has given no indication that the match will be postponed.
9:30 a.m. ET: International reaction continues to pour in after the blast at a London subway station.
The mayor of Barcelona, Ada Colau, tweeted that the city stood in solidarity with London, saying that it felt the same pain as the city after last month's two vehicle-ramming attacks in Catalonia.
"I want to express the solidarity of Spain and the support to the British people and their authorities," tweeted Spanish Prime Minister Mariano Rajoy.
8:10 a.m. ET: London Mayor Sadiq Khan has said "there is a manhunt underway as we speak." London's Met Police has declined to say whether a suspect is in custody or not.
Security sources have told CNN that a timer was found on the device, indicating that the perpetrator would not have been present at the time of the blast.
7:43 a.m. ET: Britain's National Health Service has raised the number of people being treated for their injuries in the wake of the blast to 22. It said they were at four hospitals across London.
A manhunt is now underway for the perpetrator of the attack, and investigators will be poring over surveillance footage to see how the device came to be left on the train and by whom. The apprehension of whoever is behind the device will be vital to ensuring that the attacker cannot strike again.
7:35 a.m. ET: The Met Police tells Newsweek there is no second device being investigated, and no knifeman on the run, contrary to unverified social media reports. Police looked into reports of a man with a knife on Fulham Road, near the station, but that line of enquiry has been "stood down," the source said.
7:15 a.m. ET: Trump has continued to tweet about the London attack, calling for the internet to be "cut off" because of extremists.
"Loser terrorists must be dealt with in a much tougher manner. The internet is their main recruitment tool which we must cut off & use better!" he wrote.
He then moved on to talk about his proposed travel ban and the campaign against the Islamic State militant group (ISIS). Police are yet to confirm the identity of a suspect or the nature of terrorism believed to be related to the blast.
6:48 a.m. ET: U.S. President Donald Trump has tweeted to condemn the blast in London.
He wrote: "Another attack in London by a loser terrorist. These are sick and demented people who were in the sights of Scotland Yard. Must be proactive!"
6:45 a.m. ET: The Met Police's assistant commissioner Mark Rowley, delivering a statement outside Scotland Yard, the police force's headquarters, has said the blast was caused by a suspected Improvised Explosive Device, or IED.
The device which exploded on a London subway train on Friday morning only partially exploded, British newspaper The Guardian is reporting, citing sources in London's Met Police.
Explosive experts say the device was "viable" and should have exploded with more force.
6:22 a.m. ET: London's Ambulance Service has confirmed that 18 people have been taken to hospital with injuries following the blast. It said "none are thought to be in a serious or life-threatening condition" as a result of the explosion.
"We were called at 8:20 a.m. today, with the first ambulance crew arriving within five minutes. As we are very busy dealing with this incident, we would ask the public to only call us in a genuine emergency.
6:02 a.m. ET: Mayor of London Sadiq Khan has issued a statement after the Parsons Green blast. He said the city "utterly condemns the hideous individuals who attempt to use terror to harm us and destroy our way of life."
He called on Londoners to "remain calm and vigilant."
In comments made after three radical Islamist attacks earlier this year, Khan said that London "has proven again and again, we will never be intimidated or defeated by terrorism."
Arrests for terrorism-related activity are on the rise in Britain. On Thursday, it was announced that there had been a 68 percent increase in such arrests.
Deputy Assistant Commissioner and senior national coordinator for counter-terrorism in Britain, Neil Basu, said on Thursday that "there is no doubt that since March and following the attacks in London and Manchester we have seen a shift-change in momentum. But while the terrorist threat has increased in recent months, so has our activity."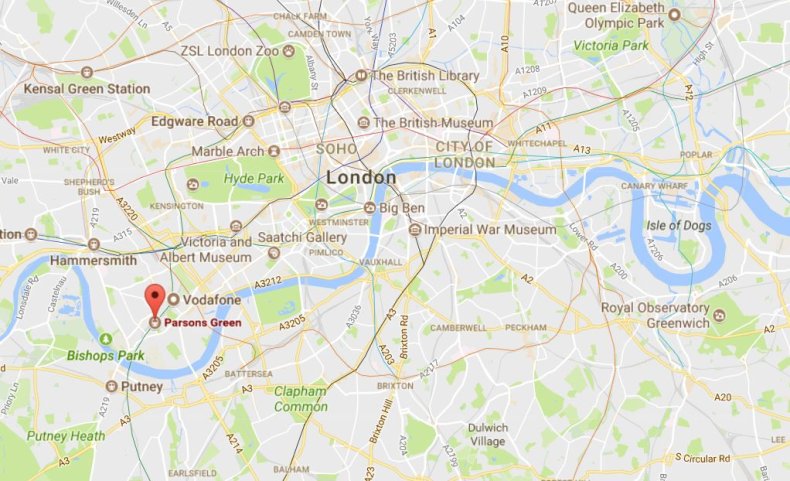 5:45 a.m. ET: The Met Police force tells Newsweek they cannot confirm reports on social media that there is a second device being investigated.
Mark Rowley, London Metropolitan Police's assistant commissioner and the head of National Counter Terror Policy, will make a statement outside of Scotland Yard, the force's headquarters, at 11:30 a.m. local time (6:30 a.m. ET).
5:38 a.m. ET: British Prime Minister Theresa May has released a statement in the aftermath of the blast. "My thoughts are with those injured at Parsons Green and emergency services who are responding bravely to this terrorist incident."
Eyewitnesses have described a chemical smell on the train following the blast, but the means used to build the device are yet to be confirmed by authorities. They say wires were hanging from the side of the white bucket that exploded, indicating a possibility that the device could have been deliberately built to explode.
5:30 a.m. ET: The blast at a London subway station is now being treated as a terrorist attack, police have confirmed.
"The Met's Counter Terrorism Command are investigating after the incident at #ParsonsGreen tube station is declared a terrorist incident," London's Met Police wrote in a tweet.
British Prime Minister Theresa May is to convene an emergecy security meeting on Friday in the aftermath of the blast.
5:05 a.m. ET: The blast left several people injured apparently because of a stampede, with some of those fleeing the scene trampling one another in a bid to escape danger.
Other passengers were described by eyewitnesses as "badly burned."
British counter-terrorism police are at the scene of the incident but the blast remains a transport police investigation.
4:08 a.m. ET: An explosion on a London subway train during the early morning rush hour has left several train passengers injured.
Early reports indicate that the blast came from the rear of the train while it was in the station, causing a stampede as passengers tried to exit the station. One local reporter from Britain's Metro newspaper said some people had suffered facial burns.
"We are aware of an incident at #ParsonsGreen tube station. Officers are in attendance. More info ASAP," London's Met Police tweeted. It had no further comment when contacted by Newsweek.
Transport for London said it was "investigating an incident at Parsons Green" and advised commuters to avoid travel between Wimbledon and Earl's Court in London's southwest. The line the station is on warned of delays due to a disruption.
One of the passengers posted pictures of a white bucket they suspected of being the cause of the blast, left by the door of the subway train. "Explosion on Parsons Green district line train. Fireball flew down carriage and we just jumped out open door," wrote @RRigs.
London's ambulance service said it had dispatched its hazardous area response team to the scene of the incident.
"We have sent multiple resources to the scene including single responders in cars, ambulance crews, incident response officers and our hazardous area response team," the London Ambulance Service said on Twitter.
"Our initial priority is to assess the level and nature of injuries."
Eyewitnesses described a scene of panic around Parsons Green station. Shahzad Afzal, a 39-year-old store manager at a local supermarket, said that he saw commuters injured and emotional after the incident.
"There's a lot of police, armed police as well, fire brigade, ambulance, everything. People became panicked, a lot of people were crying," he said by phone.
"Now they have cordoned off the area. I can see one lady now, they are trying to make her sit on a stretcher, it looks like she was hurt. But I can see she is conscious," he added.
Britain remains on high alert, and authorities have maintained the threat level at severe after three attacks claimed by the Islamic State militant group (ISIS) in three months earlier this year that killed 36 people. The attacks were two vehicles attacks on two London bridges, with one followed by a knife assault, and a suicide bomb explosion at an Ariana Grande concert in Manchester.