Confusion was unleashed online after social media users noticed an apparent time zone error in a photo of President Joe Biden as he was being briefed about the deteriorating situation in Afghanistan.
The photo, uploaded by the White House Twitter account on Sunday evening, showed President Biden sitting alone as he learned of the latest developments coming out of Afghanistan.
It included the caption: "This morning, the President and Vice President met with their national security team and senior officials to hear updates on the draw down of our civilian personnel in Afghanistan, evacuations of SIV [Special Immigrant Visa] applicants and other Afghan allies, and the ongoing security situation in Kabul."
But, shortly after the photo was uploaded, a host of accounts noticed an error among the row of clocks on the wall, namely in the time difference between London and Moscow. The time for London read 16:29 (4:29 p.m.) and 19:29 (7:29 p.m.) for Moscow, giving it a three-hour difference.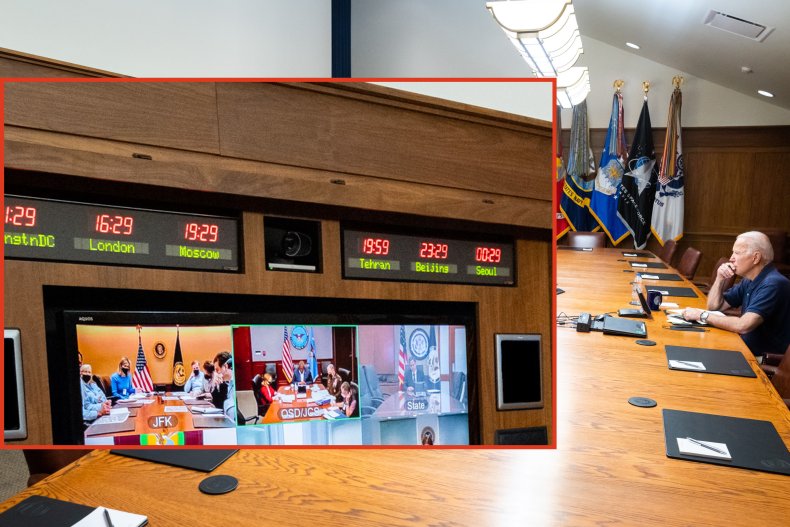 While Moscow is three time zones ahead of London, the U.K. is currently observing British Summer Time, meaning its clocks have gone forward by an hour and will not go back until October.
Russia has not observed Daylight Saving Time since 2014, which explains why it is only currently ahead of the U.K. by two hours rather than three.
Another photo, uploaded by the White House on August 14, also showed the incorrect time difference between London and Moscow.
Internet sleuths were quick to notice the error and while some believed it was simply that the clocks were wrong, others speculated the photo used had been taken earlier in the year.
Ex-Special Advisor to former President Donald Trump took to Twitter where he said: "Real question. Why is Moscow time wrong in this photo? Time difference between London and Moscow is only 2 hours, it hasn't been 3 hours since March…"
Becker News CEO Kyle Becker posted: "Recent White House photos show a 3-hour time diff. b/w [difference between] London & Moscow. There are a few good explanations for this. Either Camp David's clocks are wrong or the photos are from before March 28, when London went ahead on Daylight Savings Time, but Moscow didn't. This is *fine.*"
Another account, by the name Real Developments, also noted the time zone error and added: "Note the time in London and Moscow on the clocks. Clocks show 3-hour time difference. However, there is currently only a 2-hour difference. Before March, London and Moscow have a 3 hour time difference because of daylight savings. Is this a stock photo?"
Newsweek has contacted the White House for comment.
The White House uploaded the photo as the Taliban continued their march into Kabul, the capital of Afghanistan. Its rapid takeover of the country came just weeks after the U.S. and its allies withdrew troops from the country.
Despite the deteriorating situation, President Biden appeared resolute with his decision and said in a statement published on the White House website on Saturday: I was the fourth president to preside over an American troop presence in Afghanistan—two Republicans, two Democrats. I would not, and will not, pass this war onto a fifth."