Looters Exploited the Protests. Now Black-Owned Businesses Are Picking Up the Pieces
When 34-year-old Chanel Hawk first launched her own consignment store six years ago selling "one-of-a-kind" second-hand clothing and accessories in Atlanta, Georgia, she felt her dream was finally coming together.
"It was always something I wanted to do," Hawk told Newsweek. "I started from my own closet...selling clothes on social media, but then it blew up...It gradually became larger and larger over the years."
Hawk's consignment shop, RCR Luxury Boutique, grew to be so popular in Atlanta that at any given time this past year she might have had about $150,000 in inventory.
From Louis Vuitton handbags to Christian Louboutin shoes, each unique piece had been entrusted to Hawk by clients across the state. "These were one-of-a-kind pieces. Vintage pieces," Hawk said.
In just one night, they were gone.
On Saturday, May 30, Hawk's consignment store was one of dozens looted in Atlanta—and many more across the U.S.—amid days of protests following the death of George Floyd, the black man who died after white police officer Derek Chauvin kneeled on his neck for nearly nine minutes on May 25.
Hawk woke up on Sunday morning to learn from ADT Security Services that her store had been looted and vandalized.
"All the inventory was stolen... There was damage to the windows, the doors, the counter tables—they were glass—they were broken. The cash register was taken...It was very heartbreaking," she said. "Now, I have to start from square one."
As a black business owner, Hawk said she was shocked to learn looters targeted her store at a time when protesters were taking to the streets to call on the government to address systemic racism.
However, she made clear that she does not blame protesters for the destruction. Rather, she believes looters exploited demonstrations in Atlanta and cities across the country.
"They were not out there to protest. They were out there to loot. They were out there to steal," Hawk said. "This gave them a way to mess people's businesses up and go inside and steal their inventory. I don't feel like this really had nothing to do with the protests."
If anything, she said, looters exploiting protests are "hurting the message" of Black Lives Matter—particularly when they go after black-owned businesses.
Since the looting began, there have been questions around the identities and motives of those breaking into stores.
Twitter recently announced it had deactivated an account falsely claiming to belong to a national "Antifa" organization and calling on followers to wreak havoc and "take what's ours" during the protests. The social media platform said the account had actually been created by white supremacist group Identity Evropa.
Meanwhile, videos circulating on social media have shown black protesters imploring looters, who often appear to be white, to stop breaking into and vandalizing stores.
One video from Oakland, California, captures what appears to be a mostly white crowd of people smashing the windows of a restaurant as a black demonstrator holding a megaphone pleads with them to stop.
For store owners like Hawk, it is unclear how long it will take to recover from the damage and losses in the destruction.
All told, Hawk estimates the damages at her store to be around $40,000, with roughly $150,000 in inventory stolen. Insurance will cover at least half of the inventory, she said. But the rest she must make up herself.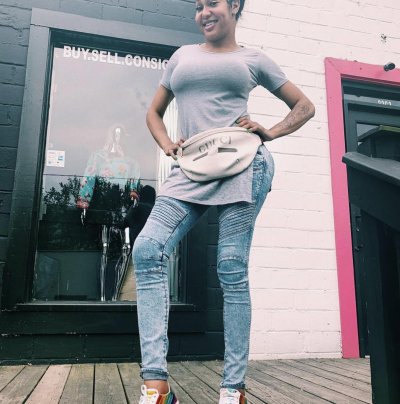 So far, Hawk has been able to raise a few hundred dollars through a GoFundMe online fundraiser, while an initiative called Atlanta Black Business Owned Relief is also offering her $20,000 to help with repairs.
A $20,000 donation might sound like a lot—and Hawk is grateful for it—but given how much she has lost: "It's really not enough."
"Who knows if I will ever get things back in order? It's just difficult right now to know. I hate to even think about it," she said.
Across the country in San Bernardino, California, Chiedozie Amajoyi told Newsweek his parents' business, Gina's Bargain Thrift, was also broken into during the protests.
On the night of Sunday, May 31, his mother and father, 63 and 68, called to tell him the store was broken into and they were going to see what had happened.
When they arrived, Amajoyi said there were still people in the building, who his father warded off, before working through the night to secure the shop.
"I don't know how he did it, but dad scared the people and got them out," Amajoyi said.
"But, the damage had been done. When they got to the store, the door had been broken, the actual frame of the door had been pushed down. They'd basically torn down the building to get in."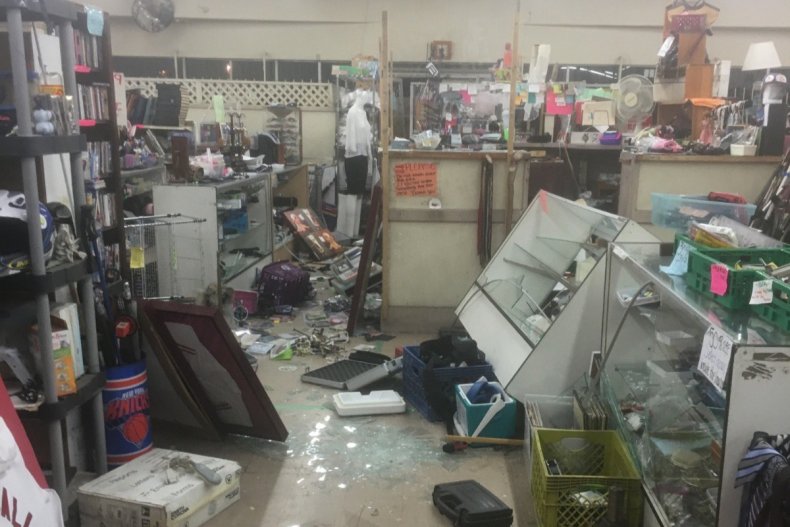 The next morning Amajoyi visited the store, which has been in business for around 25 years. He said: "We were looking at it, we sat there and we cried looking at the damage."
Then they got to work clearing up what they could. He set up a GoFundMe page, estimating the cost of the damage to be around $100,000 and setting that as its goal. The page has now raised a little more than the target.
"It was devastating, but seeing the way our community responded has been uplifting," he said.
"As a black man, I identify with the protests. I think the protests are necessary, I've been cheering on the movement.
"Unfortunately, there's people who leverage this movement to do whatever they feel like doing, it's a distraction. I think it's very unfortunate they [the looters] took away from the message."
Pure Oasis, a recreational cannabis dispensary in Boston, Massachusetts, was looted amid the city's protests over George Floyd's death. Kobie Evans, co-owner of Pure Oasis, agrees with Amajoyi.
Looters taking advantage of the demonstrations to target his store was a "hard pill to swallow," he said.
"In the midst of this national uprising and protests, and being so upset at what happened to George Floyd, and so many people coming out, it's so unsavory there are people who use that to cause more harm," Evans told Newsweek.
"This is something that's affected the whole nation in terms of people taking advantage and looting."
Recalling arriving the morning after to see his business, he said: "The window was smashed, and the place looked like it was just ravaged. Just mayhem."
Describing restoring order to the business, Evans said it "was like putting pieces of a puzzle together...Morale was low."
Like Hawk, Evans believes the "main point is that the people who are protesting peacefully aren't the people who broke into our store, nor do we believe it was anybody affiliated with the protests."
Seeing the state of his looted store, which opened in March, was upsetting for Evans. But he said the shop is already back up and running, with insurance expected to cover the loss of around $100,000 in merchandise. Right now "we're looking forward," he said.
Following the looting and vandalism of businesses, Keeana Barber, co-owner and CEO of WDB Marketing in Chicago, Illinois, printed and distributed signs which read "black-owned business" for people to put in their windows.
She posted online about feeling heartbroken having seen the impact on some of the black-owned and small businesses that she was aware of. A friend suggested looking at ways for such businesses to identify themselves.
"My heart was broken by seeing so many black and small owned businesses hit," she said.
"I understand the frustration, but I was also on the other side because I've helped businesses build. I know what it takes to build a dream.
"I'm not villainizing but at the same time, you have to understand both sides. Sometimes it's hard to rebuild."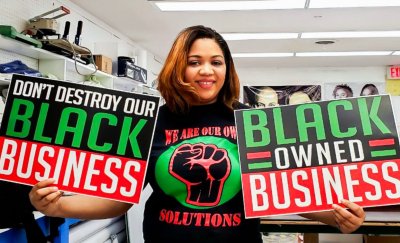 Barber created the design and had around 200 printed, which she offered to distribute through posts on social media.
She has now given out 1,400 of the signs, with requests from people in other states, including Oklahoma and Atalanta, and expects to have produced 2,000 by the end of the week. "It grew that it wasn't even about looting anymore, it was about pride," she said.
"People wanted to give them to other people in their community. I think what's come out of it is we've seen we need to invest in our community. When people see black businesses, they've got to support them.
"It is so much bigger. It was only a handful of businesses that I know that got looted, it's become more about unity and about pride."
Barber is proud that her signs have enabled people, including herself, to identify black businesses in Chicago of which they were not previously aware.
She praised the community for coming together to support each other following incidents of looting, with people physically helping in clean-up work as well as fundraising to assist with the costs of damage.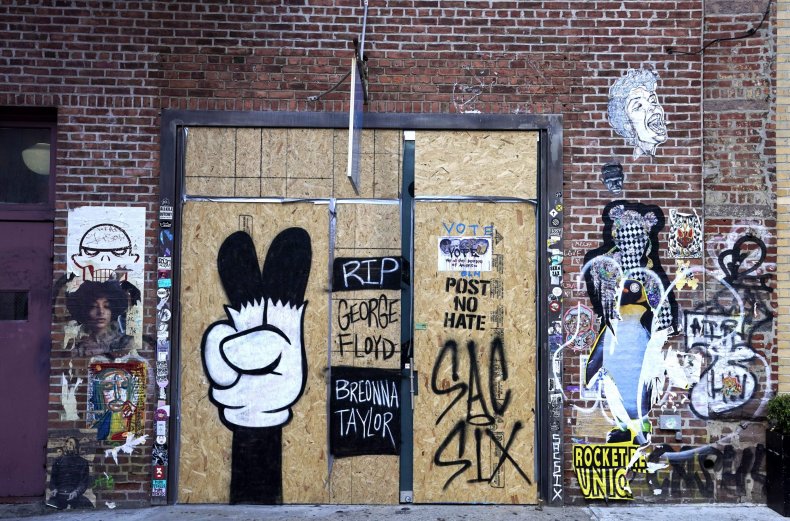 In Washington, D.C., Jessica McClain, the owner of Black and White Look Optical D.C., said her store already had a "black businesses matter" sign posted up when it was broken into.
However, she thinks looters wouldn't have even noticed the sign. McClain supports the protests unfolding across the country and does not believe looters were associated with peaceful demonstrators in Washington, D.C.
"The peaceful protests that we're seeing get better traction and move the needle," she said. "That's what we need to stick to, like how everyone was gathering in front of the White House. It starts from the top."
With just about all of her optical shop's inventory stolen, as well as laptops and equipment in the store, McClain said it could be weeks before she is able to fully reopen.
She is also working to raise funds to help cover some of what was lost, with the cost of damages and stolen inventory and equipment totaling around $100,000. So far a GofundMe campaign has raised around $20,000 for her and the shop.
For her part, Chanel Hawk from Atlanta hopes communities will continue to come together and rally around small businesses hurt by looting and vandalism.
"Donate to us. If they can help with five dollars, ten dollars...Anything can help at this moment," she said.
Asked if she had any message for the people who destroyed her business, Hawk had only this to say: "God bless them."
"I understand it, but I don't understand it...So, just God bless them," she said. "That's all I can say. We shall overcome this."