'Lord of the Rings' Legends Slam Take That 'Rings of Power' Is Too 'Woke'
Since the release of The Lord of the Rings: The Rings of Power in September, certain critics have condemned the new fantasy series as being too "woke" in its diverse casting. But actors from the original Lord of the Rings films have a message for the nay-sayers: "All Are Welcome Here."
Elijah Wood, who starred as Hobbit Frodo Baggins in the LOTR film franchise, weighed in with a photo on Wednesday. The award-winning actor tweeted a picture of himself standing next to co-stars Dominic Monaghan and Billy Boyd, who also played Hobbits in the movies.
All three LOTR legends are seen wearing the same white T-shirt, which features six sets of ears (some Elven) in various skin colors. The front is emblazoned with the Elvish words for "You All Are Welcome Here."
The shirts can be found on donmarshall72sstore.com and are available in several colors. The site also features other merch with that design, including hoodies, stickers and tank tops.
Many Lord of the Rings fans praised Wood's post, with one writing: "i love you guys so much!!! thank you for that, fantasy is for everyone."
Another Twitter use echoed that sentiment, calling the photo "so incredibly sweet."
"Beautiful way to drive out darkness and hatred with pure light and love!" they continued.
Someone else remarked on the actors' reunion, tweeting: "It warms my heart to see the Fellowship taking arms against darkness once again. For love and friendship, Aurë entuluva!"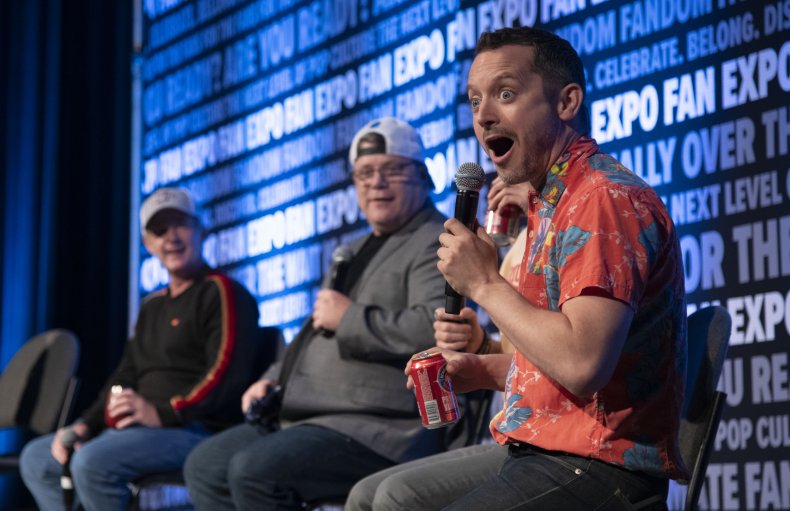 Some Twitter users pointed out that Wood's picture was missing one of the film series' four main Hobbits. But actor Sean Astin, who starred as Frodo's best friend Samwise Gamgee, tweeted a photo of his own.
In it, Astin wears a white "You All Are Welcome Here" hat.
Astin wrote to Newsweek that there's "no mystery" behind his Twitter post, adding: "I and my Hobbit colleagues know that Middle-Earth is a place of creativity and imagination, where everyone is welcome. Period."
The Lord of the Rings: The Rings of Power has generated praise for its breathtaking production and "superb" acting. It ranks as Amazon Prime's "top premiere ever," with some 25 million people worldwide tuning in to watch on the first day, according to The Hollywood Reporter.
Still, some have endorsed the idea that the series needs work. Tesla CEO Elon Musk blasted the show on Twitter, writing that LOTR author J.R.R. Tolkien "is turning in his grave."
Musk also complained about the way that the show's men are portrayed.
"Almost every male character so far is a coward, a jerk or both," he said in a September 5 tweet. "Only Galadriel is brave, smart and nice."
But Neil Gaiman, creator of the The Sandman fantasy series, challenged the Tesla tycoon's take.
"Elon Musk doesn't come to me for advice on how to fail to buy Twitter, and I don't go to him for film, TV or literature criticism," Gaiman said in a tweet.
Newsweek has reached out to representatives for Wood.