Chicago Mayor Lori Lightfoot is defending her decision to grant solo interviews only to reporters of color.
Appearing Friday on CNN's New Day, Lightfoot—the city's first Black female mayor—said her choice to limit solo interviews to Black and brown journalists started a "long overdue conversation" about diversity in the media industry.
"Every day when I look out across my podium, I don't see people who look like me, but more to the point, I don't see people who reflect the richness and diversity of the city," she said. "So yes, I started a long overdue conversation about diversity in newsrooms, in coverage."
She continued, "You all are the mirrors of society. You reflect with a critical and important lens the news of the day. You hold public officials like me accountable. You must be diverse. It can't be that in a city like Chicago, with all the talent that we have, that we can't find diverse journalists of color. Of course we can. What they need is opportunity."
The mayor announced on May 19, the two-year anniversary of her inauguration, that she would be providing one-on-one interviews exclusively to journalists of color.
"I have been struck since the first day on the campaign trail back in 2018 by the overwhelming whiteness and maleness of Chicago media outlets, editorial boards, the political press corps, and yes, the City Hall press corps specifically," Lightfoot wrote in a letter.
Lightfoot challenged newsrooms to hire reporters of color, and specifically women of color, to cover Chicago politics. She told CNN on Friday that she hopes she's "pricked the consciousness of the people who do the hiring decisions in media rooms all across this city and this country."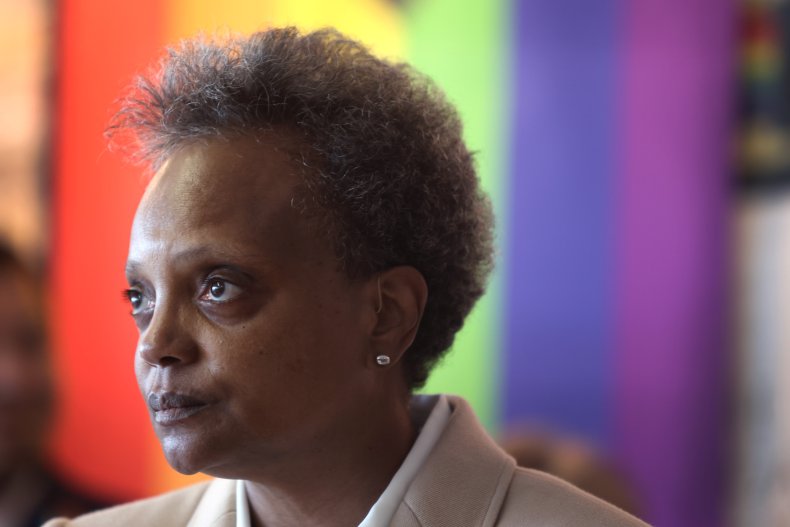 While some praised Lightfoot's decision as a boost to broader representation, others criticized her. Among the critics were Fox News host Tucker Carlson, who called her a "monster," and former congresswoman Tulsi Gabbard, who said the decision was "abhorrent" anti-white racism.
The mayor is also being sued over the issue by Thomas Catenacci, a white reporter, and his employer, the Daily Caller News Foundation.
They allege that Lightfoot violated First Amendment rights and Catenacci's right to equal protection by not responding to an interview request on the second anniversary of her inauguration in the days that followed.
Lightfoot called the lawsuit "completely frivolous" during her appearance on CNN. "I'd use a more colorful term if we weren't on TV," she added.
Newsweek reached out to the mayor's office for additional comment on the lawsuit but didn't receive a response before publication.