Lori Loughlin has spoken out for the first time about how a college admissions bribery scandal impacted her but her comments have been met with derision by many on the internet.
In 2019, Full House and Fuller House star Loughlin pleaded guilty to one count of conspiracy to commit wire and mail fraud, after she was alleged to have paid $500,000 to a foundation so that she could get her two daughters into the University of Southern California (USC). She served two months in prison while her husband, fashion designer Mossimo Giannulli, served five months.
Loughlin appeared on TV for the first time since the scandal over the weekend, starring in a KTLA-5 TV special called Project Angel Food, featuring an organization that provides healthy meals to people in need. During the show, Loughlin alluded to how volunteering for the charity has helped her.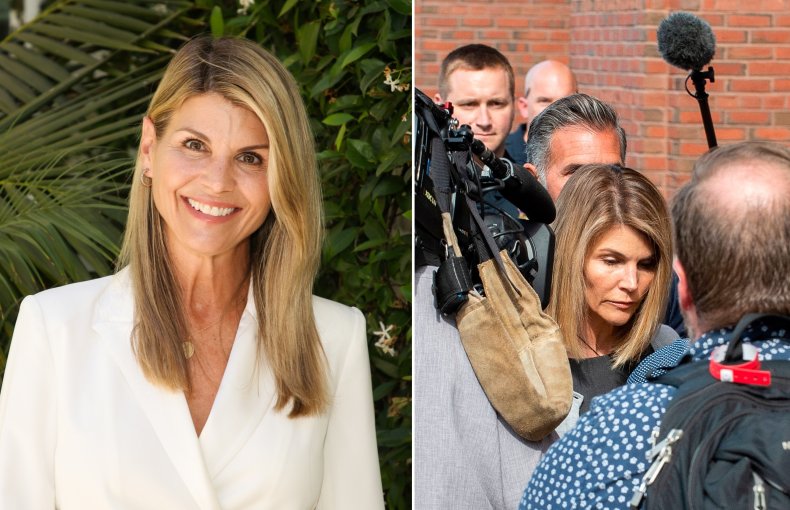 "They have welcomed me with such open arms at a time when I was feeling particularly down and broken," Loughlin said during a telethon event called Lead With Love. "That's how I found a home here, and that's what I feel like they did for me…I'm so proud to be here and working with this organization because they really do care...It's more than just feeding people. It's about loving people and helping people."
The brief mention of her tough times in the first television interview Loughlin has given since the admissions scandal failed to impress viewers.
"You are only sorry because you got caught," wrote @jennifer_0ng on Twitter. "You and your bratty daughters are an insult to every single hardworking and studious college scholarship applicant, especially middle class and lower class applicants who have the odds stacked against them."
Actress and stunt performer Lisa Catara slammed the Full House star and suggested, "Buying unearned opportunity costs others theirs. Nothing really changes in the U$. Not yet."
Almost speaking up for Loughlin, @Cricrifi suggested she didn't act alone. "Let's not pretend she's the only celebrity/millionaire to buy her kid a degree," they wrote.
During the 2019 college admissions bribery scandal, more than 50 people were charged as part of the conspiracy, including Desperate Housewives star Felicity Huffman.
Loughlin and Giannulli were found guilty of paying $500,000 for their daughters to get into the prestigious USC as recruits for its rowing team.
Journalist Jessica de la Davies suggested that "maybe she should create a scholarship fund for rowers."
It wasn't just Twitter piling in on Loughlin after her TV appearance. YouTube users who watched the interview were also unforgiving.
"I question how genuine this is," wrote Shee Berry, suggesting Loughlin shouldn't put her rehabilitation on TV, while Roxanne Vlogs said: "How fake."
Many users stated that Loughlin wasn't undertaking volunteer work and that it was part of her community service.
As well as serving two months in prison, Loughlin had two years of supervised release, was fined $150,000 and had to perform 100 hours of community service. Her husband paid a $250,000 fine and served 250 hours of community service on top of his five months in prison.
Newsweek has reached out to Loughlin's representatives for further comment.