How Did Herbal Remedy Kill Lori McClintock?
Lori McClintock, the wife of Northern California congressman Tom McClintock, consumed the herbal remedial white mulberry leaf shortly before her death on December 15, 2021.
According to a Sacramento County Coroner report, McClintock died from dehydration due to gastroenteritis caused by "adverse effects of white mulberry leaf ingestion." She was found with a "partially intact" white mulberry leaf in her stomach, although whether she took a dietary supplement containing the herb, ate fresh or dried leaves, or drank them in a tea, is unclear from the report. She had complained about an upset stomach the day before she died.
White mulberry leaf is a natural herbal supplement, and can be taken in a variety of forms, ranging from soft-gel capsules and tablets to powders and liquid extracts.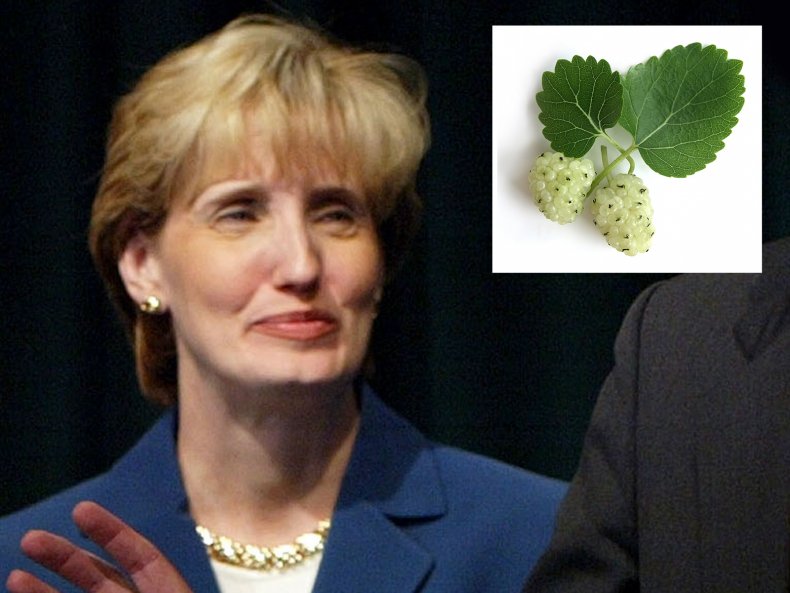 "Traditionally, white mulberry has been consumed as an extract," Pieter Cohen, from the Cambridge Health Alliance, said on the MedPageToday website. "Meaning, you put the leaves in water or some other substance, and then you use that extract fluid to treat various conditions. It's been used for years."
Taken as a naturopathic remedy, white mulberry is said to cure a range of ailments, acting as a pain reliever, sedative, anti-inflammatory, diabetes treatment, weight-loss aid, and a blood pressure-reducing agent.
A 2018 study published in the journal of Pharmaceutical Biology said that white mulberry "could be a promising therapeutic option" but that "further investigations should be performed to substantiate the potential of mulberry leaves in practical uses".
As U.S. Senator Richard Durbin said on the Senate floor earlier this year, it's easy to assume that if that product is sold in the U.S., then it must be safe. However, natural supplements aren't by definition beneficial for the human body, and in some cases, can actively be harmful.
According to the National Center for Complementary and Integrative Health at the National Institutes of Health (NIH), studies on echinacea supplements taken for immune system strength showed that there was no significant benefit against the common cold, and that ginkgo supplements show no evidence of helping to prevent or slow dementia symptoms.
Natural remedies can also be dangerous: kava, a native South Pacific plant sometimes taken as a dietary supplement for anxiety, has been associated with severe liver damage, while St. John's Wort, taken to ease symptoms of depression, has been shown to have side effects of insomnia, anxiety, and dizziness.
"Because of such sad events, I (and many others) are strong advocates for regulating such products as ones with some sort of a (generally more limited) medical claim," Professor Michael Heinrich, from the University College London School of Pharmacy, told Newsweek.
"It is not a good idea to self-treat diabetes. Unregulated products are known to often be of poor quality/adulterated, as we have shown with Ginkgo, St. John's wort, Rhodiola/roseroot and others. So, as a patient/consumer, one cannot find out how good a supplement is, and needs to rely on the company producing it."
White mulberry hasn't been reported to have resulted in a death before, however. Side effects of taking the supplement can include nausea and diarrhea. Dr. D'Michelle DuPre, a retired forensic pathologist and a former medical examiner in South Carolina, told KHN, white mulberry leaves "do tend to cause dehydration, and part of the uses for that can be to help someone lose weight, mostly through fluid loss, which in this case was just kind of excessive."
McClintock's body was found to have elevated levels of nitrogen, sodium, and creatinine, which according to the report, are all signs of dehydration.
"It's completely speculative," Daniel Fabricant, CEO and president of the Natural Products Association, told KHN, in reference to McClintock's death being associated with the white mulberry. "There's a science to this. It's not just what a coroner feels. People unfortunately pass from dehydration every day, and there's a lot of different reasons and a lot of different causes."
According to the FDA, between 40,000 and 80,000 supplement products are available to buy in the U.S., with potentially up to 80 percent of Americans use them to some degree.