Los Angeles' 405 freeway was shut down in both directions on Monday, causing a miles-long traffic buildup.
The backup was so long that some drivers exited their cars to sit on the freeway's concrete divider, while some vehicles turned their cars around and drove in the wrong direction in order to get off the congested road, KCBS reported. The freeway has since been reopened. It was shut down for a total of about two hours.
The Inglewood Police Department confirmed to Newsweek that a man had been on a bridge over the freeway but that he walked off of the bridge on his own. KCBS reported that the man was taken into custody, but Newsweek was not able to reach the department for confirmation by publication time.
This was not the first traffic disruption on the 405 Freeway in recent days. Several lanes of the freeway in Van Nuys, a neighborhood in Los Angeles' San Fernando Valley region, were shut down on Friday after a crash that involved at least eight cars and one big rig, KABC-TV reported. Two people were hospitalized after the collision, according to the news station.
Los Angeles has seen several high-profile crashes in recent weeks, including one on Sunday night that led to a manhunt after a Tesla driver performed a dangerous airborne stunt and collided with two parked cars before fleeing the scene. Earlier in March, a television journalist reporting on a fatal hit-and-run was interrupted by a separate crash during the broadcast. Last month, a party bus led police on a chase across Southern California before rear-ending a sedan in Los Angeles County.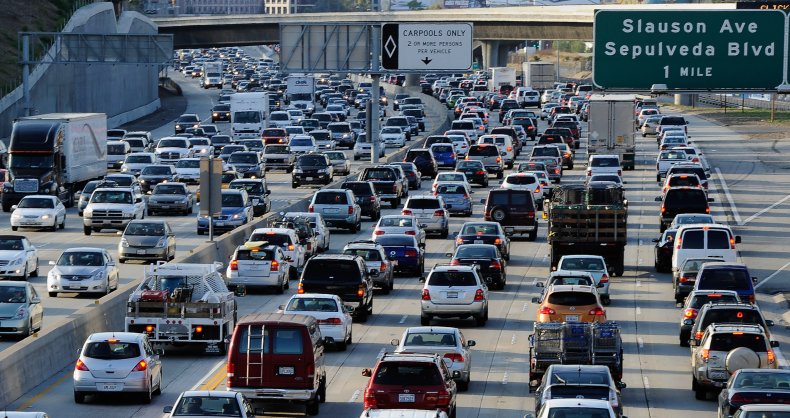 Monday's shutdown was put in place at La Cienega Boulevard. The resulting backup stretched for miles in the southbound lanes leaving the San Fernando Valley, KCBS reported.
Footage shared on social media by KTTV showed long lines of cars at near or complete standstills Monday morning.
The substantial traffic disruption on Monday occurred in a city already known for heavy traffic. In 2020, an annual study showed that Los Angeles was home to two of the worst traffic corridors in the U.S., KABC reported.
The 2020 Global Traffic Scorecard, which was put out by Inrix Inc., ranked Los Angeles as the fifth most congested city in the country. Those who drove on the 101 freeway to the 110 freeway, as well as those who drove on the 405 freeway to the 105 freeway, wasted 19 hours every year when the corridors were at their most congested, according to the study.
Los Angeles was also ranked by the study as the 37th most congested city across the globe, KABC reported. The average commuter in L.A. lost 45 hours every year due to traffic congestion, the study said.
Update 3/21/22, 6:00 p.m. ET: This story was updated with additional information and background.