A woman ran onto the tarmac at Los Angeles International Airport and tried to flag down a parked plane.
At around 6.30 p.m. Monday, the woman was in LAX's Terminal 1 and triggered an alarm when she went out of a door and ran onto the ramp, Los Angeles World Airports (LAWA) said in a statement
"Airline employees who witnessed the woman exiting the terminal followed security protocols and maintained visual contact until the airport police arrived shortly thereafter and detained the woman," LAX said in a statement to media.
The statement added that the unnamed woman had told officers "she was trying to flag down the aircraft, which was still parked in the gate area."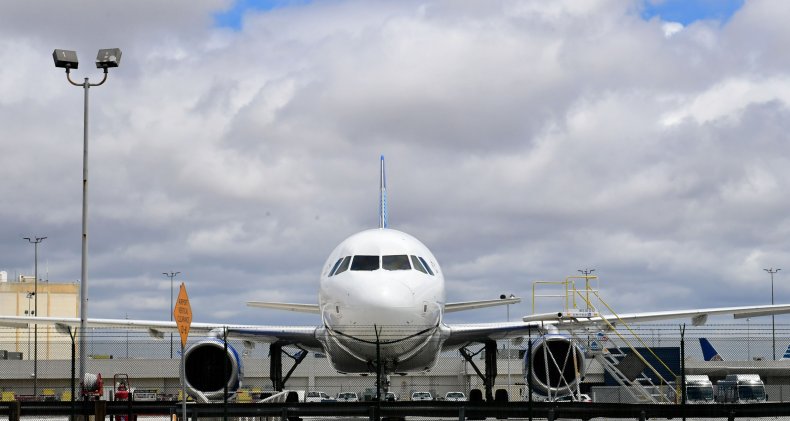 The woman was taken to hospital with minor injuries and for a mental health evaluation, the statement added and no flights or operations were delayed.
Video posted on social media by Tezlyn Figaro, a correspondent for BNC, showed the woman being questioned by airport police and the woman's bags being searched. Figaro tweeted that the woman ran past her and that she ran from a Southwest Airlines gate.
Figaro tweeted that a Southwest employee tried to stop her and that the officers on the scene handled her with "care" adding that "no weapons were drawn" and "they brought the firefighter for medical attention."
Newsweek has contacted LAWA and Southwest for comment.
In an airplane incident that took place after take-off, a 42-year-old woman was arrested for allegedly assaulting two flight attendants on a Spirit Airlines flight Saturday from Fort Lauderdale, Florida, to Nashville, Tennessee, on Saturday.
A fellow passenger zip-tied her feet to restrain the unruly passenger who had punched one flight attendant and pulled another's hair, The Tennessean reported.
Meanwhile, a video has gone viral of a stowaway who was found hiding in the landing gear of an American Airlines flight Saturday morning at Miami International Airport. The unnamed man was unharmed despite enduring the altitude and freezing temperature of a two-and-a-half-hour flight from Guatemala.
Last week, police arrested Katrina Alspaugh for refusing to wear a mask onboard an Allegiant Air flight from Las Vegas's McCarran International Airport last week.
Face masks have been required since January for air passengers as per an order by the Centers for Disease Control and Prevention (CDC) and airlines have reported a large number of disputes on planes by those who do not want to wear them.
Figures from November 23 released by the Federal Aviation Authority (FAA) showed out of 5,338 unruly passenger incidents, nearly three-quarters (3,856) were mask-related incidents. The FAA has launched 1,012 investigations and 266 enforcement cases.