Los Angeles Man Caught on Camera Randomly Shoving Passerby Onto Road, Under Wheels of Oncoming Truck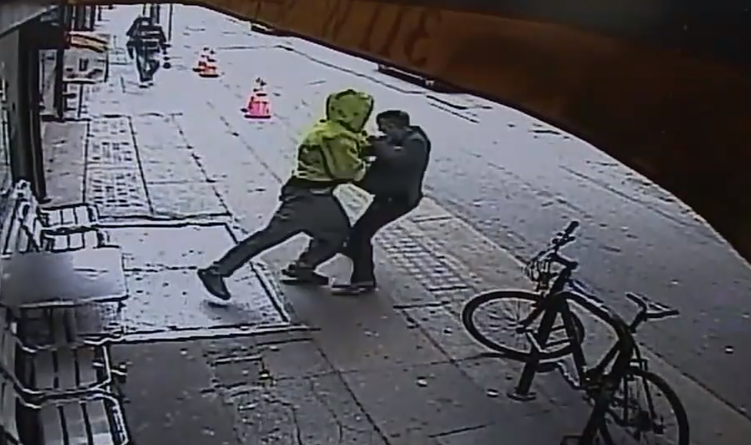 A man was arrested in Los Angeles, California, yesterday after he randomly shoved a passerby onto the road and under the wheels of an oncoming truck.
The unprovoked attack, which was caught on a surveillance camera, occurred just before 10:10 a.m. Wednesday, according to the timestamp on the video recording. The footage was obtained and published this week by Los Angeles-based ABC news station KABC-TV.
Read more: Montana man got naked, punched cop and tried to hijack a patrol car
The victim—who has not been named by law enforcement—was left in a "critical condition" with a collapsed lung and broken bones, but is expected to survive, ABC News reported today.
Newsweek subscription offers >
In the footage, the suspect is seen sitting on a bench in front of a restaurant. As one woman walks past he makes an aggressive move towards her but sits back down. Less than a minute later, the victim is seen passing. The suspect stands, becomes hostile and forcefully shoves him.
What appears to be the victim's watch falls off. The suspect picks it up and casually walks away. The truck driver, who braked quickly, then jumps out of the vehicle and comes to the man's aid.
According to KABC-TV, local firefighters saw the clip on the news channel and located the suspect—who was wearing recognizable clothing—roughly one hour after the attack.
"It was definitely the [suspect's] bright neon rain jacket and the baggy pants, and just the demeanor the guy had," firefighter Austen Johnson told the news outlet. The suspect—who witnesses described as homeless—had no identification and was described as "combative." Police eventually took him into custody. He may be charged with attempted murder.
Newsweek subscription offers >
Following the arrest, the Los Angeles Police Department (LAPD) tweeted:
"IN CUSTODY!! Earlier, ABC7 aired a clip of an individual pushing a passerby underneath a panel truck. Thanks to our partners @LAFD he is now in custody. Alert Fire Fighters observed him walking in the #DTLA area and called for us to respond, where he was arrested."
Fire Station 9 Captain Raymond Robles said: "We followed him a couple blocks and made notification to LAPD. I am happy [he was found]. I hope the gentleman he pushed has a speedy recovery and for the individual that did push him, hopefully he can do a little soul searching on what he did was wrong, and keep him off the street from hurting anybody else."
Anyone with information about the incident was asked to contact the Los Angeles Police Department's 24-hour tipline at (877) LAPD-24-7 or Crime Stoppers at (800) 222-TIPS.
Los Angeles Man Caught on Camera Randomly Shoving Passerby Onto Road, Under Wheels of Oncoming Truck | U.S.