Novel coronavirus cases in Los Angeles County now number at 37,974, including 1,821 deaths, as of Sunday, according to the latest figures from the Los Angeles County Department of Public Health.
The latest spike in cases and deaths came after some lockdown restrictions were lifted in the county under a new Health Officer Order issued last Thursday. The order included the reopening of a selection of recreational facilities and beaches as well as some lower-risk businesses.
While the number of infections and fatalities in the county reportedly dropped over the past few weekends, officials believe the dip is attributed to less record-keeping over weekends. Cases and deaths were reported to have climbed again during the week. Officials are monitoring the numbers this week to determine whether the outbreak is on a declining trend, the Los Angeles Daily News reports.
At least 14,619 patients in Los Angeles County were reported to be among those aged between 41 and 65, while at at least 12,531 patients were aged between 18 and 40, according to figures published Sunday by the county health department.
The health order in Los Angeles County issued last week allowed all retailers not located in an indoor mall or shopping center to reopen for curbside, door-side, outside pickup, or delivery only. Residents are not allowed to go inside these venues. Manufacturing and logistic businesses that supply retailers were also allowed to reopen, according to a statement from Los Angeles County.
Beaches were also reopened for individual active recreational activities such as running, walking, swimming and surfing. All group exercises and other group activities including picnicking and sunbathing, are not permitted. Parking lots, bike paths, piers, and boardwalks, remain closed, the order states.
Recreational facilities including golf courses, tennis courts, shooting and archery ranges, equestrian centers and community gardens were also reopened.
"Everyone must continue to practice physical distancing of at least six feet apart and wear a clean cloth face covering that securely covers both your nose and mouth when around people outside of your household. This order continues to require that specific higher-risk businesses remain closed and prohibits public and private gatherings of any number of people occurring outside a single household or living unit," the order explains.
"Before retail businesses, manufacturing and logistic businesses reopen, they are required to prepare, implement and post their plan for adhering to directives including distancing and infection control practices that protect both employees and customers," the order adds.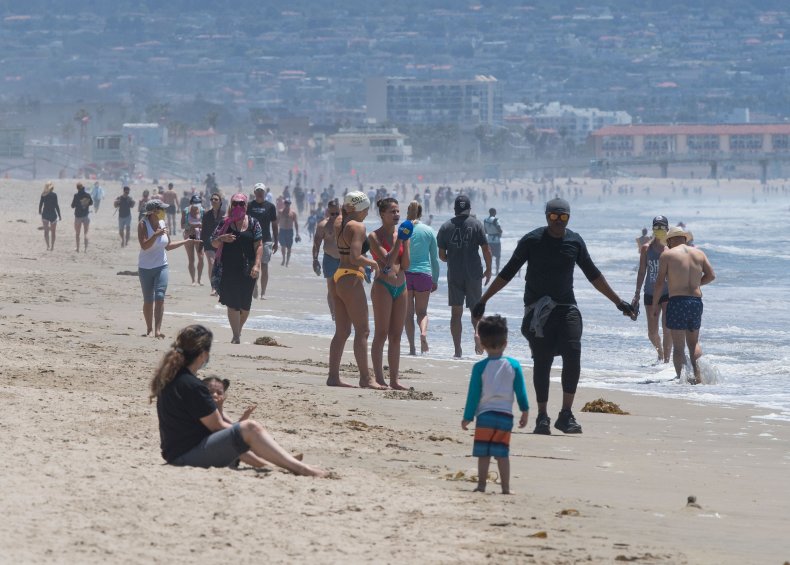 California is currently in the second stage of its phased reopening plan to modify to the state's stay-at-home order, which was issued on March 19. The current stage will "gradually reopen retail (curbside only), child care, manufacturing and logistics" and "later, relax retail restrictions, adapt & reopen schools, offices & limited hospitality, personal services," the California state government website states.
"Some communities may move through Stage 2 faster if they are able to show greater progress. Counties that have met the readiness criteria and worked with the California Department of Public Health can open more workplaces as outlined on the County Variance page," the website states.
Earlier this month, the California counties of Yuba and Sutter reopened restaurants, malls, salons and other venues that are excluded from the current stage of the state's phased reopening plan.
Claiming the number of cases in both counties had "plateaued," the health officer for both Yuba County and Sutter County, Dr. Phuong Luu, issued an order that allowed dine-in restaurants, shopping malls, gyms, hair and nail salons, barbershops, spas, massage therapy centers and some other retailers to open.
Earlier this month, Luu submitted an attestation letter to the California Department of Public Health (CDPH) bidding for a further reopening of facilities, claiming both counties have "met all the conditions of readiness" to reopen.
Last week, Luu was reported to have "received a nod from the State allowing Yuba-Sutter to move quickly into the remainder of Stage 2," following a phone conversation with California State Public Health Officer Dr. Sonia Angell who outlined "what changes would be necessary to allow the bi-county region [to] continue its efforts to reopen responsibly," according to a statement released Thursday by both counties.
Luu said in the statement: "My Bi-County Public Health Order uses a science-based approach to identify how various types of businesses using very specific precautions can re-open safely, however we cannot ignore that many of our local businesses remain under strict restrictions established by the State of California.
"If you operate a business that relies on a state license or certification, you need to do your due diligence to see if you are able to open, and perhaps seek legal counsel to help inform your decision," she said.
California has reported 80,166 confirmed cases and 3,240 deaths. The novel coronavirus was first reported in Wuhan, China and has infected more than 4.7 million people across the globe, including over 1.4 million in the U.S. More than 1.7 million worldwide have reportedly recovered from infection, while over 315,700 have died, as of Monday, according to the latest figures from Johns Hopkins University.
The graphic below, provided by Statista, illustrates U.S. states with the most confirmed COVID-19 cases.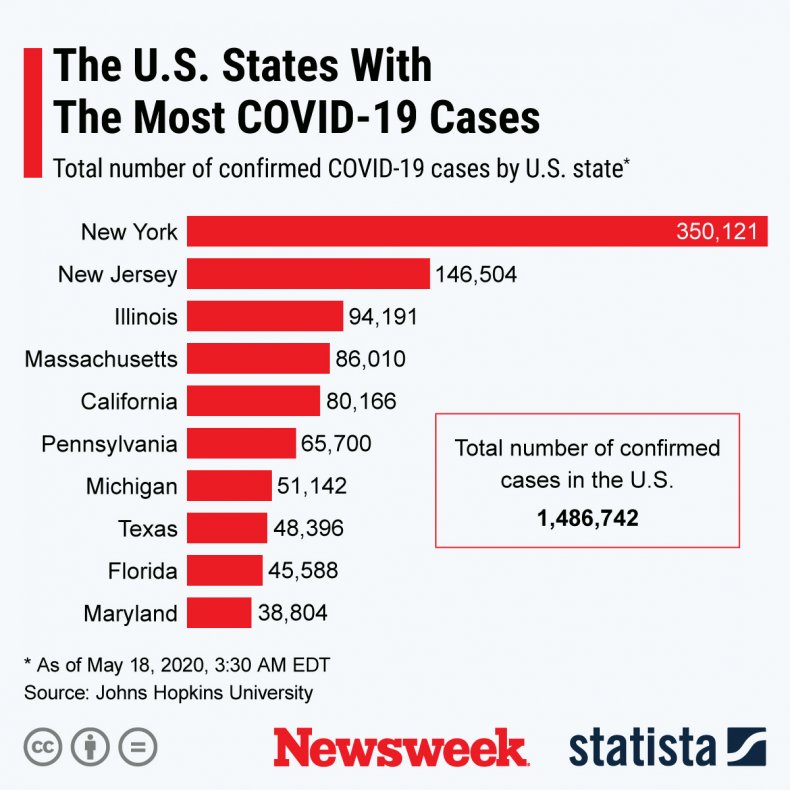 The graphic below, provided by Statista, illustrates the spread of the COVID-19 virus across the U.S.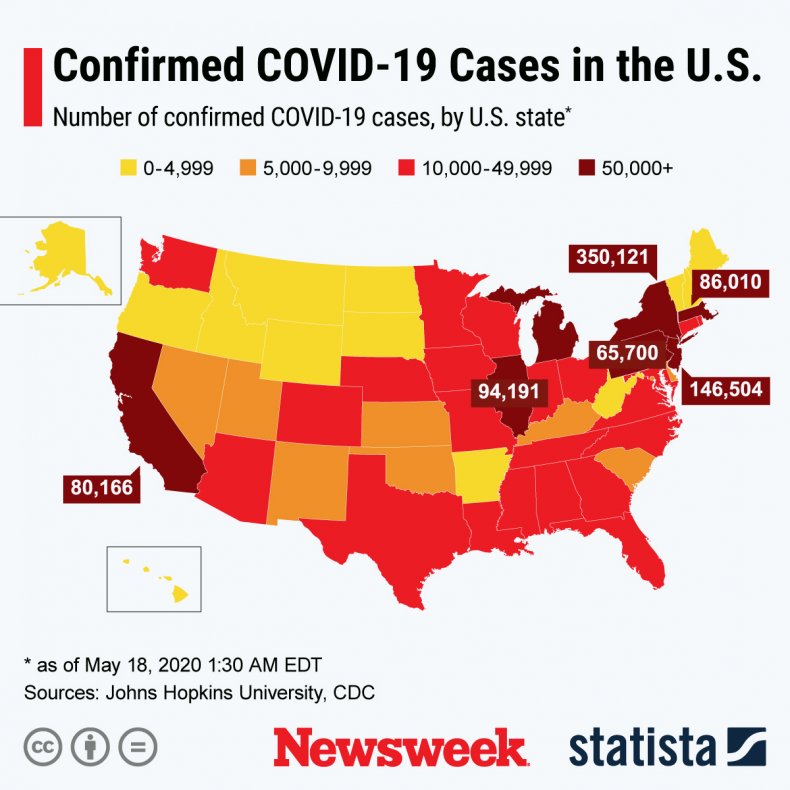 About the writer
Soo Kim is a Newsweek SEO Reporter is based in London, UK. She reports on various trends and lifestyle stories, from health, fitness and travel to psychology, relationships and family issues. She is also a South Korea expert who regularly covers Korean culture/entertainment for Newsweek, including the latest K-dramas, films and K-pop news, and is the author of the book How to Live Korean, which is available in eight languages. Soo also covered the COVID-19 pandemic extensively from 2020 through 2021 after joining the general news desk of Newsweek in 2019 from the Daily Telegraph (a U.K. national newspaper) where she was a travel reporter/editor from 2010. She is a graduate of Binghamton University in New York and the journalism school of City University in London, where she earned a Masters in international journalism. Languages spoken: English and Korean.
Follow her on Twitter at @MissSooKim or Instagram at @miss.soo.kim
You can get in touch with Soo by emailing s.kim@newsweek.com