Two California Counties Defy Gov. Gavin Newsom by Pushing to Reopen More Restaurants, Malls, Salons, Gyms and Spas
Two counties in California have continued to defy Governor Gavin Newsom's statewide stay-at-home order by pushing to reopen more businesses on Monday.
The counties of Yuba and Sutter, which last week opened restaurants, malls, salons and other venues excluded from the current stage of the state's phased reopening plan, have submitted a letter to the California Department of Public Health (CDPH) bidding for a further reopening of facilities, claiming they have "met all the conditions of readiness" to reopen.
California, which has been under a stay-at-home order issued by Gov. Newsom since March 19, entered the second stage of the state's reopening plan on May 8.
Stage two sees the state "gradually reopen retail (curbside only), manufacturing & logistics," while the relaxing of retail restrictions, reopening of schools, child care, offices as well as limited hospitality and personal services will take place later in the stage, the state government website notes.
Last week, claiming the number of cases in both counties had "plateaued," the health officer for both Yuba County and Sutter County, Dr. Phuong Luu, issued an order that allowed dine-in restaurants, shopping malls, gyms, hair and nail salons, barbershops, spas, massage therapy centers and some other retailers to open.
The reopened venues were required to follow safety guidelines including having customers remain at least six feet apart and requiring employees to clean and disinfect the facilities regularly.
On Saturday, Yuba and Sutter counties announced: "During a special meeting today [May 9], the Sutter County Board of Supervisors voted unanimously to support the Attestation by Bi-County Health Officer Dr. Phuong Luu that Sutter County and Yuba County have met all the conditions of readiness to pass through the entirety of the state's phase two re-opening plan," the Sutter County website states.
Among the several key criteria both counties claim to meet include reporting no virus deaths in the last 14 days and having no more than one case per 10,000 residents in the last 14 days.
According to the attestation letter by Luu submitted to the CDPH, as of May 8, Yuba County reported 0.51 new cases per 10,000, while Sutter County reported 0.3 new cases per 10,000 residents in the last 14 days. Both counties have also reported no deaths in the last 14 days across its population of around 177,000.
Other conditions claimed to have been met include testing capacity, of which a minimum testing volume of 1.5 per 1,000 residents is required. Luu noted the Yuba-Sutter region's testing capacity is "high, with maximum capacity for tests per day in non-hospitalized settings of 471 per day or 2.6 per 1,000 residents," in the letter.
County hospitals must also be able to accommodate a minimum surge of 35 percent in COVID-19 patients in addition to being able to provide care for non-COVID-19 patients. The Yuba-Sutter region claims its only hospital for the region, Adventist-Rideout, has the capacity to nearly double its 221 beds to 443 beds in the event of a surge in cases.
"COVID-19 is dangerous and scary but it is not the only health issue. We cannot wait for a vaccine without seeing extreme economic damage done to our community," Luu said in a statement last Monday.
"The consequences of waiting will be additional health concerns brought on by stress and the very real dilemma for those with limited resources whether to buy life-saving food or life-saving medicines. As the bi-county health officer, I have to think of the totality of health for the entire community," Luu added.
A spokesperson for Yuba County said: "There is no reason to reign things in. The order that went into effect a week ago today [May 11] was science-based and appropriate for the Yuba Sutter area."
Newsom condemned the early reopening on Friday, warning "They are making a big mistake. They are putting their public at risk. They are putting our progress at risk. These are exceptions. The overwhelming majority of Californians are playing by the rules and doing the right thing."
"They opened a little bit earlier than perhaps they should have for the protection of their own employees, let alone their own customers," he said this Monday.
Both counties were also warned by Newsom's Office of Emergency Services that reopening early may see them forfeit federal relief funds.
"Disaster assistance programs prohibit a jurisdiction from receiving funding for a condition caused by its own negligence," the director of Newsom's Office of Emergency Services, Mark Ghilarducci, noted. He added that counties reopening on the basis that they no longer have a public health emergency could potentially disqualify them from receiving relief funds.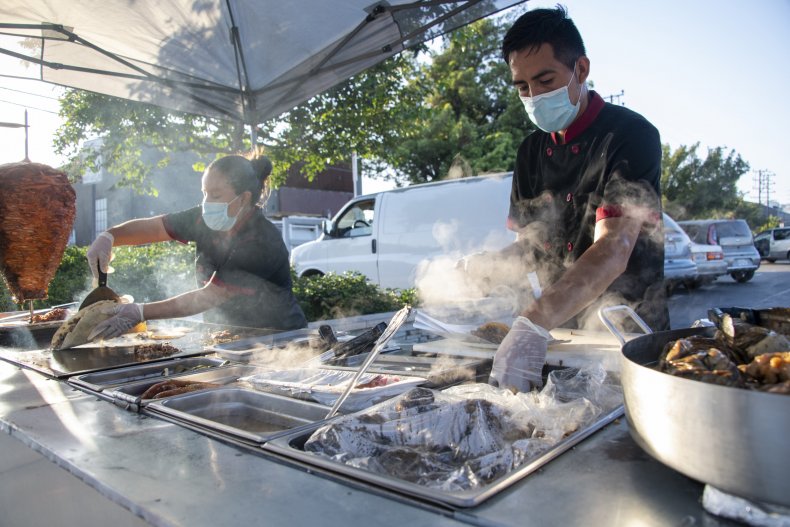 But this Monday Newsom noted that both counties have been "incredibly cooperative" and said "we're having some very good conversations," adding that he expects they "will be able to work through a lot of the differences we may have."
More than 24 counties have presented plans to the state government asking for permission to ease restrictions beyond the state's current parameters, Newsom confirmed on Monday. The state government has spoken to around 19 counties and will be talking to nine additional counties, and some plans could be approved by Tuesday.
"We're open to argument, interested in evidence. There is a lot of really interesting nuance within these large counties and that obviously needs to be taken into account," Newsom said at a news conference on Monday.
Last Friday, Newsom confirmed that the first community-spread case of coronavirus in the state occurred at a nail salon.
"This whole thing started in the state of California, the first community-spread, in a nail salon. I just want to remind you, remind everybody, of that," Newsom said.
California, the country's most populous state with a population of nearly 39.5 million, has seen nearly 70,000 cases, including 2,779 deaths. The U.S., the current epicenter of the outbreak, now has more than 1.3 million confirmed infections and more than 80,000 deaths. The virus was first reported in Wuhan, China and has infected more than 4.1 million people across the globe, as of Tuesday, according to the latest figures from Johns Hopkins University.
The graphic below, provided by Statista, illustrates U.S. states with the most confirmed COVID-19 cases.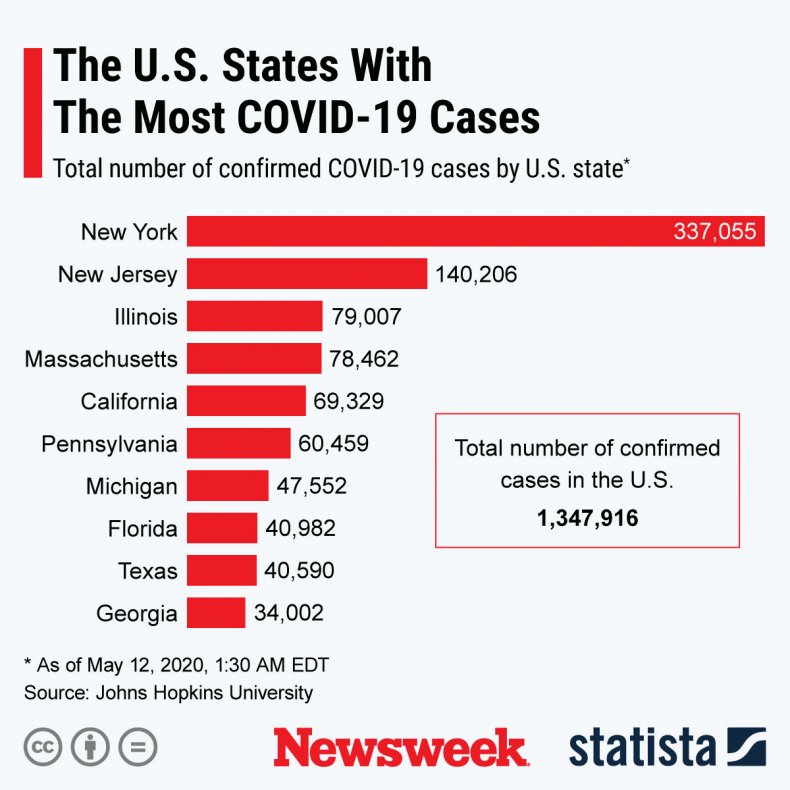 The graphic below, provided by Statista, illustrates the spread of the COVID-19 virus across the U.S.