California's First Community-Spread Coronavirus Case Was at Nail Salon, Gov. Gavin Newsom Says
California Governor Gavin Newsom has said the first community-spread case of coronavirus in the state occurred at a nail salon.
Questioned over such establishments reopening alongside other businesses getting back to work, he said: "This whole thing started in the state of California, the first community-spread, in a nail salon. I just want to remind you, remind everybody, of that."
The details of the spread's origin had not been previously released. Newsom did not expand further on the comment or give more specific details.
Newsweek has contacted Newsom for comment.
California announced the first U.S. case of coronavirus without a link to the original epicenter in Wuhan, China, in February. At the time the Centers for Disease Control and Prevention said this could mark the first example of community-spread in the nation.
Newsweek has contacted the California Department of Public Health in regards to Newsom's comment.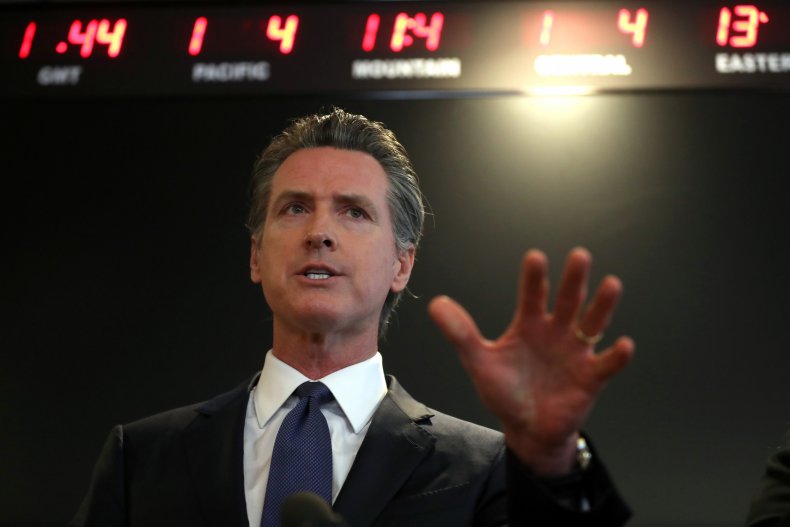 California was the first state in the U.S. to order a lockdown as the virus spread.
It is moving into the second stage of modifying its stay-at-home measures as of May 8, which will see "lower-risk workplaces" return. Nail salons are not among the businesses which are being allowed to reopen.
All facilities looking to operate after the lockdown have been told to perform a detailed risk assessment in order to outline a "site-specific protection plan" and to train employees on measures for limiting the spread of coronavirus.
They have also been told to put in place individual control measures and screenings, while also having disinfecting protocols and physical distancing guidance in place.
Newsom previously acknowledged the virus could reemerge once more social contact between the public occurs.
"Californians, working together, have flattened the curve," Newsom's office wrote on Twitter. "Because of that work, health data shows the state can begin modifying the stay-at-home order & gradually begin to restart portions of the economy."
The news comes as a number of areas across the nation look to lift restrictions.
However, a recent poll suggested most Americans are concerned this could be done too quickly, while there have been warnings doing so too soon could prompt a second wave of the virus' spread.
President Donald Trump has spoken of his desire for areas to lift measures but to do so "safely."
House Speaker Nancy Pelosi has called for federal standards to be issued to regulate how lockdown measures are lifted. The White House has issued guidance, though some areas are looking to reopen having not met it.
California has had the fifth highest number of COVID-19 cases among U.S. states, with more than 60,000.
The graphic below from Statista shows the states worst-hit by the outbreak.