Hollywood Hills Fire Map, Update as Coyote Fire Rages by Universal Studios
Firefighters have been battling a wildfire that broke out in the Hollywood Hills area of Los Angeles on Monday night.
The Los Angele Fire Department issued an alert late on Monday night on its Twitter page and shared a link to a map where the fire was being contained.
The Coyote Fire was first reported at around 9.30 p.m. in the 3600 block of N Barham Boulevard, above a dog park near the Ava Apartment complex, according to an ABC7 Eyewitness News report.
"LAFD Alert- Hollywood Hills Brush Fire 3650 N Barham Bi Map. LAFD ground and air response to 1 acre medium-to-heavy brush.
The fire department gave further details about the efforts to contain the fire on its website.
"The 100 LAFD firefighters assigned, assisted by precise helicopter water drops, have stopped forward progress of the fire in just 75 minutes, holding the fire to the preliminary estimate of one acre of medium-to-heavy bush," the statement continued.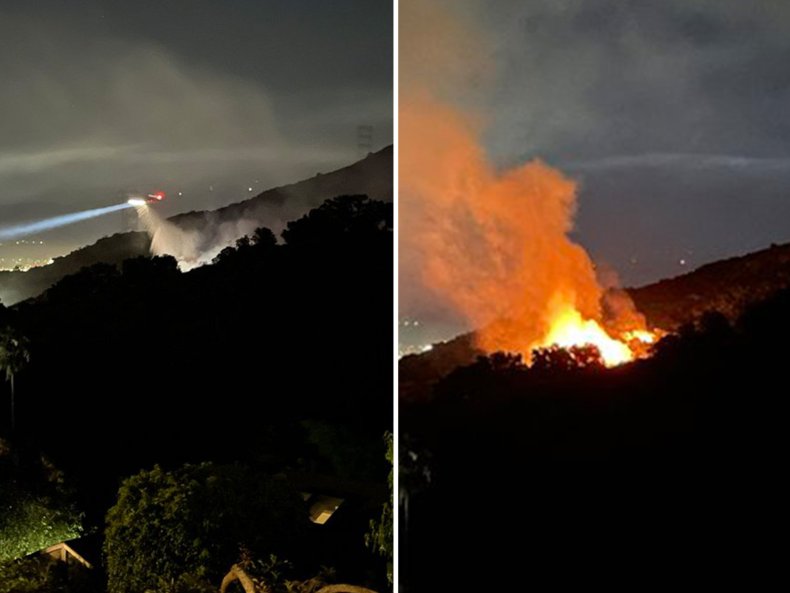 "Those LAFD ground crews will continue to work the LACofFD Hand Crews into the early morning hours with hand tools to achieve further control of the fire's perimeter in rugged terrain.
"Helicopters are soon to be released from the incident."
The alert also noted that so far no injuries have been reported and there is no structure damage. No formal evacuation has been instructed either.
"The fire was entirely within the City of Los Angeles and did not threaten the AVA Apartments, Universal City/Universal Studios, the distant Hollywood sign on Mt.Lee, Forest Lawn Cemetery or the neighboring City or Burbank."
The LAFD public information officer Brian Humphrey's reiterated this when he spoke to CBS News Los Angeles.
"At this point and time, there are no structures imminently threatened but the fires in this area have been known to be very stubborn and taken days to put out," he said.
He also added that the fire is burning away from the apartment complex and toward Coyote Canyon.
The cause of the fire is still being investigated.
The National Weather Service Los Angeles Twitter page issued a warning for more wildfires in the coming week due to the weather.
"Elevated Fire Danger is expected through the coming week due to hot conditions with low humidity," the tweet stated.
"However, Tuesday night through Wednesday there is a chance of thunderstorms over LA & Ventura Counties, with a risk of dry lightning. Any new fire start will grow quickly."
The Twitter page also shared a warning image alongside the tweet. The image stated that the impacts of the weather over the next few days could result in "active wildfires/grass fires if a fire starts. Slight chance of dry lightning strikes sparking fires."
They warned residents to use extra caution with potential fire sources and to report any smoke or fire sightings.
Newsweek has contacted the Los Angeles Fire Department for comment.