The second largest school district in the U.S. reached a tentative agreement with union leaders on Tuesday to begin reopening schools for in-person instruction next month.
The Los Angeles Unified School District (LAUSD) issued a joint statement with United Teachers Los Angeles (UTLA) on Tuesday evening to share details of the tentative agreement, which they wrote was designed to reopen schools "as soon as possible and in the safest way possible."
The agreement came nearly one year after the district shuttered schools for in-person instruction in response to the coronavirus. In the time since, Los Angeles County became one of California's significant virus hot spots, though infection rates in the region and across the state have begun to decline.
California schools have been working with teachers unions for months to reach agreements on how to reopen safely as more residents gain access to COVID-19 vaccines. Under the Tuesday agreement, younger students—those enrolled in preschool and elementary schools—and those with learning difficulties will be first to gain access to in-person instruction starting in mid-April.
"This agreement with our teachers union lays the groundwork for a return to campus," LAUSD Board of Education President Kelly Gonez said in a Tuesday news release. "After a year managing the COVID-19 pandemic and supporting our students and families, conditions finally allow us to resume in-person instruction. With the declines in COVID-19 in our communities, the preparation of all our school sites, and the vaccinations of our school staff, we are excited to start safely welcoming students in a hybrid model in the coming weeks."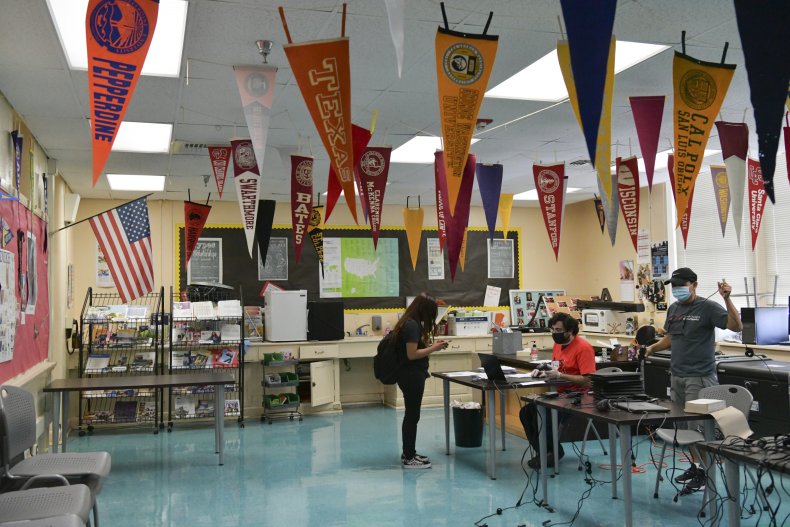 The agreement provides a road map for schools to reopen once Los Angeles County reaches "substantial" but not "widespread" COVID-19 transmission as determined by the California Department of Public Health, according to a UTLA news release. All school staff must have access to COVID-19 vaccinations, the release said. California Governor Gavin Newsom gave teachers and school faculty access to vaccinations at the start of March.
According to a summary of the agreement both the district and the union shared, elementary school students will gain access to in-person instruction every weekday using a "hybrid morning/afternoon model," though students will also have the option of continuing to attend virtual classes. Preschool students will be able to return to schools for in-person learning, while middle and high school students will mostly continue with virtual instruction, though they will have the opportunity to visit their schools "for peer interaction, social-emotional learning and lessons for college and career exploration," according to the agreement.
Students and school staff will be tested for the virus when they first return to their classrooms, and there will be weekly tests after that initial return, the agreement says. All individuals on campus will be required to wear masks and practice social distancing, and keeping classrooms sanitized will also be prioritized.
"As we have both stated for some time, the right way to reopen schools must include the highest standard of COVID safety in schools, continued reduction of the virus in the communities we serve and access to vaccinations for school staff," LAUSD Superintendent Austin Beutner and UTLA President Cecily Myart-Cruz said in a joint statement.
"This agreement achieves that shared set of goals. It's our shared commitment to the highest safety standards and spirit of trust and collaboration we will take with us back to schools," the statement added.
Once the agreement is officially approved by the LAUSD Board of Education and the UTLA, it will be in effect through the end of June, according to district and union news releases.
Newsweek reached out to the LAUSD and the UTLA for further comment but did not receive responses in time for publication.