Loss of Taste and Smell as COVID-19 Symptom Should Be Screening Measure for Virus Across the World
People who lose their sense of smell or taste are over 10 times more likely to have the novel coronavirus than another infection, according to a study.
The authors of the paper hope their findings will result in screenings for the virus taking into account the person's ability to smell and taste.
The research involved 1,480 patients with flu-like symptoms who were tested for the virus between March 3 and 29, 2020, and filled out an online questionnaire. The scientists were able to assess the results of 59 of the 102 participants who tested positive for the virus, which causes the COVID-19 disease. Of those, 40 (68 percent) lost their smell, and 42 (71 percent) their taste. In contrast, 33 (16 percent) and 35 (17 percent) of those who didn't have COVID-19 lost their smell and taste, respectively.
Most of the participants with COVID-19 didn't require hospitalization and none needed intubation, which the authors of the paper published the International Forum of Allergy & Rhinology journal said suggests their cases were mild. The team believes patients with serious and mild cases of COVID-19 may lose their sense of smell and taste for different reasons.
Typically, the loss was "profound rather than mild" for participants who had problems smelling, the team noted. In most cases, smell and taste improved two weeks after patients were diagnosed with COVID-19, at around the time when other symptoms also resolved. A total of 28 (74 percent) COVID-19 patients saw their senses return when their other symptoms cleared up.
The findings should reassure patients that their senses should come back "within weeks" of developing COVID-19, the authors wrote.
The study is the latest to suggest losing one's sense of smell and or taste are likely symptoms of COVID-19. Pointing to past research on the topic, the authors of the latest study said it wasn't clear if the symptoms are unique to those requiring hospital treatment, whether they are caused by COVID-19 infection, or if they are receiving attention because more people are recognizing that some viruses can cause these senses to vanish. Earlier this month, a separate team in the U.K. published a pre-print study on the website medRxiv, which therefore wasn't peer-reviewed, with similar results.
It is crucial to understand the role smell and taste play in the disease as this could help to identify patients who don't have known symptoms like a fever, cough, or shortness of breath.
Co-author Dr. Carol Yan, an otolaryngologist and head and neck surgeon at UC San Diego Health, commented in a statement: "We know COVID-19 is an extremely contagious virus. This study supports the need to be aware of smell and taste loss as early signs of COVID-19."
Yan explained: "Based on our study, if you have smell and taste loss, you are more than 10 times more likely to have COVID-19 infection than other causes of infection.
"The most common first sign of a COVID-19 infection remains fever, but fatigue and loss of smell and taste follow as other very common initial symptoms."
Yan said: "Our study not only showed that the high incidence of smell and taste is specific to COVID-19 infection, but we fortunately also found that for the majority of people sensory recovery was generally rapid.
"Among the COVID-19 patients with smell loss, more than 70 percent had reported improvement of smell at the time of survey and of those who hadn't reported improvement, many had only been diagnosed recently."
Yan added: "It is our hope that with these findings other institutions will follow suit and not only list smell and taste loss as a symptom of COVID-19, but use it as a screening measure for the virus across the world."
Jane Parker, associate professor at the University of Reading and founder and director of institution's The Flavour Centre, who did not work on the study, told Newsweek: "The study adds considerably to the recent accumulation of data from rapid online data gathering, case studies and anecdotes from social media which provide good evidence that there is a link between COVID-19 and anosmia [loss of smell]. This paper, however, has also shown a tentative link between COVID-19 and ageusia [loss of basic tastes as perceived by the tongue]."
However, Parker added: "The greatest limitations on the link between ageusia and COVID-19 is the fact that the general population cannot distinguish between anosmia and ageusia."
She added: "Those who experience a sudden loss of taste and smell should assume that they have a viral infection that is very likely to be COVID-19. At this stage, there is no evidence that they are infectious, but given the severity of the pandemic, the data are convincing enough that precautionary self-isolation should be considered."
As shown in the Statista map below, since the coronavirus emerged for the central Chinese city of Wuhan late last year, it has reached almost every corner of the globe. A total of 1.9 cases of COVID-19 have been confirmed worldwide, almost 121,000 people have died, and close to 464,400 have recovered, according to Johns Hopkins University.
This article has been updated with comment from Jane Parker.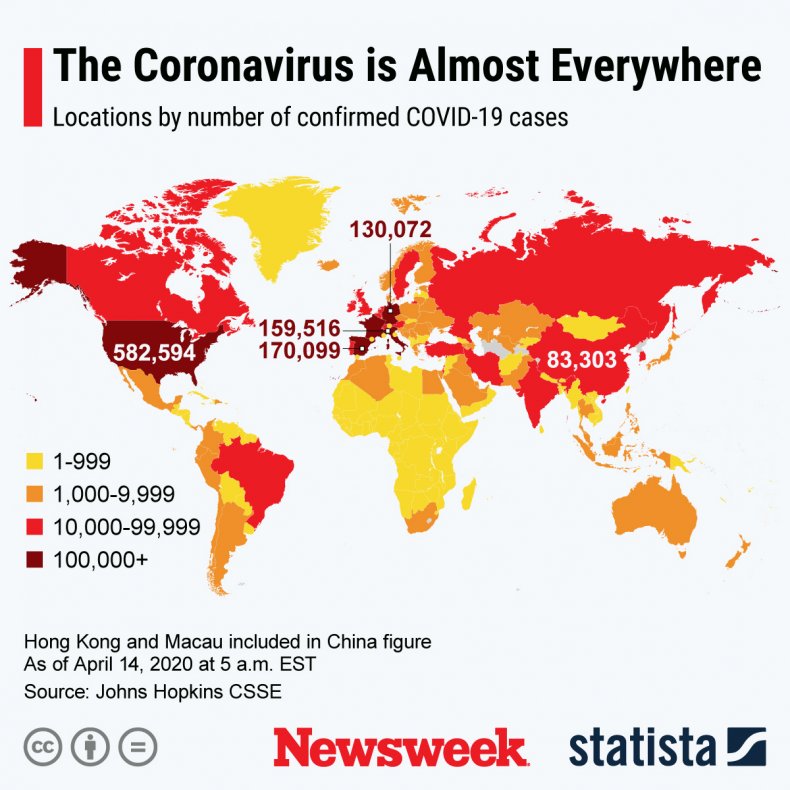 Centers for Disease Control and Prevention Advice on Using Face Coverings to Slow Spread of COVID-19
CDC recommends wearing a cloth face covering in public where social distancing measures are difficult to maintain.
A simple cloth face covering can help slow the spread of the virus by those infected and by those who do not exhibit symptoms.
Cloth face coverings can be fashioned from household items. Guides are offered by the CDC. (https://www.cdc.gov/coronavirus/2019-ncov/prevent-getting-sick/diy-cloth-face-coverings.html)
Cloth face coverings should be washed regularly. A washing machine will suffice.
Practice safe removal of face coverings by not touching eyes, nose, and mouth, and wash hands immediately after removing the covering.
World Health Organization advice for avoiding spread of coronavirus disease (COVID-19)
Hygiene advice
Clean hands frequently with soap and water, or alcohol-based hand rub.
Wash hands after coughing or sneezing; when caring for the sick; before, during and after food preparation; before eating; after using the toilet; when hands are visibly dirty; and after handling animals or waste.
Maintain at least 1 meter (3 feet) distance from anyone who is coughing or sneezing.
Avoid touching your hands, nose and mouth. Do not spit in public.
Cover your mouth and nose with a tissue or bent elbow when coughing or sneezing. Discard the tissue immediately and clean your hands.
Medical advice
Avoid close contact with others if you have any symptoms.
Stay at home if you feel unwell, even with mild symptoms such as headache and runny nose, to avoid potential spread of the disease to medical facilities and other people.
If you develop serious symptoms (fever, cough, difficulty breathing) seek medical care early and contact local health authorities in advance.
Note any recent contact with others and travel details to provide to authorities who can trace and prevent spread of the disease.
Stay up to date on COVID-19 developments issued by health authorities and follow their guidance.
Mask and glove usage
Healthy individuals only need to wear a mask if taking care of a sick person.
Wear a mask if you are coughing or sneezing.
Masks are effective when used in combination with frequent hand cleaning.
Do not touch the mask while wearing it. Clean hands if you touch the mask.
Learn how to properly put on, remove and dispose of masks. Clean hands after disposing of the mask.
Do not reuse single-use masks.
Regularly washing bare hands is more effective against catching COVID-19 than wearing rubber gloves.
The COVID-19 virus can still be picked up on rubber gloves and transmitted by touching your face.