What 'The Lost City' Post-Credit Scene Reveals About Brad Pitt's Character
There's more fun waiting for patient audience members after the credits roll in The Lost City, and Brad Pitt fans will be especially glad they stuck around.
Pitt stars alongside Sandra Bullock and Channing Tatum in the new action romantic comedy movie, which is out in movie theaters in the United States and Canada now. Every blockbuster these days seemingly needs to have an entertaining post-credit scene to advance the story, and The Lost City is no different.
Major spoilers ahead for the plot of movie and we reveal what happens in The Lost City post-credit scene.
What Happens in The Lost City Post-Credit Scene?
Early on in The Lost City, we first hear from and then meet Pitt's character, Jack Trainer. He's an impossibly handsome, ultra-capable, smooth-talking action man who heads to the mysterious island (shot in the Dominican Republic) to rescue Loretta Sage (Bullock).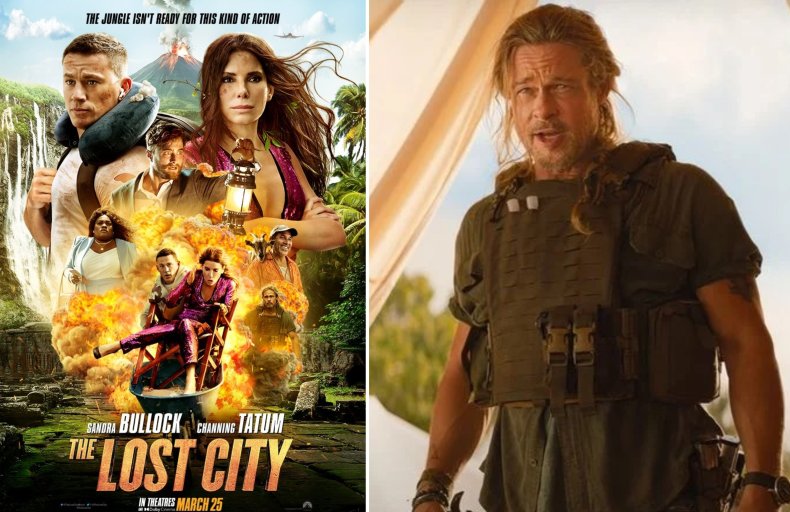 Trainer is too good to be true and inevitably, he is shot and killed in an over-the-top gruesome way. This leaves Loretta and Alan (Tatum) to fend for themselves as they're chased through the jungle by Fairfax's (Daniel Radcliffe) henchmen.
After the adventure is finished, and Loretta and Alan have their happily ever after, the credits start to roll, but the story isn't finished there.
In the post-credit scene we see Loretta and Alan meditating in a yoga class, but behind them is Pitt's Jack Trainer. He's very much alive despite being shot in the head earlier on. Even Alan comments that Jack's brains were blown out, and some went into his mouth.
Jack informs the pair because, as they know, most people just use 10 percent of their brain, Jack just decided to use a different ten percent from another part of his brain.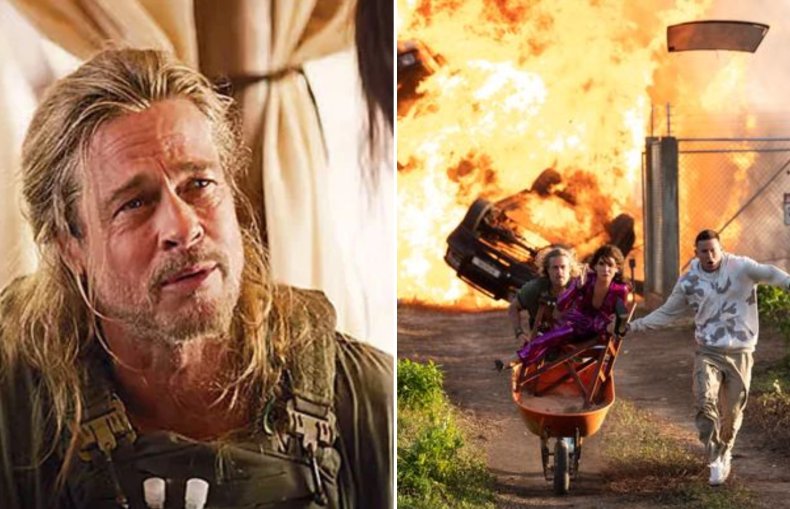 The explanation is inconceivable, but Alan and Loretta eventually accept his story and carry on with their class. Jack assures Alan that there are no hard feelings about what happened, even though Alan's failure to listen to orders may have been what got him killed.
Jack then gives Alan a lingering side-eye for an extended period of time before the credits start to roll again.
How to Watch The Lost City
The new movie starring Bullock, Tatum, Pitt, Radcliffe, Da'Vine Joy Randolph, Oscar Nuñez (The Office) and Bowen Yang (Saturday Night Live) is out and available to watch in movie theaters now.
It's currently not available to watch on home digital devices or streaming services. Since it's a Paramount Pictures movie, when it finally does come out on streaming services in over a month, it will be available on Paramount+.