Lost Wedding Ring Discovered at Bottom of California River
A diver reunited a husband with his lost wedding ring after recovering the gold band from the bottom of a California river.
Karl Bly said he was in the middle of a routine swim in Sacramento's American River when a shiny round object caught his eye.
"Out on the river today and found a whole bunch of stuff including a ring," the expert diver said in a video he posted on Facebook from the scene on Sunday. "It's got a unique diamond setting in it and looking for a little help in finding the owner."
Bly said he hoped that by sharing the video across social media, the ring could be returned to its rightful owner. In fact, he even runs the American River Lost & Found Facebook page where he often posts his discoveries retrieved from the river bed.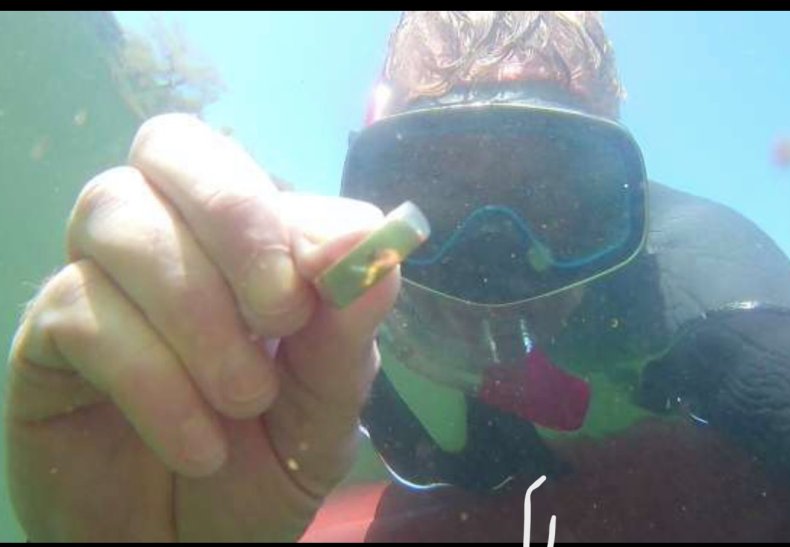 "I've been treasure hunting in the American river for over 40 years," Bly told Newsweek. "In recent years, social media has helped a great deal in finding the owners of lost stuff."
Last Saturday, Bly said he was diving for "random treasures" when he came across "shiny sparkles" on the river bottom.
"You never know what you're looking at until you hold it in your hand," he said. "When I dove down I was surprised to feel the weight of the ring and realized it was truly gold and not another gold foil-covered bottle cap."
It only took a matter of days for Adam Papini to realize the discovered treasure was his own wedding ring, which had slipped off during a swim in the river last week.
"You are my hero, thank you!" Papini told Bly in an emotional reunion with his ring. "I can't thank you enough. I will remember this moment for the rest of my life," he added.
The relieved husband said he had been searching for the lost band. "I immediately went to the store and got snorkel gear and I've been doing a search in the river bottom for the last week," he said. "For some reason, I still had faith that I would find it."
Papini said he would hold on tight to the ring, promising he would not lose it again. "I'll remember this moment for the rest of my life and I could eventually pass this down to my grandchildren and share this with them," he added.
This is not the first time Bly has found something unique while trawling Sacramento's American river bed. Last summer, the diver found a prosthetic leg and was able to return it to its owner.
"It really is mind-boggling that I can find so many things under water, post about while still in the water and in many cases the team of followers find the owners before I get off the river that day," he said.
"I found a leg underwater. Once I got past the foot that was on it, the human-looking foot, I saw the mechanics of it and realized it was a prosthetic leg and I just knew immediately somebody needed it back," Bly told CBS back in August last year.
After posting photos of the leg to his Facebook page, the post eventually reached the owner of the lost leg.
"He came down right away to pick it up. Very very thankful. He just went on and on about how he needed it to get back to work," Bly said.